Gambling news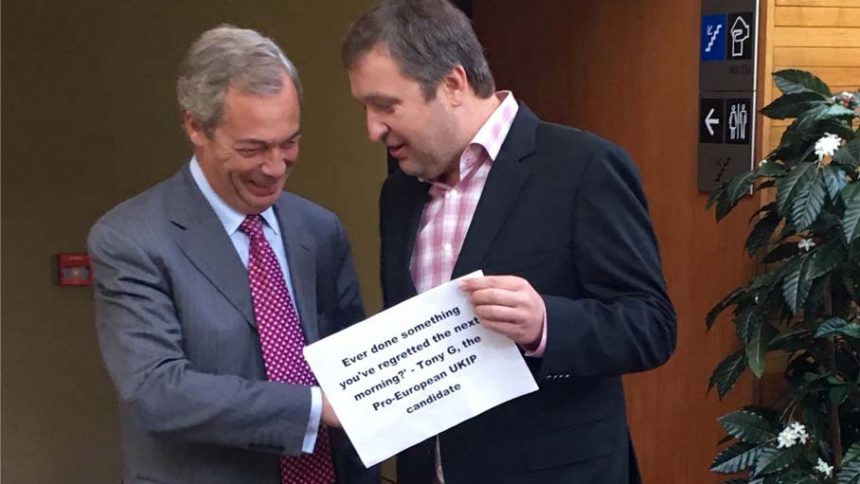 Tony G Keeps Betting on EU Referendum as He Runs for UKIP Leader
7th July 2016
Former God of poker and the member of the European Parliament Antanas Guoga, also known as Tony G, is not giving up betting on EU Referendum of the UK although the referendum has already revealed the unwillingness of the citizens to remain in the European Union.
Lithuanian member of the European Parliament Antanas Guoga was in the headlines of online magazines as he challenged the leader of UKIP Nigel Farage to bet €1 million on Brexit. According to the terms offered by Guoga, the losing party would donate €1 million to a charity of winner's choice. Farage never took this bet; however his leave campaign won the race.
One UK charity lost €1 million because of Farage, as he could have taken the bet which would bring a fortune to a charity. However, the game is still on as Guoga doesn't seem to give up betting on EU Rerefendum.
According to online poker news, Guoga aims to take the UKIP seat after Farage leaves. Interesting enough, UKIP leader Farage announced his resignation just after the EU Referendum although his campaign left the voting with a spectacular triumph. Farage enjoyed a good profit gained through his £1000 betting on EU Referendum. He also satisfied his hunger for success.
Tony G Won't Give up Betting on EU Referendum until UK Turns back to EU
It seems like Guoga won't give up betting on EU Referendum until the UK citizens understand their mistake and embrace the EU once again. However, UKIP may not be the best place to seek this aim as the UK Independence Party is the most anti-EU party in the UK.
According to Guoga his nomination is not impossible as 1.2 million leave voters already regretted their decision. Moreover, he further claimed that he had mutual interests with UKIP voters. For instance, he shares some of the grievances UKIP voters have with Romanians. He lost a great sum of money to the Kid Poker Daniel Negreanu as he was one of the fierce rivals of Guoga.
The second fact which brings Guoga closer to the UKIP voters is that he knows about the immigration system in the UK as he used to be an immigrant in the UK and also in Australia. Therefore, he can solve the immigration related problems better.
Guoga is Actually Eligible for Farage's Chair
Guoga holds Commonwealth citizenship as he is also a citizen of Australia. This makes him eligible for Farage's chair. He wrote an e-mail to UKIP announcing his interest in Farage's position: "I am writing to you today to confirm my intention to run for the position of leader of UKIP. Myself and my political staff have reviewed the leadership credentials and constitutional and see no reason why a man of my standing cannot apply, so sincerely hope you receive my application in good faith."
Guoga also promised that he would donate his salary to the British National Health Service (NHS) if he was elected. It is a good promise but it is a little bit far from the sum of £350 million a week which was promised by the Brexit campaign. He asked Farage to endorse his application but obviously he is not taken seriously by UKIP.
Despite this time Brexit betting odds are quite against him, Guoga will probably show determination and try to prevent Brexit. Guoga's biggest fear is that Russia may have too much influence over the EU in case UK leaves the union.
If you are aiming to be the next poker star, read our Poker for Beginners guide and learn enough to challenge Tony G before he challenges you.