Uncategorised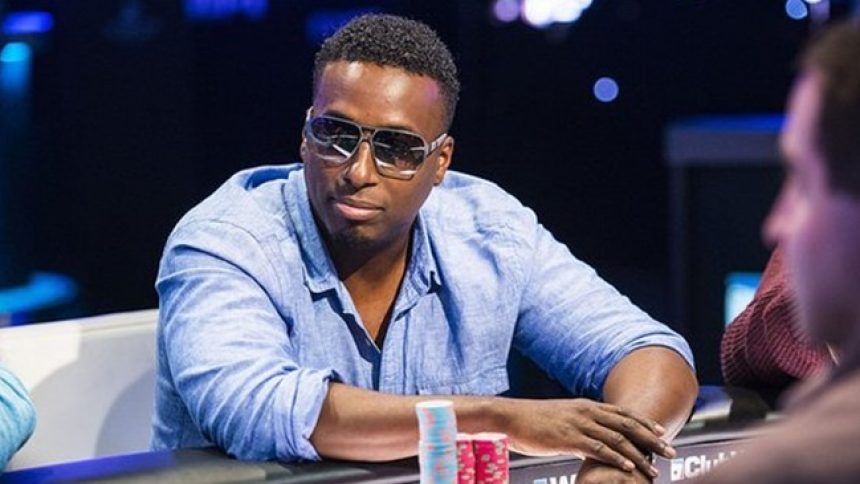 More Controvery at the WSOP 2018 For Maurice Hawkins
10th July 2018
Since the WSOP 2018 kicked off in the past week, there's already been a lot going on. However, this story is about Maurice Hawkins. The WSOP had a racial incident, when Maurice appeared to be the victim of some harmful words. As most poker players do, he spoke out on Twitter and finally, he saw consequences. Let's take a look at the story in full and how the WSOP dealt with such a situation.
The WSOP 2018 kicked off in Las Vegas just this week and there has already been some upsets. Phil Ivey was considered a favorite but had an early exit. Another victim, was Daniel Negreanu who had to leave early. A totally different story was that of Phil Hellmuth, who had violated the rules with a sudden burst of rage. However, this story is all about Maurice Hawkins.
'Shut Up N' Directed at Maurice Hawkins
Now, to use racial slurs in the US at anytime is an offence. And, to use it in a live table game tournament, in Vegas, is huge. At first, Maurice was unsure of what was said to him. There was a Russian-registered player, Sorin Lovin, who had been playing in a blue "Azzurri" Italian national team football shirt. Here is what Maurice's Twitter post said on the topic.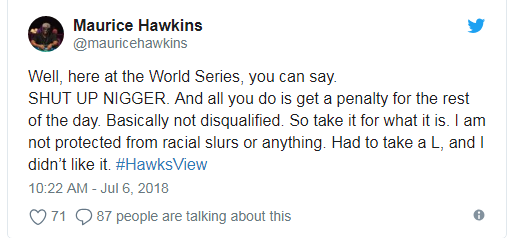 Appreciation shown towards Jack Effel
Apparently, Sorin Lovin had said "what's up" rather than "shut up", however, the use of the N-word was definitely made and is the main reason for his exclusion. What caused such an upset for Hawkins, was that using a racial slur results in a penalty missing one round. One round, by the way, lasts about 1 minute.
It was at this time when Jack Effel, VP and Tournament Director for the World Series of Poker, stepped in. Effel made the player clear about the violation of his language and lead the racist player to the exit. He was not only kicked out, but also banned. Maurice Hawkins was quick to show his appreciation, once again on Twitter.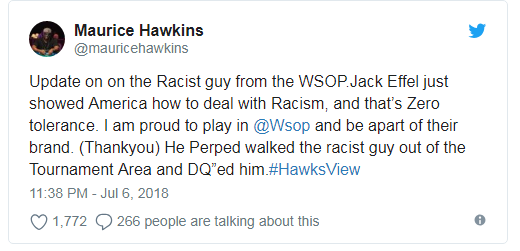 With the tournament set for the final stages, we respect Jack Effel and his actions for what is the right thing to do. If you liked this story, check out the latest online gambling news for even more. You will be able to find all the hottest stories online going on right now in the world of gambling.