Uncategorised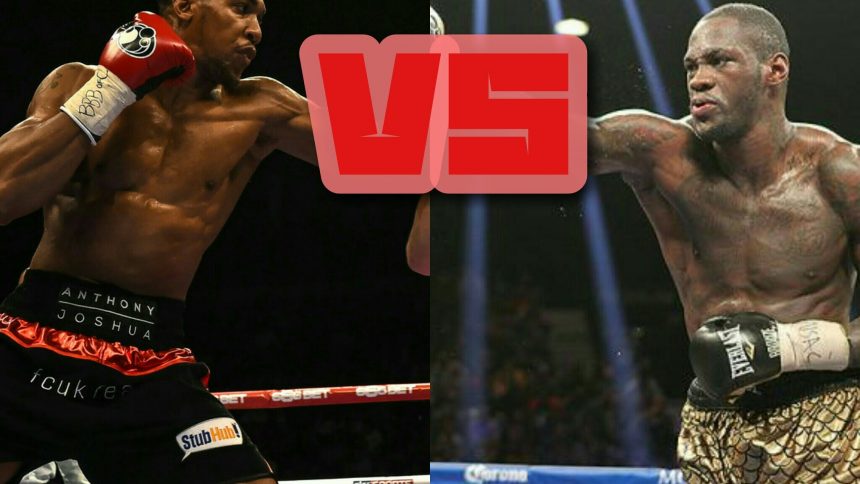 Potential Anthony Joshua vs Deontay Wilder Prediction
18th April 2018
Possibly one of the most anticipated fights yet to be seen will be a showdown between two of the baddest boxers out there. Fighting at the peak of their powers right now, a potential 'Anthony Joshua vs Deontay Wilder prediction' has already been made. Which venue will host the sell out match. We take a look. 
According to legendary boxer Evander Holyfield, the face-off between the two competitors should be a sell out, "while the money's there." The potential boxing match between these super-human athletes will be an interesting encounter.
On the one hand, Deontay Wilder, undefeated WBC title-holder recently overcame the toughest test of his 40-fight professional career. He defeated "King Kong" Ortiz in the 10th round of his brutal clash.
In the other corner sits Anthony Joshua, the WBA, IBF and IBO champion. The British fighter has rode his luck at times but that will take nothing away from his outstanding achievements. At a relatively young age of 28, the pugilist has finished all but one of his fights by knockout.
Digging Deeper into the Anthony Joshua vs Deontay Wilder Prediction
With the potential fight on the line, we take a look at some of the most recent headlines. 'The Bronze Bomber' Wilder always wears his heart on his sleeve and his latest comments suggested this potential fight is on the cards. The following was spoken by the boxer after his match with "King Kong" Ortiz.
"How many times do I got to call him out? How many times? They hiding," Wilder told ESPN. "His promoter [Matchroom Boxing's Eddie Hearn] don't want that fight and after tonight they definitely won't want it. I've done enough, I've spoken enough."
For more information on gambling headlines, be sure to check out the latest gambling news.
Potential Pugilist Fight In Vegas?
Although an Anthony Joshua vs Deontay Wilder prediction is still not set in stone, a few shout-outs have been made. It is easily imaginable that should Joshua fight, his pulling power in Great Britain would be his strength. However, Promoter Lou DiBella has announced that Las Vegas would be the most promising of arenas for the lucrative championship match. The promoter spoke the following:
"It could happen here in New York, there is no question it would sell out here and that we'd set a record gate for the Barclays with that fight.

The likelihood would be probably, from an economic standpoint, because there are no expenses, because of the gambling, high-rollers and the whole bit, that Vegas would be most likely. Also Brits love to come to Vegas for a huge fight and make a holiday of it I think economically, the most likely venue would still be Las Vegas."
Evander's 250m Estimation
Also known as 'The Real Deal', Evander Holyfield sees this unification boxing showdown as one of the biggest ever. He predicts that this boxing sprout could raise $250 (£181m/€203.1m). In the modern boxing game with the economical financial side to the sport, his predictions could potentially be correct.
Will the match happen? Shall Vegas host this potential sell-out? Will Evander Holyfield's Anthony Joshua vs Deontay Wilder prediction become true with over 250 million? Follow the latest news at Gambling Herald as we continue to keep track of this potential boxing match.