Gambling news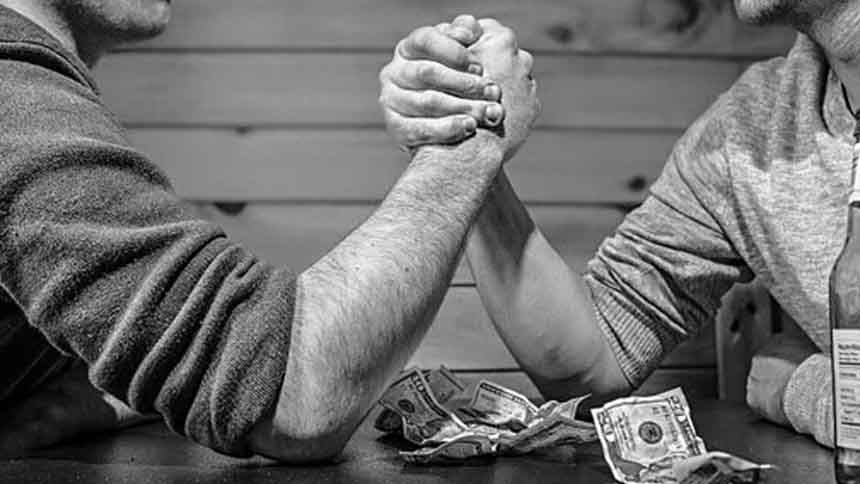 The Craziest Bets Ever Made and Ever Won
15th September 2020
This time we will travel back through space and time to collect you the craziest bets ever made on this weird planet. Most of these are success stories, however, sometimes Fortuna changed his mind at the last minute and things came to a sticky end. Let's take a closer look together at these unbelievable stories.
In the latest gambling news, we wrote about cases and highlighted guides whit parlay or accumulator bets in the focus. Most of these success stories are the consequence of this kind of wagers. What parlay bets exactly? You can learn it from our gambling slang dictionary.
The Craziest Bets Ever Made: Introduction
So, let's cut to the chase and inspect the craziest bets ever made. In the first section, you can read about pure success stories. And in the end, we will tell you the stories when things didn't shake out as expected. Or simply just weird like a heterosexual man with boobs. You can read about nine true stories when silly wagers wrote the bettors' name in the history books.
The Craziest Bets Ever Won
Patricia Demauro the Uncrowned Queen of Craps
Let's start our journey with a story about beginners' luck. Patricia Demauro didn't stake a crazy bet, instead, his fortunate hands put her between the list of craziest bets ever made.
One day Patricia headed to the casino. She started to play with the penny slots, however, she was pretty unlucky. She decided to switch to table games since even if they are more complex than slots and the minimum stakes are higher at least she can live some social life to have some fun. Her first and last stop that night was a craps table.
Here comes the success story, and a great example of the beginners' luck. In craps, the most common number is 7 when you roll the dice. You can bet on the numbers will be seven or you can bet against it, so you win if the numbers on the dice have a different value. (Of course, there are many other features in craps but that's a different story.)
Miss Demauro wagered against 7 and won 154 times in a row. This meant a world record. Just to understand the possibilities of this case is 1 to 1,560,000,000,000.
Her total winnings have never been published, however, it was enough to write her name in the gambling history.
The bet on the 13-year-old Lewis Hamilton was a good pick
Richard Hopkins in 1998 noticed a talent at the go-kart track. He saw the 13-year-old Lewis Hamilton. Even more, he thought based on the young Hamilton's driving skills that he can be even the next world champion. And how a sensible man reacts to a young emerging phenomenon? Bet on it!
Richard placed two bets and a parlay bet on that the combination of the two bets. He placed 200 pounds on that he by the age of 23 he will win a Grand Prix, and another 100 pounds on that Hamilton will achieve victory at the World Championship by the age of 25. Then just to be sure he also staked 50 pounds on a parlay bet that both things will happen. The odds were 200 to 1, 500 to 1, and 1,500 to 1.
I think we don't even have to confirm that this was one of the craziest bets ever made, since four hundred pounds on bets are still a lot of money and it worth even more 22 years ago. However, as Hamilton won the Canadian Grand Prix in 2007, and in 2008 the World Championship. If you did the math, you already know that these 3 bets earned a total of £165,000. If you are a high-roller, we can surely say that Richard Hopkins is an ideal pick as an idol.
Frankie Dettori became a living legend while caused the worst day of UK Bookies in history
Frankie Dettori… If you ever checked out the significant days in the history of horse racing, you probably heard his name already. This jockey did the impossible in 1996 when he won 7 races in a row. Before and since then, no one achieved seven or more victory in one day.
But this is just the tip of the iceberg. Since two wagerers who attended the course not just watched the outstanding performance of Frankie and his mighty horse, but also placed a bet on them. A woman staked 75 pence on each race and that earned her $210. Another man, placed a parlay bet on that Dettori will win all seven races. He left the racecourse with $630,000, and I guess with a smile from ear to ear. If the other woman would place a parlay with her $5.25 spending, instead of placing them one by one, she would have been another success story with a sum of $18,500. Since the odds for this occasion were 25,051 to 1. In the world of horse racing, they still consider Frankie Dettori's achievement as the "Magnificent Seven".
On the other side of the shield, this day poor Lil' bookies lost a total of $37,000,000. Probably they were the craziest bookies ever made.
A micro bet can go a long way – The smallest of the craziest bets ever made
We all love micro betting. In short, in these cases, you place tiny stakes on super high odds. Back in 2008, Fred Craggs has shown us, how long a micro bet can go. He placed 50 pence on a parlay bet of eight different horse races. Surprisingly, Fred has beaten the odds. The 2,800,000 to 1 multiplier meant more than a million pounds.
To make things more unbelievable, it was his birthday, and his favorite horse who mostly brought him the huge amount was called "A Dream Come True".
If you are familiar with gambling tales, you must already hear about Ashley Revell
Ashley Revell was the man who bet on red his all riches and life-savings. In short, he took literally everything he had entered a Las Vegas Casino and placed $136.000 on roulette. On a single wager. On the red… Probably this is the craziest bet ever made, however, it finishes with a happy ending. Ashley even found his fianceé during the Vegas trip. Anyhow, this is a long story to fit it in this place, so if you would like to read the whole tale of Ashley Revell, check out the previous article that we linked above.
The Craziest Bets Ever Made Which Came to a Sticky End
Matthew Webb paid with his life
Mathew Webb was a swimming phenomenon. He was the first person on this planet who could swim across the English Channel. After he did this achievement in 1875, his book 'The Art of Swimming" reformed what we think about competitive swimming. His success brought attention to him. Eight years later in 1883, he made one of the craziest bets ever with one of his new friends. They wagered $2,000 on his next challange. His plan was to swim through one of the most dangerous waters nearby the Niagara at the border of Canada and the United States. The notorious Whirlpool Rapids.
And here comes the sticky end… Matthew failed the attempt and drowned. The water was so ferocious that even the boats couldn't pass through, so he was alone against nature. On his memorial, we can find the following phrase: "Nothing great is easy".
Nick Newlife never could withdraw his prize – Charity from the Grave
Nick Newlife was a tennis-addict. He loved the matches, and mostly he loved to bet on it. In 2003 he noticed a new talent so he came up with an idea of a crazy bet. The young tennis star was Roger Federer and the wager was that he will win the Wimbledon Grand Slam by 2019. At least seven times… Oh, I forgot to mention that Nick wasn't just a regular bettor, but in his age a famous high-roller. He staked 1,500 pounds on this crazy wager. Since Federer was already known among the bookies the odds weren't too high but it still meant 66 to 1.
It was a winning bet. Roger Federer was truly the next tennis champion of the world. He finished seven Wimbledon Grand Slams in the first place by 2012.
Unfortunately, Newlife never could withdrawal his 99,000 pounds, which would have been the most successful wager of his life. He passed away in 2009.
What wrote Nick Newlife's name truly in gambling history is that before he died he left most of his riches to charity purposes. Oxfam inherited one of his estates and they later found the winning betting slip. Maybe it's not one the craziest bets ever made but I'm sure it's one of the most heartbreaking ones.
William Lee Bergstrom the Suitcase Man also become a gambling idol
If you ever have read gambling stories you must hear about "The Suitcase Man, or William Lee Bergstrom. He became famous for his record bet, $777,000. Nowadays, it would be nearly impossible to find a casino where you can place this super high-roller stake. However, back in the early 80s, there were many casinos which gave opportunities for the craziest bets ever made. Binion's Horseshoe Casino was one of these places since in his estate there were no limits at all. Even more, the owner, Benny Binion was also the close friend of William. So, nothing could stop him.
The name "Suitcase Man" is coming from, that after he agreed with Benny, he returned with two suitcases, one in each of his hands. One of them was full of cash and the other one was empty. What a farseeing man! He placed the whole $777,000 on a single wager, doubled his money, and left without a word.
A few years later, his success story has been continued. He put $538,000 on a single craps roll and three times $117,000 on other bets at the table. You won't believe it, he won all four wagers.
By the way, here comes the sticky end of William Bergstorm's story. He placed a million dollars to bet against seven in craps. And that became the biggest amount ever lost with a single bet. Unfortunately, the legendary gambler couldn't return from this failure and took away his own life a year later. If you ever been in a casino, you must already hear "Go big, or go home". Sometimes it's just better going home.
Brian Zembic did a lot of crazy bets until it became too awkward
Brian Zembic was known as a person, who didn't believe in impossible at all. Especially in betting… Is there anyone who would pay $7,000 for someone for staying at a friends' bathroom for a month? Looks like Brian has always found his supporters. Another crazy deal was born when he spent a whole week, sitting under a bridge with $20,000 strapped to his leg.
If you think that these are the craziest stories of our man, you're wrong. The biggest challenge in Brian's life was when he decided to find a plastic surgeon to have an operation. He wanted to wear silicone breasts for a year for $100,000.
Maybe Fortuna favors fools but in 1997, our man eventually found a doctor who was also a gambler. So, Brian had the opportunity to make things easy with betting just like he did many times before. All the costs of the operation were covered by beating the doctor on backgammon. After all of this, Brian slowly got used to his breaths and decided to keep them for another 19 years.
What happened after? Another crazy bet on implanting his penis bigger? Or take it out? Nothing like this. There was silence in connection with Brian's huge manboobs until 2014.
After 17 years, he made a wager on to take his breaths out for another neat sum ($10,000). That was just the part of a bigger plan? No…the request of his teenage daughter was the final point in 2017. Since Brian Zembic started the biggest challenge in his entire life. Becoming a responsible father.  Not for thousands of dollars, but for his own and his family's honor.