Gambling Fun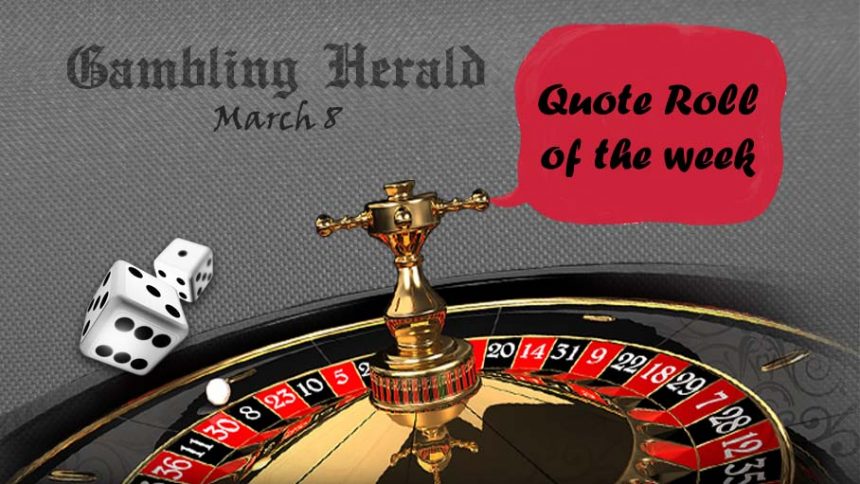 Quote Roll: March 8, 2016
8th March 2016
Ladies and gentlemen, welcome to the latest edition of Gambling Herald Quote Roll which is full of paradigms, fun, truth, regret and hope. You can listen to professional gamblers and take a step towards being rich or you can check 2016 Eurovision Betting Odds and listen to the latest Eurovision songs to have some fun and money at the beginning of the week. In either way, you are the winner!
In order to understand the dynamics of gambling, it is essential to listen to professionals. That is why we have two professional poker players and an executive from FanDuel with us today. Legendary scientist Albert Einstein and socialite Nicky Hilton Rothschild are also our guests at the 6th edition of Gambling Herald Quote Roll. Let the game begin!
Phil Hellmuth – "When you're playing against a loose-aggressive player, think of a harpoon. You nail them with a harpoon, on one big pot for all their chips. They're a big target, and Trump is a big target."
Famous poker player Phil Hellmuth revealed the methods of how to beat Donald Trump during an interview with MSN. He stated that Trump is the ultimate loose-aggressive player. We believe in what Hellmuth says since he knows every single detail about poker and poker players. He also has 14 World Series of Poker bracelets which make him one of the best poker players alive. According to Hellmuth, loose-aggressive players raise the stake like a raging bull even if they have a weak hand so as to scare the other players away. Moreover, Hellmuth believes that Trump is one of them. The best way to deal with such a player is nailing them with a harpoon to get all their chips as they are actually big targets. It may be a good advice for the political opponents of Trump.
Albert Einstein – "God doesn't play dice with the world."
We can state that Albert Einstein was not a fatalist guy. There was reason for everything in the universe according to him. Therefore, supporting the idea that God plays dice with the world doesn't comply with the scientific understanding of the universe. In other words, God is an engineer, rather than a gambler. It is obscure whether he really meant God or nature as the creator of everything. Nevertheless, it is for sure that the world doesn't function based on the rules of gambling. Well, this statement is not valid for the gambling world; especially in the era of a new world, an online one. You can check our Online Gambling Guide to see how you can play dice with the online world.
Daniel Negreanu – "I challenge @realDonaldTrump to release a dick pic to prove its of average size or more. I will donate $100,000 to a charity of his choice."
I challenge @realDonaldTrump to release a dick pic to prove its of average size or more. I will donate $100,000 to a charity of his choice.

— Daniel Negreanu (@RealKidPoker) March 4, 2016
Six World Series of Poker winner Daniel Negreanu has involved in the cockfight between the Republican presidential candidates Donald Trump and Marco Rubio. The opponent of Trump, Rubio attacked the casino tycoon Trump stating that the sizes of his hands are at odds with the size of his body. He further claimed that there is a correlation between the sizes of penis and hands. Trump responded saying that he doesn't have any problem with his genital organ. Negreanu apparently doesn't believe in Trump since he offered $100,000 to Trump in the condition of releasing a picture of his penis. We are not sure whether Negreanu really wants to see it or he is showing his bluffing skills. Kid Poker's poker face is not revealing his actual intentions, indeed. There are no poker faces in online poker. So, it is better if you read our Poker for Beginners guide and initiate your online poker adventure.
Matt King – "Every time that you talk to our users, what comes through loud and clear is the fact that we (Fantasy Sports) are an entertainment product."
FanDuel Chief Financial Officer Matt King was pissed off by the online eSports regulations in the USA it seems. Lately, the general attorney of Texas stated that daily fantasy sports can be regarded as gambling. After this statement, FanDuel decide to leave the state in May due to strict gambling regulations in Texas. However, daily fantasy sports firms do not agree with the AG. Matt King is right in his claim about the actual purpose of DFS. However, online poker and casino games have the same purpose. Therefore, they shouldn't be regarded as gambling either.
 Nicky Hilton Rotschild – "I love online gambling."
Famous socialite Nicky Hilton Rotschild revealed that she loves online gambling. We have a lot in common Nicky Hilton since we also love online gambling. You can check our online casino reviews and online casino promotions unless you already opened a private online casino for yourself. Joke aside, online gambling is like a hobby which brings profit and fun during the times when you are tired of the tedious routine of modern life style. Moreover, there are many advantages of online gambling which can enhance your gaming experience immensely.