Gambling news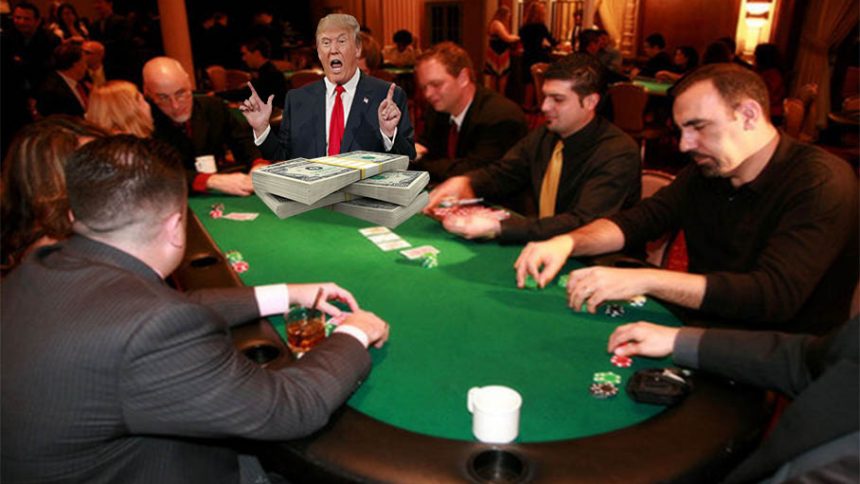 Donald Trump News Today: How to Beat Trump at the Poker Table
1st March 2016
Nowadays each morning starts with the simple question – instead of coffee – what about Donald Trump news today. Well, Donald Trump news today are shifting towards fun and play. Jeremy Greenfield, reporter of MSN asked a former poker player, Phil Hellmuth about the methods of beating Trump at the poker table.
What is the common point of politics and poker? You may not believe but the two have many things in common. A former poker-champion, Phil Hellmuth advised to think of Trump as the toughest poker player. The man is possibly right, especially because he knows a lot about the game. He won 14 Series of Poker events and as a previous champion called Trump as the ultimate loose-aggressive player. (LAG)
What does it mean in practice? The loose-aggressive player is the one who wants to control, own and run the table at the same time. An LAG player throws chips to the table aggressively even if he has bad hand. The aim is creating fear in people so that they will fold thinking that the opponent has a good hand.
How to Beat the LAG?
As the poker-king, Phil Hellmuth told to MSN, beating Trump could be arranged in two different ways.
First of all, harpooning him simply is one possibility.  As he underlined, "When you're playing against a loose-aggressive player, think of a harpoon. You nail them with a harpoon, on one big pot for all their chips. They're a big target,"
In politics it means Trump is always in the focus of conversations, and he controls discussions. Winning minor battles provides him an increasing number of fans. Therefore, he becomes more confident and powerful.  But his enemy should wait until that minute when the target start to play against himself. (Which happened many times before.)
Advanced Way of Winning against LAG
If harpooning isn't successful, you will take your battle to the next level. The first thing was patience, secondly aggression comes. As Hellmuth made it clear, "You have to have good discipline, but you get aggressive."
So changing strategies when it's needed is essential. After he explained, "You have to come over the top, raising the stakes." Meaning, when being patience is not helpful, you just take the first great chance and give it a go.
According to Hellmuth, the problem being is that this election is played on the emotional level, just like poker. Thus, based on the facts mentioned above, Mr Trump would be a great LAG in poker. Great but predictable.
Donald Trump news today gave us a good understanding in terms of how to overcome such a personality. If you already have ideas about the presidential elections winner, you can check the presidential election odds. It is high time for betting on US presidents online.