Gambling Fun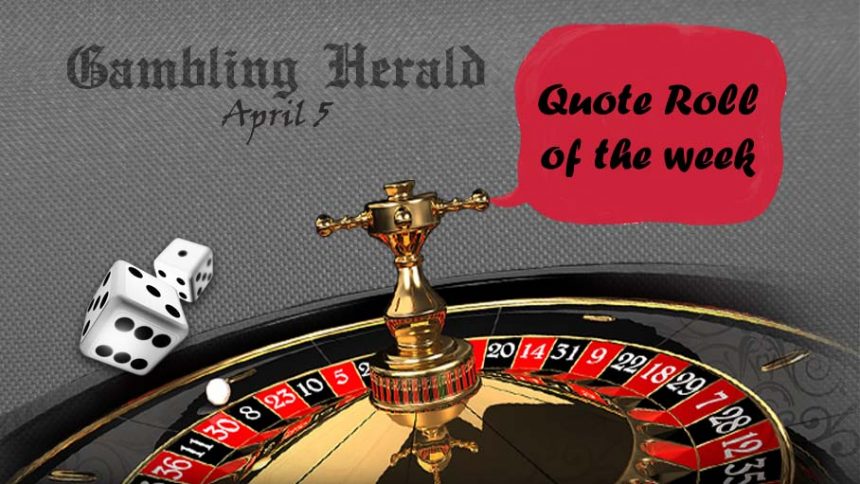 Quote Roll: April 5, 2016 – Gambling Quotes of the Week
5th April 2016
Gambling quotes of the week are here to reveal the gambling secrets of Nicole Kidman, the connection between football and betting, the link between problem gambling and other psychological problems, and other issues which marked the beginning of spring in the gambling world.
One of the most shocking gambling news of the week came from Las Vegas. Famous actress Nicole Kidman revealed her gambling addiction to the press during the Academy of Country Music Awards Ceremony. Kidman's words left the presence of her husband, Keith Urban in the shadow since everybody seemed to be shocked by her confession. Well, everybody is a potential gambler in Vegas.
We hope that Kidman is not a problem gambler since Dr. Flora Mathison explained that there is a connection between problem gambling and drug addiction.
Young people are also in danger according to the Marketing and Communications Director of Problem Gambling Foundation Andrée Froude. Online games lead children to gambling. That is why we offer verified, trustable online casinos at Gambling Herald so that only responsible adults can gamble.
Australian Football League (AFL)'s chief executive Gillon McLachlan admitted the connection between betting and sports leagues.
And here we have selfie-lover thieves who were caught due to the selfies that they took during their criminal actions. According to online gambling news, these guys managed to steal more than £3000 from slot machines. Moreover, they posted these photos on Facebook to render the job of the police easier.
Here are the gambling quotes which marked the gambling milieu of the last week:
Nicole Kidman – "Well, I'm not very good. I have a little amount of money, I go and bet that and then I'm done. I'm that kind of gambler, I'm not going to bet the house."
We give the award of the responsible gambler of the year to Nicole Kidman. Well, we would give it if we had such an award. While admitting her gambling habit, Kidman gives a lesson to all gamblers: stay within your limit. It is important to set a limit and stay within that limit in order to prevent the unwanted results of gambling. "Gambling is harmful" is not a true statement. If you gamble responsibly, there is no harm in gambling.
Benjamin Robinson – "I don't care that [I'm] guilty. I'm not bothered mate. I love it mate."
Benjamin Robinson is one of the thieves who robbed slot machines in the UK. According to online gambling news in the UK,  fruit machine bandits Benjamin Robinson and Daniel Hutchinson robbed more than £3000 from slot machines. Robinson was sentenced to spend 32 months in prison. However, it seems like he doesn't care. That is the spirit to stay young.
Dr. Flora Matheson – "Previous research has shown that many individuals with problem gambling also have substance abuse or mental health issues, often rooted in some sort of earlier trauma."
Gambling quotes don't always include words to praise gambling. We should also focus on the health aspect of gambling. Medical sociologist Dr. Flora Matheson stated that despite the wide-spread activities of Gamblers Anonymous, there is still missing points in terms of curing problem gambling. The reason of problem gambling can date back to an earlier trauma. We can infer that gambling is a natural part of human life. When there is a negative stimulus, then gambling habit can turn into problem gambling.
Andrée Froude – "We have noticed with many of these games that the terminology and imagery used relates to gambling. This 'gamblification' of games normalises gambling for young people."
According to the Marketing and Communications Director of Problem Gambling Foundation Andrée Froude, online games that are common among youngsters can lead to a gambling habit in the future. As a matter of fact, eSports betting sites offer betting options to online games. The legal and reliable eSports betting sites do not accept the registration requests of people under 18. Therefore, even if they know how to bet on eSports, youngters cannot wager bets on eSports.
Gillon McLachlan – "People's views are different – a number of people have very strong views about wagering. I have a view that is not universal around the AFL. That things are legal and part of our game, our job is then to contextualise that."
The connection between online sports betting and football league managements is not a secret. Australian Football League (AFL) chief executive Gillon McLachlan's statement emphasize the important of legalizing online sports betting after bringing proper regulations. If governments and associations can regulate the sports betting, then they can prevent illegal sports betting and increase their income through legal sports betting activities.