Gambling news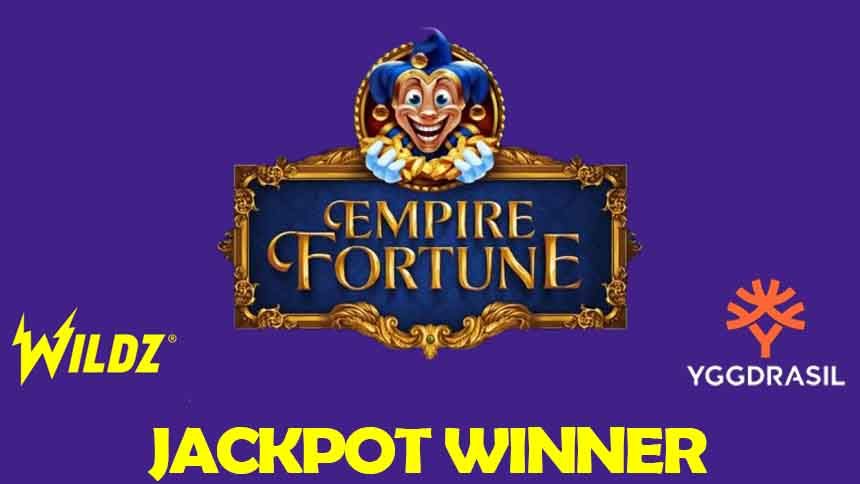 Empire Fortune's Latest Jackpot Winner Collected €4.200.000
18th May 2020
Who doesn't love progressive jackpots? People adore the most since they can expect huge life-changing prize-money if they hit the jackpot. For instance, Empire Fortune's latest jackpot winner picked up an unbelievable amount, more than 4 million euros. Let's take a closer look together at how the casino and the developer of the game stated after the miracle happened.
Empire Fortune's is Yggdrasil's product. It's one of their most popular slots on the market since it has a huge progressive jackpot which has been growing for years. You can play with this lovely slot since 2016. Since then, a lot of jackpots have been paid out. The total prize money obtained via the game is already around €40 million. The game features three winnable jackpots and fancy bonuses that you can obtain while you spin the 3D wheel of fortune. Thus, the game isn't just rewarding but also fun-to-play.
Empire Fortune's latest jackpot winner played online at the Wildz Casino with a laptop. (If you would like to try your luck as well, the other similar game which is available from the developer with a huge untouched jackpot is Joker Millions.) What makes the game super worthy is that it has a global progressive jackpot. Thus, every player in the world will increase the total prize with any unsuccessful attempts.
Operators welcome Empire Fortune's latest jackpot winner
Both Yggdrasil and Wildz Casino have expressed their congratulation through a statement to the lucky player who obtained the €4.2 million jackpot. Yggdrasil also highlighted that they are happy that they can attract such many punters with their progressive products. Rootz Ltd (Wildz parent company) pointed on that these big jackpots are the most popular wagering options at the casino sites and they are happy that they can have Yggdrasil's good looking, purely entertaining developments among their leader products. The COO of Rootz Tony Kjäldström said: Jackpot titles are extremely popular and attract many players to our site, so we are delighted to see one of our customers win such a life-changing sum of money on Yggdrasil's Empire Fortune. This is our biggest jackpot ever and all of our players love Yggdrasil's games. I want to extend my huge congratulations to the winner from everyone at Wildz."
Follow the latest gambling news to learn more about the success stories at first hand. Even more, this way you will know which slot you should play when. Who will take the next numerous prize money after Empire Fortune's latest jackpot winner? If you curious stay tuned…