Gambling news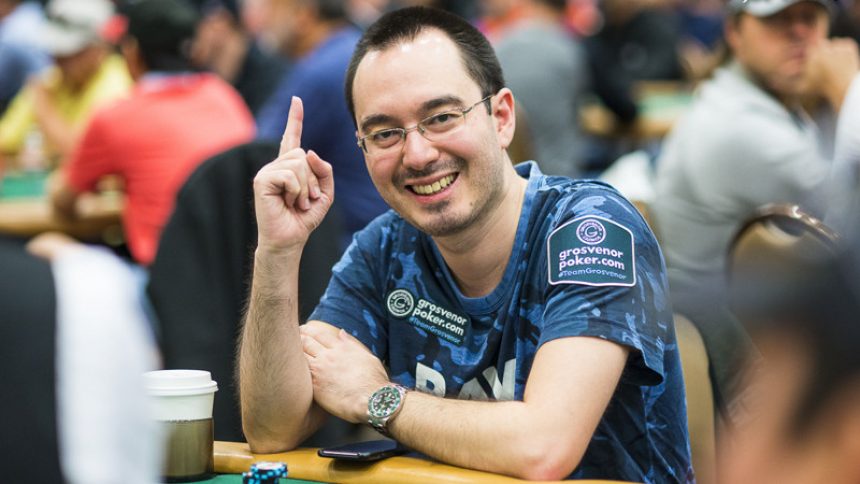 William Kassouf Loses Sponsorship When Caught Pocketing $100 Chips
22nd September 2018
In this next article, we'll be analysing a story which broke out this week. William Kassouf, a professional poker player who is well known for his WSOP in 2016, has just lost a sponsorship deal. This comes out for the man, who is known as "Nine high like a boss", was caught pocketing some chips. Let's take a look. 
In poker, there's always going to be some characters who are up to no good or let nerves get the better of them. However, there's almost always huge ego rivalries and competition. Shaun Deeb, a contender for 2018's World Series of Poker Player of the Year took to Twitter to comment on Kassouf's behaviour.
Deeb's Twitter Post on Kassouf
First of all, let's take a look at what Deeb had posted on September 16th.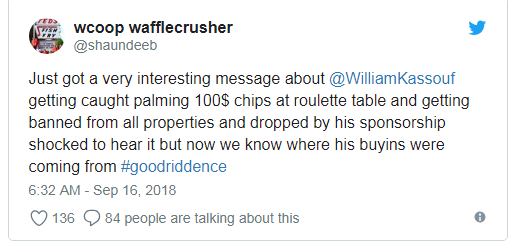 Here are a few more words from him over William Kassouf:
"People are confirming it and his silence should be a pretty strong admission of guilt,"

"You know he's always on twitter hoping to get mentions."
Many people online felt that Deeb's comments were uncalled for and that he should be focusing on himself. Finally, with many people getting involved on the social media site, Michael J. O'Mahoney, who claims to have been there, published his own version.
"We were all drunk and the only one playing roulette was one mate who won about 4k and let us bet for him using the single 1 chips he had.

We put a bet on that won another £2800 and Kassouf started celebrating and grabbing the £100 chips which myself and mates took back," 

"But in the ensuing betting he was seen pocketing some. That's when argument happened. Like I said we all wanted to keep it between us and we had a private argument at bar with a view to it being sort the next day …

It's not my place to write this really but sick of people defending him saying must be mistake. Definitely wasn't and he'll have to accept the consequences as well as lose friends."
William Kassouf Responds Online
The professional poker player finally came out with a response and wanted to clarify the situation. Here is what he published:
"Last weekend, during the course of a drunken night playing roulette with friends, I made an error of judgment which I greatly regret; something I accept full responsibility for," 

"I have apoligised and will apologise again to all my friends who were with me that night for my foolish behavior."

"I would like to apologise to all my family, friends, fans and follows for my behaviour on this occasion. I accept the consequences of my actions and would now like to draw a line under this whole matter and move on. I will continue to do what I do best by bringing the fun and entertainment factor back to poker as that's what's most important to me in my poker career. I wish you all the best of luck and look forward to seeing you at the tables."
The statement from William Kassouf was heavily debated. Some believe that he got what he deserves. Others, still believe that it could've just been a small mistake. However, it's not the worst thing to have ever happened at a gambling table.
If you liked this article, check out the latest online gambling news. On that page, you'll be able to access all the hottest stories online.