Gambling news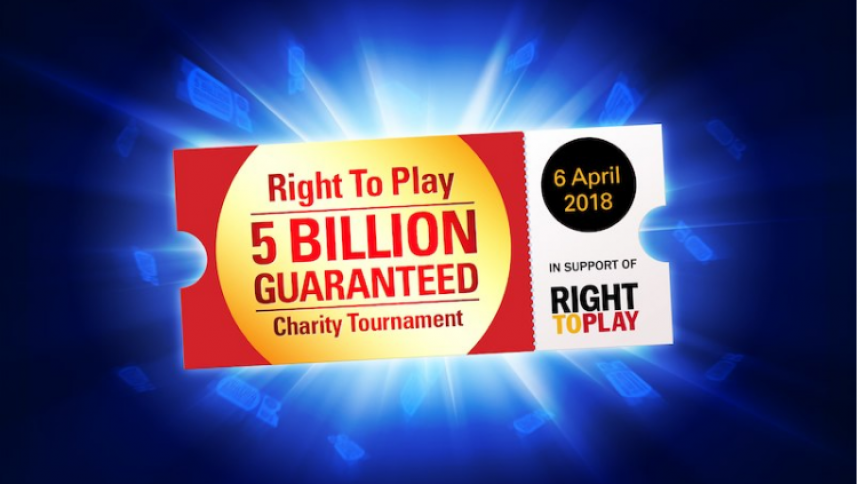 Right To Play Charity Tournament At PokerStars
27th March 2018
PokerStars Casino has joined forces with global charity organisation Right To Play. In an attempt to raise educational funds, they will host a first-ever online Play Money charity event. Entitled the Right to Play Charity Tournament, PokerStars is hoping for a good turnout in this major activity. We take a detailed look at the charity event. 
The Right To Play Charity Tournament will include many different tables in a move for a good cause. Starting on the 6th of April at 20:00 EST, the stipulations are simple. The buy-in is 1 million play money chips, with as many re-entries as you like and a single add-on.
PokerStars Casino will be making a $10 donation on behalf of the first 5,000 players to sign up. That makes their target: $50,000. For betting terminology, be sure to check out the latest gambling news, as well as other poker tournaments.
Right To Play Charity Tournament Sponsored by PokerStars
As it's set to be the biggest event of its kind, the campaign is set up for helping children. By playing, it could also change the lives of 1,500 disadvantaged children around the world. It's all part of the record-breaking $5 Billion play money tournament.
$10 is enough to provide one child with four months of life-changing education through Right To Play programmes. Imagine the kind of effect $50,000 could have on children's lives.
PokerStars Ambassadors will be playing, each with a 5 Billion Play Money chip bounty. It may well be a play money event but that doesn't make it easy. And if you think these guys take it easy remember that Barry Greenstein has a play money title. As he himself once said:
"You'd be surprised how serious some people take play-money games. They might not be as good as real-money players, but they are good."
So, you get to play free poker, against some of the world's best players, from anywhere in the world (including the US) for numbers so big they'll barely fit on your screen. And remember, PokerStars Casino will make a $10 donation on behalf of the first 5,000 players. They want to get to $50,000.
Sue Hammett, Head of Corporate Giving for PokerStars stated the following:
"We are aiming to have up to 5,000 players take part which is enough to educate over 1,500 disadvantaged children for a year. So please sign up and invite your friends."
The Right To Play Charity Tournament is set to be the biggest gambling event ever in case of charity, with a high expected turnout leading to better education for less fortunate children. PokerStars Casino has really outdone themselves with this competition, which is all for a brilliant cause. Play poker and save children's futures.