Quote Roll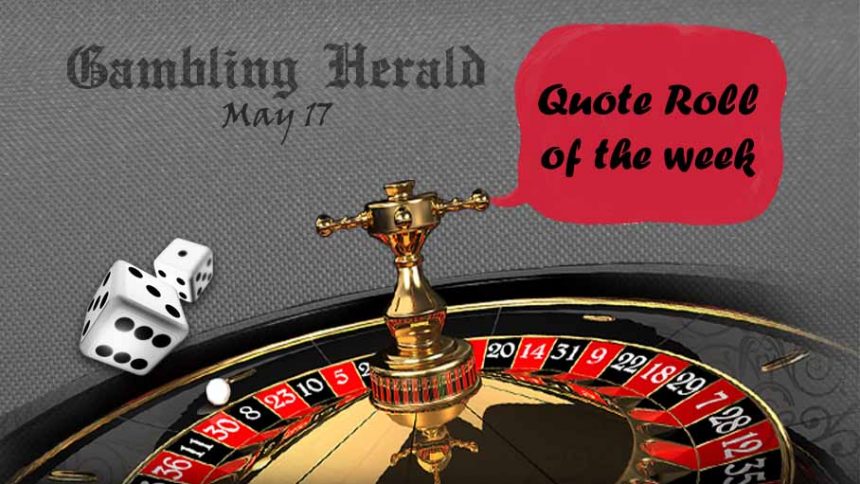 Quote Roll: May 17, 2016 – Gambling Quotations of the Week
17th May 2016
Quote Roll Gambling Quotations of the week is full of controversial opinions regarding gambling. According to online gambling news, Celebrity gamblers quotes suggest that gambling can be useful and harmful at the same time. Here, we will share the opposing point of views and you will be the judge of the discussion.
A Campaign for Fairer Gambling Spokesman – "By making an addictive product like FOBTs the highest taxed form of gambling, you drive those reliant on the profits to squeeze more losses out of those playing the machines. That in itself drives addiction.
According to UK online gambling news, A Campaign for Fairer Gambling Spokesman blamed the UK Chancellor George Osborne for allowing crack cocaine of gambling, the FOBTs intentionally to increase the tax revenue of the government. The Mirror reported that machine games bring almost £670 million annually into Treasury. If the number is correct, it is understandable why the Chancellor wants to allow FOBTs in the country. However we already reported more times that fixed odds betting machines cause problem gambling in the UK. If the problem gambling issue grows more, Mr. Chancellor may need to reconsider his priorities in the near future.
Graeme Ramsey – "Problem gambling is a factor in recidivism and so we're working together to try and address this issue in the prison setting."
We continuing telling the latest online gambling news through the celebrity gamblers quotes again with a problem gambling case. According to Problem Gambling Foundation chief executive Graeme Ramsey, problem gambling triggers crime instinct. Gambling is illegal most of the prisons. However, it is known that inmates play card games for fun which is also a way of gambling although there is no money involved officially. Even after serving the prison sentence, an ex-convict may return back to committing crime due to problem gambling. That is why responsible gambling is vital.
Ted Terry – "Look at the fact that we had people die because of gambling debt. That right there is a public health threat. No one has died using marijuana in the history of Clarkston that I'm aware of."
The third of the celebrity gamblers quotes of the week is from the mayor of Clarkston, Georgia. He drew a clear comparison between gambling and marijuana. He claimed that no one died of smoking pot while problem gambling may cause lives of addicts. So why don't you smoke pot instead of gamble? Well, it is like comparing spinach to banana in many ways. First of all, gambling may be quite safe if responsible gambling is promoted properly. Secondly, smoking pot and gambling cause totally different feelings in people. You cannot satisfy your hunger with water, after all. In the meantime, some clever people far far away are trying to treat problem gambling with cannabis. Can cannabis be the answer for every problem?
Stephen McDaniel – "Gambling can be used as a prism to view economics, religion, government, public policy, public health, marketing, consumer behaviors — so many different things."
This week's celebrity gamblers quotes are not totally negative, as a matter of fact. We already wrote about the mathematics behind gambling or the gambling behind mathematics in order to reveal the impact of gambling on science. This week we have another US online gambling news about the connection between gambling and academic knowledge. University of Maryland Professor Stephen McDaniel has been offering a course named Gambling in the New Millennium. He teaches such topics as economics, religion, politics, public health and marketing through gambling. Gambling is connected to our lives in many ways, as you can see.
Salleh Said Keruak – "Since 2012 to April this year, MCMC (Communications and Multimedia Commission) blocked access to 664 gambling websites following written requests from the police."
According to Malaysia gambling news, Communications and Multimedia Minister of Malaysia Salled Said Keruak stated that 12,000 phone lines were blocked in the first four months of the year due to offering online gambling services. Moreover, 664 gambling websites were blocked. It seems like Malaysia is pretty strict about the gambling issue. There are strict regulations for online gambling in many parts of the world. The reason is mainly taxation and licensing related issues. However, banning online gambling for the sake of banning it is against the civil liberties of people. If you want to know more about the online gambling laws in the US and other parts of the world, you can check our online gambling laws section.