Gambling Fun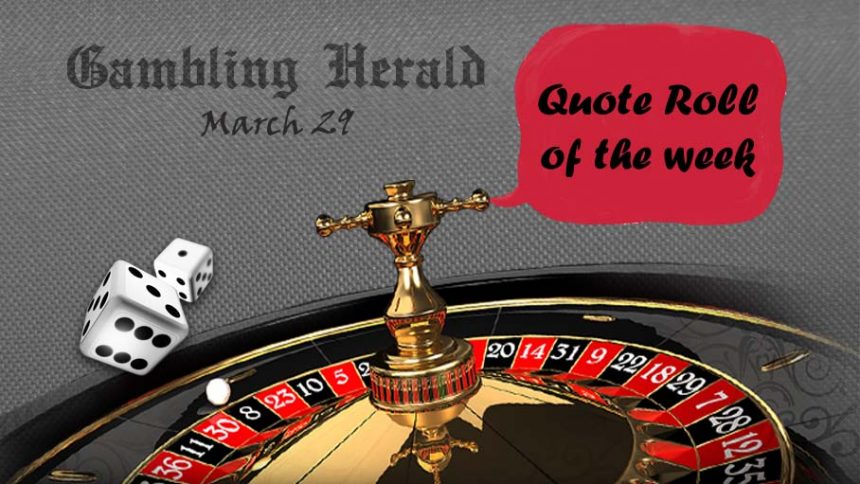 Quote Roll: March 29, 2016
29th March 2016
The new edition of Quote Roll will shed light on the latest issues regarding online gambling trends, legalization of daily fantasy sports and new developments in the online gaming industry.
It seems like DFS in the US is not a dream anymore since states are beginning to legalize daily fantasy sports one by one, although New York decided to keep DFS away from the borders of the state recently.
British celebrity, Atomic Kitten member Kerry Katona is the face of a new online bingo site called Bingo with Kerry. It is a matter of curiosity whether the image of Kerry Katona can help this new site survive among huge online bingo sites.
Gambling can be dangerous when an irresponsible person tries to venture into the gambling world. In Canada, a priest gambled away more than $500 000.  You may be worried about the sin obtained by the priest due to the regulations regarding gambling in Christianity. However, it should be the least of your concerns since the priest actually gambled away the fund created for Iraqi refugees.
Emanuel Shaleta – "We believe that Father Saka has a serious gambling problem and that these funds may have been used for that purpose."
Bishop Emanuel Shaleta witnessed one of the most peculiar confessions in his life on the 23rd of February. Father Emanuel Saka called him to confess that he gambled away the funds intended to help the new Iraqi immigrants in Canada. The amount we are talking about is around $500,000. It is a matter of curiosity whether Father Saka is a prombler gambler or he is against the arrival of new immigrants. Noneteless, Bishop Shaleta's words are pointing towards the direction of gambling addiction. We should accept the fact that clergymen are also humans. However, seeing the name of a priest next to the phrase of gambling problem is quite unusual, we have to admit.
Kerry Katona – "I've been so excited to create a personal bingo experience for everyone and to get the chance to have a good laugh and gossip with you all every month."
Atomic Kitten Kerry Katona has become the face of a new online bingo site. The website called Bingo with Kerry is full of images of Katona trying to promote online bingo services of the website. According to Katona, she won't be only smiling at the visitors from the every corner of the website. She will interact with online bingo fans. It is your chance to play online bingo with a celebrity, if such an activity is in your bucket list.
Aurelien Perol – "We want to assimilate video game competitions as a discipline of sports. We received the ruling of the prime minister to include this text in the project of law."
Communication advisor of Secretary of State of France Axelle Lemaire, Aurelien Perol gave an Easter bunny full of hope to all daily fantasy sports lovers in France. DFS is illegal in the country since it is accepted as unregulated gambling. However, a new bill regarding online gambling in France will be passed soon in the French parliament which may enable the legalization process of DFS in France. In other words, DFS fans will be able to bet on daily fantasy sports in France without any restrictions in the near future if the bill can jump over the obstacles in the parliament.
Jack Johnson – "I and my attorneys did provide guidance that they did not see fantasy sports as a lottery. That means the constitution's OK."
Republican Party member of the Tennessee Senate, Jack Johnson is working for the legalization of daily fantasy sports in Tennessee. The new bill may change the fate of DFS in the state since it might be accepted as lottery. It means that DFS will be legal but regulated and taxed according to the Tennessee Gambling Laws. If Tennessee decides to legalize daily fantasy sports in the state, we may expect to see some other states in the bandwagon in the foreseeable future.
Matt Davey – "Global revenue forecasts for the lottery industry recently topped €260bn. As one of the few gaming content and platform providers with World Lottery Association Membership, we are well positioned to work in partnership with national lotteries across the globe."  
NYX Gaming CEO, Matt Davey announced that the online platforms of Dutch state lottery operators Nederlandse Staatsloterij and De Lotto will be powered by NYX Gaming. It means that Dutch lottery operators will have a wider audience. We do not know whether the new online platform will be available worldwide or not. However, we can anticipate a wider audience for the Dutch state lotteries. Playing online lotto is gaining popularity and wider audience rapidly. For instance, you can easily play Powerball online regardless of your location, without the necessity of flying to California.