Quote Roll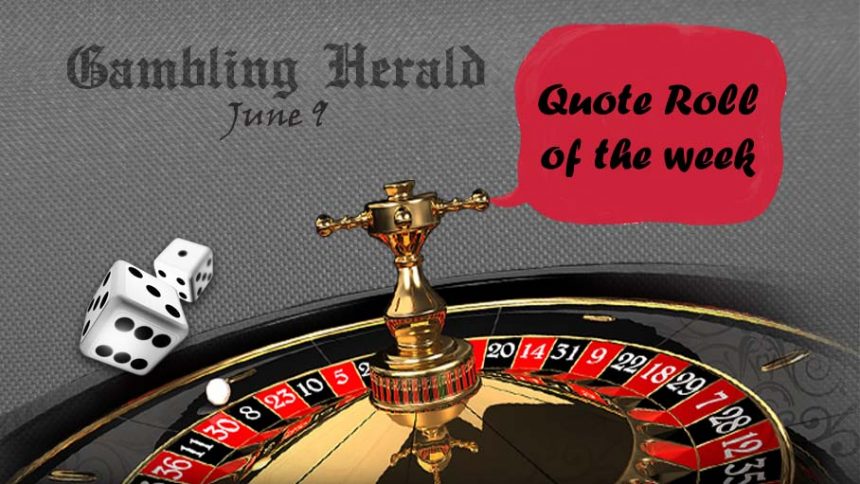 Quote Roll: June 9, 2016 – Gambling Quotations of the Week
9th June 2016
Quote Roll Gambling Quotes of the week session focuses on the USA gambling laws this week. We will give place to celebrity gamblers quotes to report the most essential gambling news of the week. Last week we learnt that New Jersey gambling industry is suffering deeply and New Jersey lawmakers sit on different poles when it comes to saving the Atlantic City casinos. New Jersey politicians are trying to isolate the crisis of the gaming world within the borders of Atlantic City. Here is the latest gambling news through gambling quotations.
Steve Sweeney – "I think it's going to be extremely difficult to pass gaming in northern New Jersey."
New Jersey Senate President Steve Sweeney is a supporter of gambling expansion in New Jersey. However, he seems like he is quite pessimistic about it as the situation of Atlantic City casinos has degraded the idea of opening new casinos in different parts of the state like the Northern New Jersey. At present, New Jersey gambling laws allow brick and mortar casinos only in Atlantic City. The number of cities which allow land-based casinos can be increased if the Atlantic City gambling industry returns back to healthy financial state.
Ralph Caputo – "Amid all the new stories and headlines, it is easy to forget that Atlantic City still has plenty to offer as far as gambling, dining, shopping and entertainment.  We should use every opportunity available to promote the casinos still standing and remind potential customers that there is still plenty to see and do in Atlantic City."
Atlantic City casinos have been on a financially decreasing trend for a long time. Quite a number of Atlantic City casinos that have closed their doors. Many New Jersey politicians try to save the last eight remaining casinos which may choose to move to another location in the future. According to New Jersey Assemblyman Ralp Caputo, Atlantic City casino industry is not dead yet as the city has a lot to offer to attract local and foreign tourists. Therefore, it is essential to promote Atlantic City more than ever. Caputo has sponsored the Assembly bull no. 2811 which would require the New Jersey online casinos to promote brick and mortar casinos as well. This is an awkward idea considering the fact that online casinos reduce the demand for land based gambling. This is the main reason why the casino magnate Sheldon Adelson has waged a fierce war against online gambling in the US.
Phil Boyle – "I go to the same gym for 10 years. I walk in the next morning and a dozen guys who never talked to me in my entire life came up to me that morning and said, 'You've got to change this.' It (daily fantasy sports) is very popular."
New York senator Phil Boyle realized the growing popularity of daily fantasy sports in New York in a peculiar way. It is the craze of the current era; therefore, lawmakers cannot keep ignoring DFS. Best US daily fantasy sports sites are struggling immensely in order to operate legally without being labeled as gambling operators. DFS is not gambling for the operators and the players. However, American lawmakers don't seem to agree with them as there are many states that don't want to legalize DFS separating it from gambling. One of the strictest states is New York. It is a matter of wonder how long the lawmakers can ignore the legal existence of DFS.
Brad Roae – "Gambling expansion is a better option than a tax increase. There are concerns about more gambling but greater concerns about a massive, job-crushing tax increase."
Republican lawmakers of Pennsylvania see gambling as a way to avoid heavy taxation. Democratic Government of the state Tom Wolf proposed tax increase. Pennsylvania gambling laws allow the development of gambling facilities. Since there are not such strict gambling regulations in Pennsylvania, gambling revenue can generate a solution for the high taxation problem. At least, that is what the Republican member of Pennsylvania House of Representatives Brad Roae believes.
Gurmail Singh – "This is legally gambling in Texas. They have an inspection sticker on the game machine and the Texas Controller provide this sticker."
Sherman Police Department raided shops to confiscate illegal gambling machines. A shopkeeper said that he obtained a sticker from an official inspection bureau of Texas State. It seems like there are different opinions in the state regarding Texas gambling laws. Therefore, it is important to define the term gambling and decide what is considered gambling and what is not.