Blackjack Guide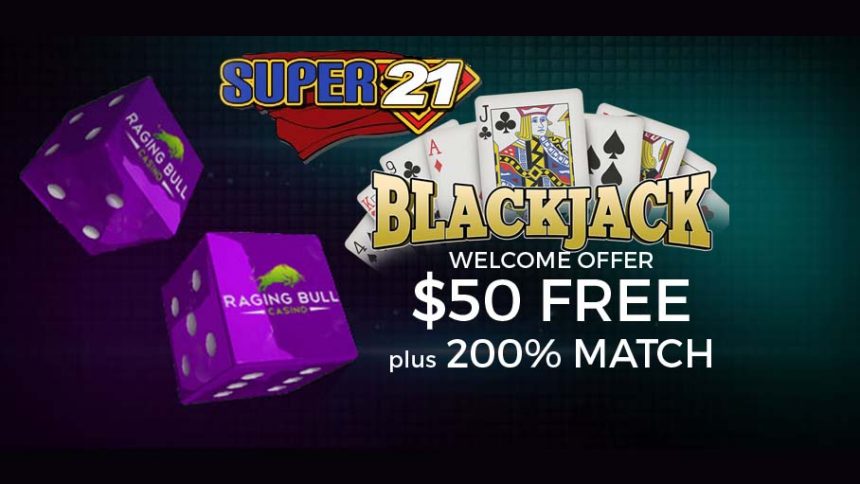 Play Super 21 Blackjack at Raging Bull Casino
8th June 2016
Play Super 21 Blackjack at Raging Bull Casino in order to make the best of your online blackjack experience as only exclusive online casinos can give you the utmost pleasure of online blackjack.
Super 21 Blackjack, also known as Super Fun 21, is a Blackjack variation played according to the basic Blackjack rules. However, there are additional rules in the game to add spice into your online Blackjack experience.
Once you sit down to play Super 21 Blackjack, you will realize that there are more rules that you can take advantage of compared to the traditional Blackjack game. This game is fun, exciting and lucrative. Raging Bull Casino utilizes high-tech graphics to create life-like Blackjack gaming experience for their players. Realistic tables, dealers and absolutely real players around you. It is Las Vegas on your computer screen.
How to Play Super 21 Blackjack
In order to initiate the game, players make their bet and receive two cards face-up. Before we continue explaining the further rules of Super 21 Blackjack, we recommend you to check our Gambling Slang Dictionary so that you will know every Blackjack term that we use. Once you familiarize yourself with the Blackjack terminology, you can continue to read the rest of the instruction about how to play Super 21 Blackjack.
The main aim of Super 21 Blackjack is beating the dealer's hand getting closer to 21 compared to the dealer. Eight decks of cards used for a house edge of 1.42% and the dealer must hit on soft 17.
So far we have listed the basic rules of Super 21 Blackjack. However, Super Fun 21 rules are more sophisticated than you think. For instance, some of the rules which have been set to render the game more interesting require having six cards of more in a hand, a hand worth 21 with five cards or more, blackjack and blackjack with two diamonds. Players automatically win when they have six or more cards with a total of 21 points.
Another important feature of Super 21 Blackjack is that players can hit and double down after splitting aces. They can double down on any number of cards. Moreover, players can enjoy the feature of late surrender and surrender after doubling down.
Playing Super 21 Blackjack at Raging Bull Casino
Once you decide to play 21 Blackjack at Raging Bull Casino, first you need to open a free account on the registration page of Raging Bull Casino. Once you are done with the registration process, you can head to Super 21 Blackjack section either on the no download casino or on the software after downloading.
Once you deposit money to play Super 21 Blackjack at Raging Bull Casino, you can select the amount of chips to be played by clicking on them. The dealer will deal the cards once you click on "Deal". You can click "Hit" to get another card while you can click "Stand" to play with the same card that you already have. If you click on "Double", you will receive one more card and your bet will be doubled. You can also divide your hand into two hands clicking on "Split". If you don't want to continue with your hand you can click on "Surrender" to forfeit the hand which will result in losing the ante-bet.
Here is the payout table if you decide to play Super 21 Blackjack at Raging Bull Casino:

Play Online Blackjack Free to Master Your Skills
If you are a newbie Blackjack player and don't trust your skills, you can play online Blackjack free to learn all the details of Blackjack. Gambling Herald Online Blackjack Free Play at your disposal with further instructions and free play option.
When you decide to improve your Blackjack rules and strategies knowledge, you can visit out Blackjack for Beginners guide to acquire the knowledge to be a pro Blackjack player.
The last information pack is related to Raging Bull Casino where you can have an outstanding online Super 21 Blackjack experience. Read our Raging Bull Casino review to learn more about the language options, payment methods, online casino signup bonuses and technical features of the casino which is among the best US online casinos.