Gambling news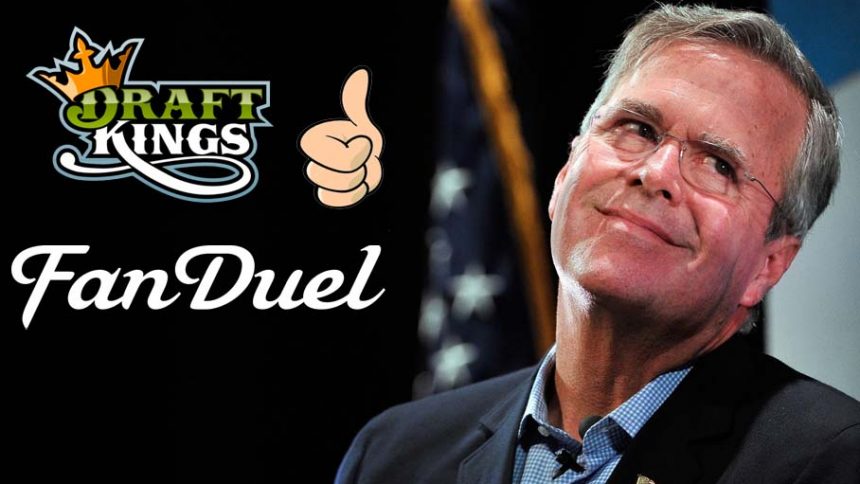 Jeb Bush's New Job is Making Daily Fantasy Sports Legal
8th December 2016
Former Florida Governor and the younger brother of former US President George W. Bush has been hired by a law firm whose clients include the famous US and UK Daily Fantasy Sports site DraftKings. He will work to make daily fantasy sports legal in the United States.
2016 has been a really interesting year for US Politics, indeed. First the well-known casino magnate, the former owner of Trump Taj Mahal, Donald Trump was elected as the new US President. And now the famous member of the Bush Family, Jeb Bush has been hired to make daily fantasy sports legal in the United States.
Jeb Bush's initial aim was to follow the footsteps of his father George H. Bush and his older brother George W. Bush, both served as US Presidents. John Ellis "Jeb" Bush aimed to reach the same level as well. He announced his presidential candidacy as a representative of the Republican Party. He suspended his campaign a year later and postponed his dreams to be the Commander in Chief of his nation. Well, he managed to find a job less than a year after he suspended his campaign as his CV was good enough to secure him a place at the famous law and lobbying firm Buchanan Ingersoll & Rooney.
If you check the
best US legal Daily Fantasy Sports sites
state by state comparison list, you will realize that DFS hasn't been legalized in every state. Therefore, the
major US Daily Fantasy Sports sites
like DraftKings and FanDuel have been utilizing their lobbying funds to change the minds of the no-gambling states' politicians. Considering Jeb's political network, Buchnan's decision to sign him is of significant strategic importance for the famous law firm.
Buchanan CEO Joseph Dougherty said in a statement that "There are very few people that have the breadth of experience that Government Bush has, both in the public and private sectors. We believe his insight will be a tremendous asset to our attorneys and clients." We couldn't agree more with Mr. Dougherty that Jeb Bush's presence will increase the chance of US DFS sites in their zeal to increase the size of their operation area, especially in the jurisdictions of the Republican states.
According to the latest USA online gambling news, DFS market is expending a in a rapid pace. It is expected that the revenue of the DFS market will reach $5.3 billion by 2021. It is $2.7 billion more than the current revenue. DraftKings and FanDuel dominate the USA DFS market currently. However, the numbers of markets and daily fantasy sports sites will increase immensely in the near future. The numbers indicate the potential of the DFS market. Buchanan's move to hire Jeb Bush is definitely a result of a strategic planning towards rendering daily fantasy sports legal in the United States.