Gambling Fun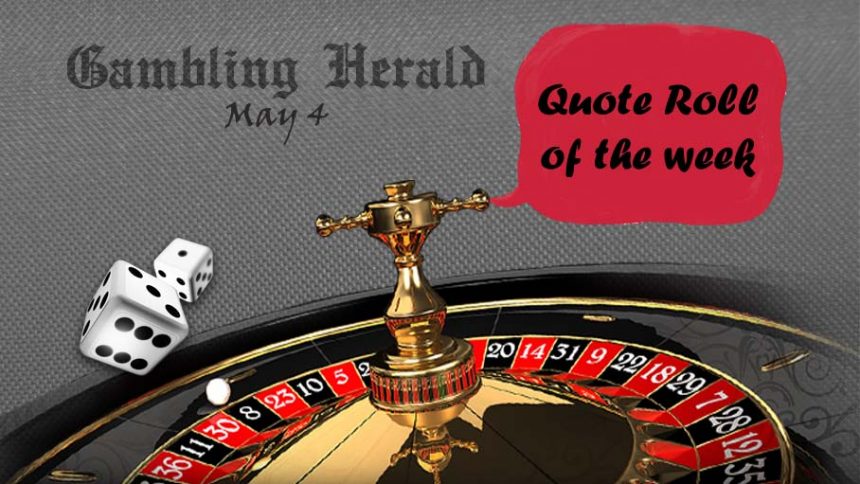 Quote Roll: May 4, 2016 – Gambling Quotations of the Week
4th May 2016
Quote Roll Gambling Quotations of the week is about to reveal the analysis wise (or unwise) celebrity gamblers quotes and online gambling news of the week. Daily fantasy sports laws in Idaho, gambling popularity in South Dakota, important of betting for NFL's popularity and more topics will be revealed as gambling related questions will be answered in the latest edition of Gambling Herald Quote Roll. Let the game begin!
Lawrence Wasden – "My concern is that the daily fantasy sports offerings my office reviewed require participants to risk money for a cash prize contingent upon individual athletes' collective performances in various future sporting events. As I see it, this falls within Idaho's definition of gambling."
Idaho State Attorney General Lawrence Wasden believes that daily fantasy sports betting is gambling. It seems like Idaho daily fantasy sports fans won't be able to bet on daily fantasy sports online as the political representatives of the state claim that DFS betting falls into the category of gambling which is actually illegal. There have been many debates regarding the legality of DFS betting in the US. The best US DFS betting sites FanDuel and DraftKings try hard to find legal grounds to operate legally in every US state. Nevertheless, their lobbyists cannot impact the lawmakers as much as they should since many US states have already banned DFS betting. The main reason is the lack of daily fantasy sports betting regulations in the US. Once the lawmakers make up their minds and create proper guidelines to regulate DFS betting, then DFS fans can enjoy the newest betting experience of the current era freely.
Jill Gonzalez – "South Dakota has among the highest number of casinos at roughly eight per capita. The number of gaming machines is even higher, at 24 for every 1,000 adult residents, ranking second and preceded only by Nevada."
Is gambling legal in South Dakota? Well, it seems so as analyst Jill Gonzalez stated that South Dakota residents enjoy gambling more than other US states, except for Nevada which is the gambling haven of the USA. It seems like what is extremely popular in the state after Mount Rushmore is gambling. The number of problem gamblers is also high in South Dakota (2nd highest after Nevada). If you are wondering whether South Dakota will be the new Sin City of the USA, you may be wrong since there is not any city like Las Vegas in South Dakota.
Roger Goodell – "All of us have evolved a little on gambling. To me, where I cross the line is anything that can impact the integrity of the game. If people think it is something that can influence the outcome of a game, we are absolutely opposed to that."
NFL commissioner Roger Goodell is one of the sports executives who are aware of the importance of sportsbetting for the popularity of sports. Best online sports betting sites in the US offer bets on NFL games which is actually essential in terms of not only betting revenue but also popularity of the sport. There are many bettors who enjoy finding new sports to bet on. Betting on NFL online in the US contribute to the increase of fans. Opposing to the betting on NFL games is an understanding which harms the future of the sport.
Andrew King – "Gambling is a harmful pastime leisure occupation and the council for years has pretended that they have a sinking lid policy. I'm not proposing for one minute that anyone who has pokie machines on their premises lose the right to have them. They retain them as long as they want them but when they're finished with that location they don't sell them on for a profit."
Hamilton City Councillor Andrew King apparently believes that pokie machines are harmful to the local community. They resemble crack cocaine gambling machines, the FOBTs of the UK. People spend a lot of money on pokie machines in Australia. However, we cannot blame the machines for that since problem gambling can only be solved through gaining a strong sense of responsibility. Sinking Lid Policy, which involves removing pokie machines from a location without replacing them with new ones, doesn't seem to be the ultimate solution as people can play at the best online casinos in Australia easily. A permanent solution for problem gambling would be raising awareness for the importance of responsible gambling.
Graham Taylor – "The root cause from all this was an obsession with gambling."
Former Healesville Chamber of Commerce president Graham Taylor was imprisoned due to stealing almost $20,000. He is a successful businessman known for his charity works. However, it seems like his gambling instincts got the better of him and he ended up stealing money to fund gambling. It seems like people tend to blame gambling for their unlawful activities easily. Nevertheless, it is known that there are scientific explanations of gambling addiction which means actions which are done due to gambling problems may actually stem from deeper issues.