Gambling Fun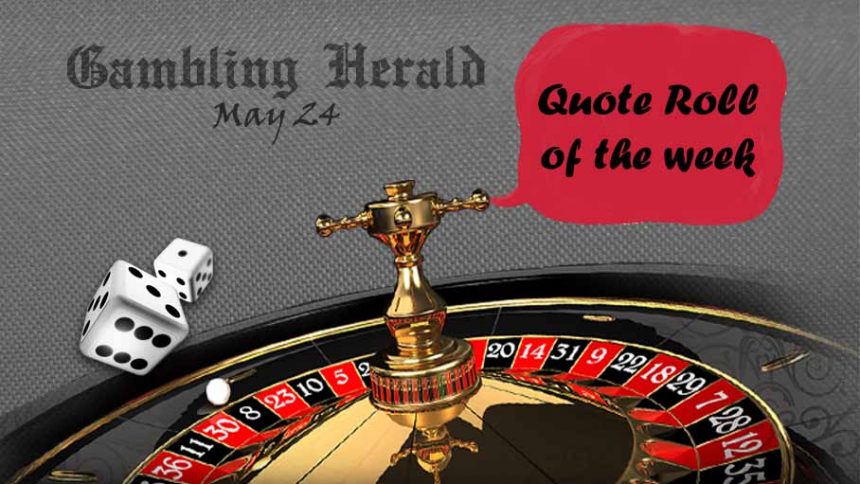 Quote Roll: May 24, 2016 – Gambling Quotations of the Week
24th May 2016
The latest edition of Quote Roll is ready to inform you about the latest internet gambling news, developments about the gambling world and all the updates that you need to know about the gambling industry. As usual we have pro and anti gambling quotes, celebrity gamblers quotes, Hillary Clinton and Donald Trump quotes and prominent egaming executives' opinions to grasp the core reasons of the latest happenings in the gambling world.
Maebh Leahy – "Numbers presenting for treatment are increasing year on year we are seeing a huge increase, 9% of our clients are presenting with problem gambling as their primary addiction now and that's a drop in the ocean."
CEO of the Rutland Addiction Treatment Center Maebh Leahy stated that 9% of the whole addiction patients of the center are suffering from gambling addiction. And the number is in increase. The reason why we started the Quote Roll of the week with an anti-gambling quote is that gambling addiction is a prevalent topic in the international media. However, there are not many columnists and experts who talk about the importance of responsible gambling. Best online gambling sites support such organizations as Gamblers Anonymous and GambleAware to raise awareness about responsible gambling. Gambling is fun as long as you do it responsibly.
Andree Froude – "It would mean that 24/7 you're carrying around the opportunity to gamble like this in your pocket."
Let's continue with another anti-gambling quote! Problem Gambling Foundation spokesperson Andree Frounde claimed that instant win games such as online scratcthies offer the chance of gambling anytime and anywhere. Currently, Instant Kiwi scratchies sales constitute the 15% of the total retail revenue of Lotto NZ.  These online and mobile casino applications are quite popular in New Zealand. Therefore, it can be said that Frounde's worries are not empty. However, this kind of scratch card games has been popular all around the world for more than a century. There is nothing more natural than transformation of traditional games into high-tech e-games as that is what the 21st century requires.
Hillary Clinton – "Trump economics is a recipe for lower wages, fewer jobs, more debt. He could bankrupt America like he's bankrupted his companies. I mean, ask yourself, how can anybody lose money running a casino? Really."
Ouch! Trump got a big hit from Clinton. This mighty attack may bring leverage to Clinton in the 2016 Presidential Election Predictions. Our job here is finding the devil in detail. Hillary Clinton claimed that you can't lose money if you are running a casino. I think she stays on the urban legend that house always wins. Nevertheless, you can see that it is not exactly true if you check previous internet gambling news stories about online casino winners.
Victor Lazatin – "We thought of initially starting with online gaming, because it's easier to set up. And then later on we'll go into land-based casinos."
There is a new gaming jurisdiction in the Philippines to attract online and land-based casinos to the northern part of the country. The master licensor of the jurisdiction is the Pacific Seaboard Leisure and Entertainment Corporation for the next 25 years. The CEO of the corporation Victor Lazatin emphasized the importance of online casinos for the gambling revenue of the jurisdiction. Online casinos are safe, easy to launch and accessible world-wide. That is why the best online casinos in the US and the other parts of the world are appealing to many gambling authorities in the countries where gambling is allowed.
Alex Rutherford – "Creating a social network for the sports betting community, allowing users to stay connected while using our services is a great idea."
According to latest sports gambling news, William Hill pens a deal with the sports betting social network Betfect. This is a new platform where sports betting fans can share their opinions, sports betting tips, and sports betting odds comments. It is the first social network for bettors. It seems like William Hill's head of product innovation Alex Rutherford is quite exciting about this new system. William Hill bettors will be able to communicate with each other while wagering bets on their favorite sports competitions in the near future.