Gambling Fun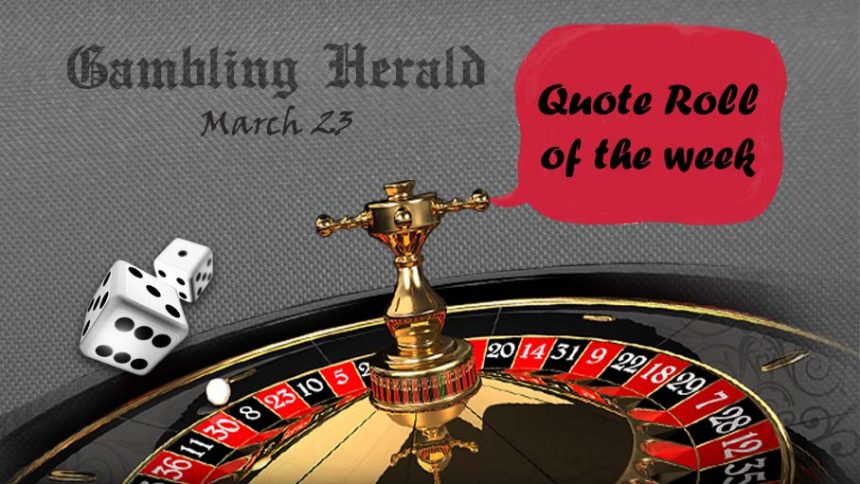 Quote Roll: March 23, 2016
23rd March 2016
This week's Quote Roll is highly influenced by the latest online gaming developments. Legalization of daily fantasy sports betting in the USA is still blocked by a big question mark. PokerStars returns back to New Jersey while FanDuel and DraftKings leave New York State.
There have been significant developments regarding DFS regulations in the US, online poker in the US, and online betting in the UK lately. Missouri has decided to tax DFS like online gambling while New York has managed to get rid of the daily fantasy sports giants FanDuel and Draftkings. PokerStars is back in New Jersey. US gambling laws help the online gaming market fluctuate continuously. We'll ask the experts about their opinions regarding the current situations of online gambling.
Eric T. Schneiderman – "I'm pleased to announce that both FanDuel and DraftKings will stop taking bets in New York State, consistent with New York State law and the cease-and-desist orders my office issued at the outset of this matter."
New York Attorney General Eric T. Schneiderman is happy about kicking DFS out of the borders of New York State. Is gambling legal in New York? Commercial gambling isn't. New York gambling laws are quite strict in terms of online gambling. Before questioning the justness of Schneiderman's attitude, we need to answer one important question: Is DFS gambling or a game of skills? According to FanDuel Chief Financial Officer Matt King, DFS is merely an entertainment product. This statement is partially correct. However, we should also keep in mind that it is a game where money is heavily involved. Therefore, regarding DFS as gambling can be a right judgment. Nevertheless, banning the giant daily fantasy sports sites from the state violates the freedom of 19 million citizens in the state. Although DFS is a newly emerging area, states should come up with proper regulations and taxing system instead of kicking the latest technological developments of the current era.
Jay Nixon – "Kids are playing, and it (DFS) is completely unregulated. And there are lobbyists in this building who want to keep it that way. If you're going to legalize it, we must regulate it and tax it just like we do casinos."
Governor of Missouri Jay Nixon made this statement regarding the legalization of DFS in Missouri. Missouri gambling laws contains regulatory measures regarding online gambling in Missouri. However, these laws are not enough to regulate daily fantasy sports since it is a new field of online gaming. As we already mentioned, banning daily fantasy sports is a mistake. However, creating proper regulations wouldn't harm the DFS operators. Moreover, there may be protective measures for the operators and players so that daily fantasy sports experience can be improved with the help of the state governments.
David Baazov – "We could not be more proud to bring PokerStars to New Jersey. Working with our partner, Resorts Casino Hotel, we look forward to providing the most exciting, innovative and secure gaming experience to New Jersey."
CEO of Amaya, David Baazov announced the return of PokerStars to New Jersey. One of the biggest online poker platforms, PokerStars managed to return back to the Garden State. Atlantic City's gambling giants Taj Mahal, Tropicana and Borgata have to compete with PokerStars again. Online poker is quite popular in the Garden State since the residents enjoy one of the loosest online gambling regulations in the US. It is a matter of curiosity whether other states will follow the example of New Jersey or not.
James Henderson – "Today's statement reflects the combined effect of our assessment of the impact of recent regulatory changes and unfavourable sporting results including the worst results at Cheltenham in our recent history. We are also experiencing softer UK growth as a consequence of acquiring lower value customers. While the rest of the Group is performing in line with our expectations, we continue to focus on improving Online's performance so that we can, once again, outperform the market."
Chief Executive of William Hill, James Henderson seems to be quite pessimistic regarding the financial developments of the sportsbook during the current year. Every UK sportsbook rely on Cheltenham Festival since it is a huge horse racing event in the UK. This year's race wasn't as lucrative as expected for William Hill, apparently. Moreover, new problem gambling prevention programs make the online sportsbooks suffer due to strict regulations such as limiting the playing time of players. However, still online betting in UK can reverse the negative drift.
James Donoghue – "It's a huge problem for students. It's OK to come out and say that gambling is the same as any other addiction and it's self-destructive and we can deal with it as a students union and as a student government." 
According to online gambling news in Ireland, gambling apps lure youngsters to gamble irresponsibly. This is the era of smartphones in which people touch their mobile devices more than they breathe. Therefore, online gambling apps are easily accessible, comfortable and appealing. Education officer of Dublin City University James Donoghue believes that online gambling apps cause huge problems for students due to the fact that they do not regard online gambling apps as gambling tools. He claims that online gambling apps are quite addictive. As a matter of fact, online gambling apps render online gambling experience better and more enjoyable. Problem gambling issue should be solved rather at schools before young people start using their smartphones to gamble.