Gambling Fun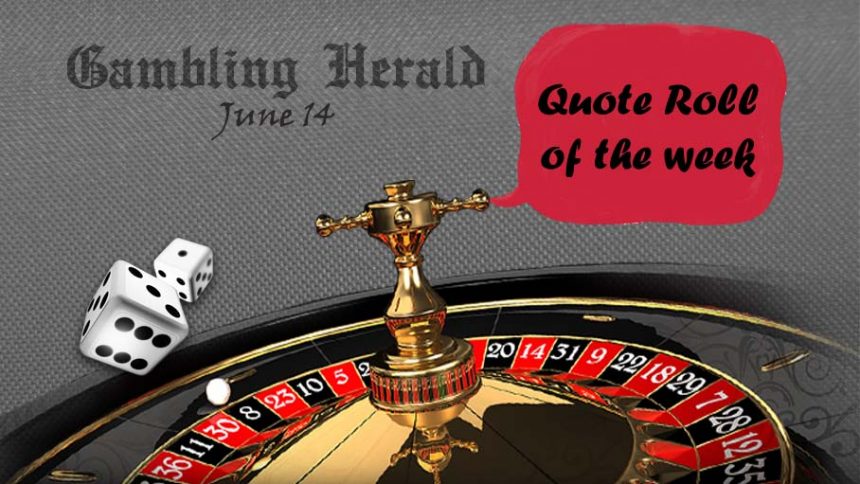 Quote Roll: June 14, 2016 – Gambling Quotations of the Week
14th June 2016
Quote Roll Gambling Quotations of the week will offer you a short analysis of the past week in the gambling world. Celebrity gamblers news of this week focuses on the legal aspects of the countries where the gambling is legal in the world. Gambling laws tend to fluctuate between the pro-gambling and anti-gambling poles constantly. You will have clear idea about what is going on in the online gambling industry once you read the oppositional views of the lawmakers and businessmen.
Mark Wilson – "We view the Northern Territory's proposed ban on 'click-to-call' in-play betting services to be a minor positive for the traditional wagering operators in Tabcorp and Tatts as it would remove an advantage currently enjoyed by the corporate bookmakers, thereby reducing their ability to ­acquire new customers."
Deutsche Bank analyst Mark Wilson claimed that the new Australia Gambling Laws change will make little contribution to the income of the local betting operators in the Northern Territory. According to the new law, in-play betting activities won't be able to be conducted through internet within the boundaries of the Northern Territory. Only way to wager in-play bets will be phone betting. Therefore, such off-shore Australian betting operators as William Hill, Bet365, and Unibet will lose new customers while the local betting operators will attract more.
Carolyn Harris – "It is very concerning to see yet another bookmaker being taken to task by the regulator over failures in their approach to responsible gambling and keeping crime out of gambling."
Famous bookmaker Betfred was charged with £800,000 fine after accepting stolen cash from a VIP customer. According to the latest online gambling news, Betfred was fined due to the fact that it failed to meet its obligations to promote social responsibility and prevent money laundering. Labour MP for Swansea East Carolyn Harris emphasized the fact that Betfred is not the sole online bookmaker which has been charged for criminal acts. Majority of famous online European and US casinos and sportsbooks have proven to be reliable and transparent. However, there are still off-shore bookmakers which insist on disappointing online betting fans.
Richard Kalm – "Michigan law does not permit unlicensed, unregulated gambling establishments and the unwanted crime they bring."
A success businessman from Michigan was fined $1,200 for involving in an illegal gambling activity. Michigan Gaming Control Board executive director Richard Kalm clearly stated that unlicensed and unregulated gambling is illegal in Michigan. According to the US gambling laws, unregulated online and land-based gambling activities are considered illegal in every US state. Establishments have to obtain proper licensed in order to organize gambling-related activities. For instance, due to Nevada gambling laws which prohibit unregulated gambling there is no legal daily fantasy sports sites in the state although DFS is not illegal.
Gladys Pardu – "Casinos cannot be expected to conduct an individualized assessment of each of their customers to determine the wisdom of the decision to gamble."
Shellee Spinks, a law clerk in Hamilton, Ontario managed to steal money and forge official documents to raise fund for her gambling activities. She gambled away about $3 million within 14 months. The owners of the estates sued the casinos for letting a problem gambler play at their casinos. The judge of the trial Gladys Pardu stated that casinos cannot know who is problem gambler who is not. Especially, online casinos have no chance to identify problem gamblers. That is why the best online casinos in the US and Europe support the cause of Gamble Aware and Gamblers Anonymous.
Paul Kim – "The online gambling industry generates over $42 billion in worldwide revenue annually, with another $96 billion in the video gaming space, which is holding its annual E3 event in Los Angeles this week." 
Co-founder of BreakOut Coin (BRK), a new age online payment system, Paul Kim stated that online gambling industry's annual revenue is $42 billion worldwide. This figure shows the size and importance of the online gambling industry clearly. The reason why Paul Kim's words are stated just after the gambling quotations regarding the legal aspects of gambling is that while the world's lawmakers discuss their concerns regarding the increasing popularity of gambling and the necessary strict regulations to control gambling activities, online gambling industry keeps increasing in value day by day.