Quote Roll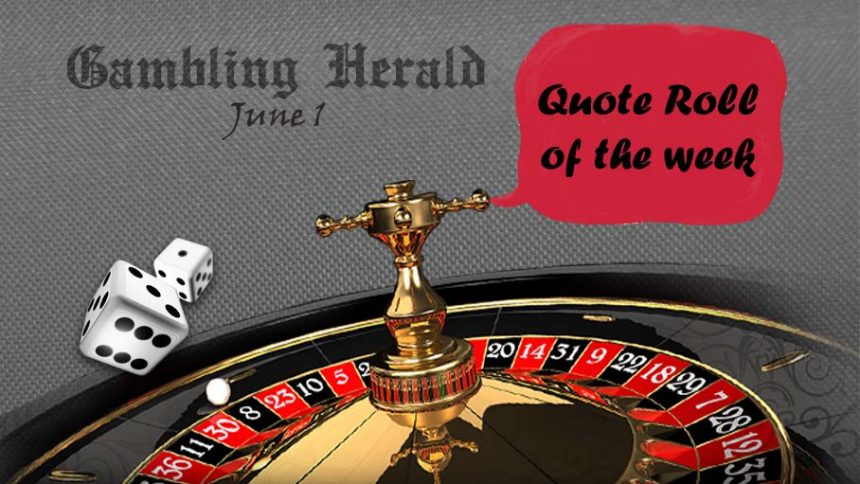 Quote Roll: June 1, 2016 – Gambling Quotations of the Week
1st June 2016
The first Quote Roll of June 2016 is here again to convey the latest developments in the gambling world and the online gambling news through the own words of the professionals of the gambling world. Celebrity gamblers quotes will tell you about the downside of gambling and also upside of it so that you will have the objective sense to judge whether it is beneficial for you or not. Here is the perfect soup made out of the balanced mixture of anti gambling quotations and motivational quotes for gamblers.
Jim Murren – "Borgata is the premier resort in Atlantic City and a great addition to our growing presence in the Northeast." 
Here is the breaking US gambling news: MGM reached an agreement with Marina Development Holding Company to buy 50% of Borgata Hotel Casino shares. It means that Las Vegas giant wants to sail to the cold waters of the Atlantic. Despite the fact that the New Jersey lawmakers and the governor Chris Christie put pressure on the Atlantic City casinos constantly, MGM is eager to enter the Atlantic City casino world. It seems like Nevada gambling laws taught them how to deal with legal challenges. According to the online gambling news, MGM Resorts International agreed to pay $900 million. Chairman and CEO of MGM Resorts International asserted that they aim to increase their presence on the east coast as they already do on the west coast. Presence of MGM in Atlantic City? Well, this is a motivational quote for gamblers.
Ebbe Groes – "The present iGaming industry displays a significant commercial potential which translates into a growing number of clients for our company."
Asian countries are becoming more appealing to western investors day by day. British software development company Every Matrix decided to open a research development office in Vietnam's Ho Chi Minh City. There are more reasons behind the global interests of Every Matrix. First of all, interest in iGaming is increasing rapidly, especially in the Asian countries. Skilled professional IT education quality has already reached a substantial level in these countries. Therefore, the regions of South Asia, Southeast Asia and East Asia bear huge iGaming potential. That is what the Every Matrix CEO Ebbe Groes means.
Dave Reed -"Our goal is for gaming revenues to be part of the final budget package."
Pennsylvania gambling laws will probably allow slot machines at airports and off-track betting parlors. But the most important of all, Pennsylvania online gambling laws will be more liberal. According to the Pennsylvania House of Representatives Majority Leader Dave Reed, legalization of gambling is vital for the state budget. The revenue gained through gambling activities is expected to be an important part of the new budget package.
Marlene Warner – "We want people to keep gambling in a way that's healthy and safe for them, so that it doesn't rise to that problematic level."
It is time to move to anti gambling quotes. Executive director of Massachusetts Council on Compulsive Gambling, Marlene Warner emphasizes the importance of responsible gambling. Wait a second! It is actually not an anti-gambling quote as responsible gambling is what we support whenever we have the chance to do so. There are many help lines and NGOs that aim to help problem gamblers. Many anti-gambling adherents attack gambling directly. However, Marlene Warner's attitude is quite constructive as telling people stop gambling is not the real solution, as we have learnt throughout decades. The core solution to problem gambling is teaching individuals how to retain the control.
A Ghanaian teacher – "The jackpot machine is all around the locality and the children are patronizing it. This is even reflecting in their academic work. Some of them are scoring zero in assignments, because they are always at the game centres and do not study at home." 
It seems like Ghana gambling laws are not efficient to keep youngsters away from gambling facilities. Growing number of slot machines around the country constitute essential problem, especially for youngsters. According to Ghana online gambling news, first a Chinese company brought the slot machines and then their numbers increased due to the profit that they generate. Without proper gambling regulations, gambling facilities can constitute threat for the society.