Online Gambling Promotions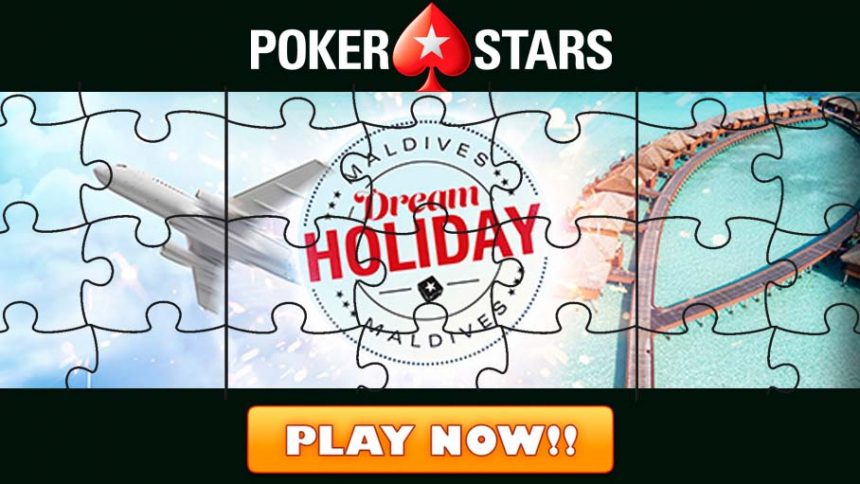 PokerStars Free Spin Bonus Becomes Free Holiday in the Maldives
29th March 2017
| | Dream Holiday in Maldives | |
| --- | --- | --- |
| | Bonus Type | Holiday Giveaway |
| | Prize | Inclusive Vacation in the Maldives |
| | Selected Games | PokerStars Casino games, special puzzle game |
| | Bonus Code | No Need |
| | Cashable | Yes |
| | Minimum Deposit | $10 |
| | Maximum Bonus | US$3,500 |
| | Valid between | April 3-9, 2017 |
| | Wagering Requirement | There is no |
| | Restricted Countries | Malaysia, Turkey, UAE, Bangladesh, France, Pakistan, Egypt, Qatar, Jordan, Kuwait, Senegal, Nigeria, Bahrain, Afghanistan, Palestinian Territories, Kenya, Mozambique, Rwanda, the Vatican, Iran, Iraq, Israel, Syria, Zimbabwe, Libya, Slovenia, Sudan, North Korea, Cuba, Myanmar, Yemen |
PokerStars Free Spin Bonus has been replaced by a luxury dream holiday to the Maldives promotion. Online fun triggers physical enjoyment at PokerStars.
PokerStars Free Spins Bonus would be mind-blowing; however, who needs Free Spins when you can win a luxurious dream holiday to the Maldives. Eight lucky PokerStars players will enjoy crystal clear waters, golden-sand beaches, tropical fruits, and all the luxury that the Indian Ocean island state can offer.
Everybody dreams about an idyllic holiday in the Maldives, also known as the Paradise on the Earth. Now, you can win an all-inclusive luxury holiday package to the Maldives simply playing the best online casino game and a special puzzle game at PokerStars.
In order to win an amazing trip luxury trip to the Maldives, all you need to do is completing the Dream Holiday Maldives puzzle. Completing the puzzle will give you a chance to be among the eight lucky winners. Moreover, each puzzle piece that you collect will also bring a random prize worth up to $5,000.
PokerStars promises to take care of all the needs of the lucky players during their dream-like the Maldives vacation. The online poker giant will provide a return economy flight ticket to the Maldives for you and your guest – yes you can bring someone with you – from your closest major airport. You will be picked up from the airport in the Maldives and taken to the luxurious Beachside Bungalow at the Ellaidhoo Maldives by Cinnamon Hotel where you will spend then nights.
Your travel package is all inclusive. Therefore, you don't need to worry about any additional costs unless you want to buy a 200 kg sea turtle and carry it back home. But if you don't fancy such a vacation, then you can also exchange the package with US$3,500 cash prize – no wagering requirement or withdrawal restrictions.
How to Win an All-Inclusive Trip to the Maldives
In order to win an all-inclusive trip to the Maldives, you need to opt-in to your Dream Holiday Maldives puzzle available in your Challenge Window from April 3-9. Of course, you need to open a free account at PokerStars first. You can either play on your browser or download PokerStars app on your desktop or mobile device.
In order to collect puzzle pieces, you need to take on Casino Challenges. Don't forget! For every puzzle piece there will be a random bonus up to $5,000. Bonuses can be used on any casino game except for the Live Roulette.
Once you complete the puzzle, you will be invited to an All-in Shootout at 15:47 ET on April 10. It is a special kind of poker tournament where all players ware automatically put all-in on every hand until there is a winner. Therefore, you don't really need to have poker knowledge. However, you can still read our Poker for Beginners guide to learn more about the game of Poker.
Once you are announced among the winners, you can start planning your dream holiday to the Maldives. If you want to learn more about the popular online poker site, you can read our in-depth Pokerstars Review and Analysis. The promotion will take place between the 3rd and the 9th of April. Join PokerStars now and take your place among the winners! PokerStars Free Spin may not be available but you can find other Free Spins bonuses at Gambling Herald.
Claim your Luxury Holiday in the Maldives at PokerStars!