Gambling Fun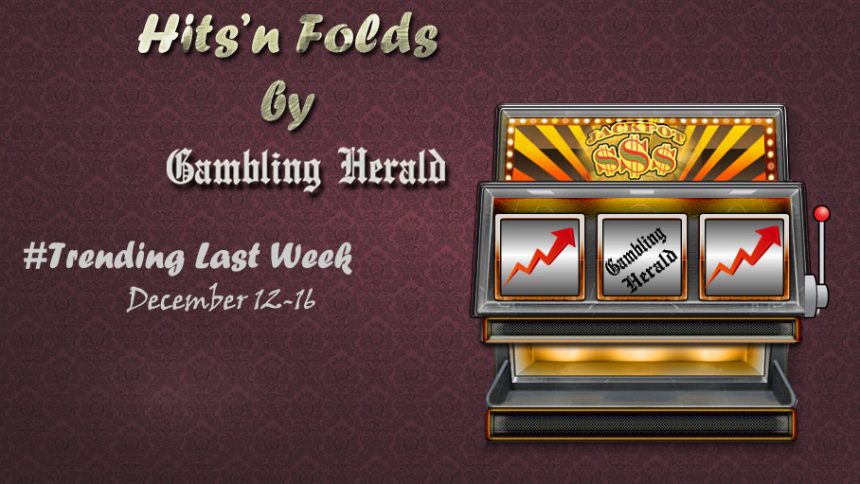 Hits n Folds: December 12-16
19th December 2016
Hits – Online Gambling Promotions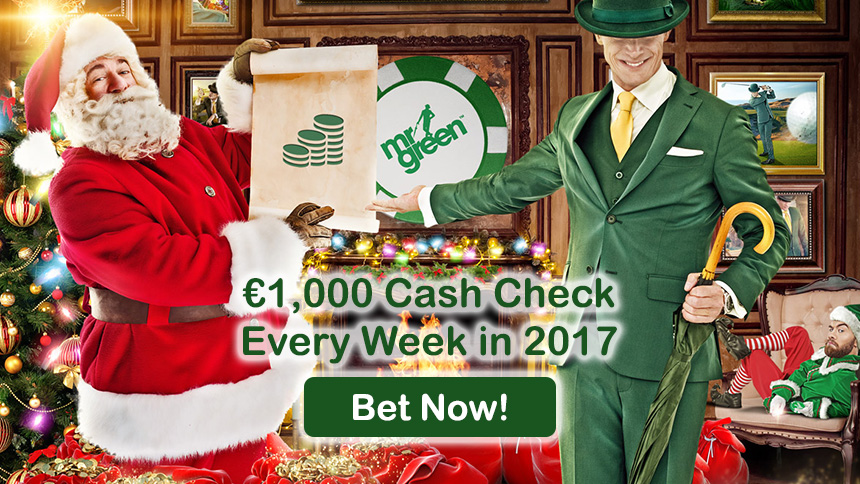 Get in on the fun this December by placing a simple €10 to qualify for leaderboard that can see you win a whopping €1,000 CASH every single week for a whole year – in case you didn't, on Earth one year has 52 weeks, so that translates to €52,000 in 2017! Based on the research at Gambling Herald, there's no other online casino that offers a promotion of this magnitude for the Xmas festivities. (Check out Mr Green Casino Review at Gambling Herald for more info about the online casino.) But the great thing is that even if you don't end up first on the leaderboard you still have a chance to receive a weekly check from Mr Green Casino; the prizes vary depending on the position you finish in: 1st – €1,000 weekly, 2nd – €250 weekly, 3rd – €100 weekly, 4th – €50 weekly, 5th (draw) – €100 weekly. Read more…     Play now!
---
There's less than two left until we enter into 2017, so hurry up and collect up to $40 worth in Tourney Tickets to some of the most exclusive events hosted by WSOP Nevada. Join the online poker site and claim the Tourney Tickets before December 31 for a chance to win huge rewards on various poker competitions. (For more details about the online poker site, check out WSOP Nevada Review.) This is the perfect time for you to play online poker and win money, because Christmas and New Year's is just around the corner; win at the special tourneys and get properly rewarded to buy your loved ones and yourself super cool presents and then go all out on New Year's Eve with your poker winnings. Read more…     Play now!
---
Last weekend bingo fans had a chance to celebrate the birth of Jesus (no, not the Mexican one) with CyberBingo's rewarding promo, the Christmas Bingo Tourney. Players were offered $15,000 in Cash for playing some of the most thrilling online bingo games last Saturday and received a share of the stunning $15,000 in Cash Prizes. (Take a look at CyberBingo Review for more info about the online bingo site.) Join the online bingo site today and take advantage of all the Christmas and December promos to scoop the biggest prizes. CyberBingo is known for dishing out daily promos and bonuses, so you always have something to look forward to, and especially now when festivities are in full swing. Read more…     Play Now!
---
Folds – Online Gambling Promotions
Seems like we're on a roll here at Gambling Herald; we haven't had a bad promo in quite a while.
---
Hits – Online Gambling News
(Image credit: Flickr)
Poker enthusiasts deposited $100,000 buy-in money for the popular Five Diamonds World Poker Classic tournament at the Bellagio High Roller Event last week which saw 38 of the best card players come together for the tourney. But it was one German poker fan by the name of Jan Eric Schwippert who took home the top prize of $1,439,274, while Tom Marchese came in second with $1,018, 566 from the prize pot that had a total of $3,724,000. This should serve as a wake-up call for all you wannabe poker fans; check out some of the pro online poker sites at Gambling Herald and sign up with them before you book a ticket for Las Vegas and join up with some of the biggest players in the industry. Read more…
---
Folds – Online Gambling News
Yay! No bad news news last week!
---