Feature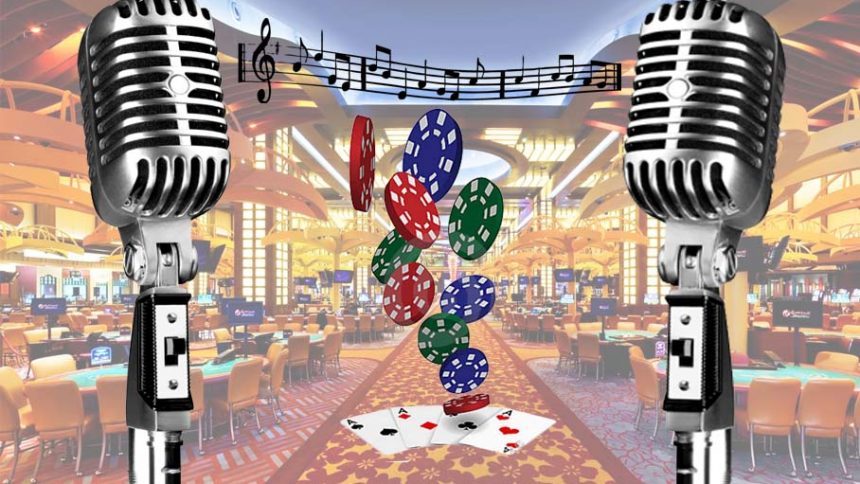 Gambling Songs Top 10
18th February 2016
Top 10 Gambling songs. Have you ever thought of creating a playlist under this title? Yes? No? Whatever your answer is, it's time to take a break and have some musical moments. I promise, it's gonna' be better than a bar of chocolate.
So if your playlist starts to be boring, and have no idea what to listen, here we are to help you. We have collected the top 10 gambling songs for your entertainment.
Lady Gaga: Poker Face
First of all, the ultimate song comes to everyone's mind is nothing, but Poker Face from Lady Gaga. This classic song comes from her debut studio album, The Fame (2008). With its' dark musical tone the song accomplished world wide success. It is not actually about poker as a table game. However, Lady Gaga uses Texas Hold'em as a metaphor for an extra-ordinary  and intimate relationship. Impressive, isn't it?
Frank Sinatra: Luck Be a Lady Tonight
This iconic piece was written by Frank Loesser back in 1950. It was performed first by Simon Mullins and the song was featured in the musical, Guys and Dolls. The story is about a man who wants to win the heart of a beautiful lady by winning a dice game. In other words you can win anything through gambling. Frank Sinatra also covered this song in his album My Kind of Broadway. In his gentleman-like style this piece is every lady's favorite. (Mine is, for sure.)
Kenny Rogers: The Gambler
This song is a real country-style one, originally written by Don Schlitz but recorded by several artists. The Gambler brought Kenny Rogers the Grammy award for best male country vocal performance back in 1980. The song itself tells the story about a late-night meeting happened on a train between the narrator and a man who is known as 'Gambler'.
Ray Charles/Eric Clapton: Losing Hand
We put both versions of this gambling song to ask you to decide which is better. Eric Clapton's version is more like a blues style on guitar, but both man has the charm to amaze women with this piece. The song starts with a classic line 'I gambled on your love baby and got a losing hand'. Well, you can't always win in gambling. Otherwise, it would be dull. The song obviously ends with a typical story, the girl cheats on the man who is still in love with her.
Motorhead: Ace of Spades
For the heavy boys and for hardrock chicks – excuse me, Ladies – this gambling song will cause pains in the muscles. Don't worry if you won't do the head-bang so hard, everything will be fine. Gambling and heavy metal can definitely walk hand in hand. The fourth album of the English rock band Motörhead was released in 1980.
Elvis Presley: Viva Las Vegas
The King of Rock'n Roll seems to know everything about gambling in this song. What else would it be about than the paradise-city of gamblers, Las Vegas?  It was 1963 when Doc Pomus and Mort Shuman wrote the piece. Also in 1963 it was recorded by Elvis Presley, who never sang this song live. It is still the best song to listen in the car if you are driving towards Las Vegas.
Juice Newton: Queen Of Hearts
Here is one other jewel song of the country-pop era presented by Juice Newton. The gambling song provided Newton with an international fame and Top Ten hit status in Australia, Canada, New Zealand, South Africa and Switzerland. For her recording of this piece, she was awarded with a Grammy nomination for Best Female Vocalist in 1982. Playing cards are the metaphors of real life in this song, like in many other songs with gambling terms.
ACDC: The Jack
Going back to the blues-rock style again, the Australian hard rock band really know what is called music.  It is the third track of their album T.N.T and it was released in 1975. (Yes and it's still great.) One of their concerts began with an intro where they introduced a 'dirty dirty' women who's got the jack. We can call it a 'really worth listening piece' of gambling songs.
Clint Black: A Good Run Of Bad Luck
Yes, I know I would be a terrible DJ, going back to country again like that, but sorry. This song is a masterpiece with the mouth-organ and an electro-acoustic guitar, so don't miss it. Everything is about falling in love again by using gambling metaphors.
Animals: House Of The Rising Sun
We are in the last destination of our musical tour, with the House of The Rising Sun which is about how gambling can be really fun and a great pass time, but if you become addicted, it may become a real pain and can ruin your life.
By the way it has so easy chords that everyone should try to play it on guitar.
So that was our most-loved top 10 gambling songs. Now, you could go to dance? You are right. Finish your job first and possibly you will find a 'dance steps for gamblers' section next time. Until it happens, read our online gambling guide and learn the details about gambling before you star your gambling adventure with these songs on the background.