Online Gambling Promotions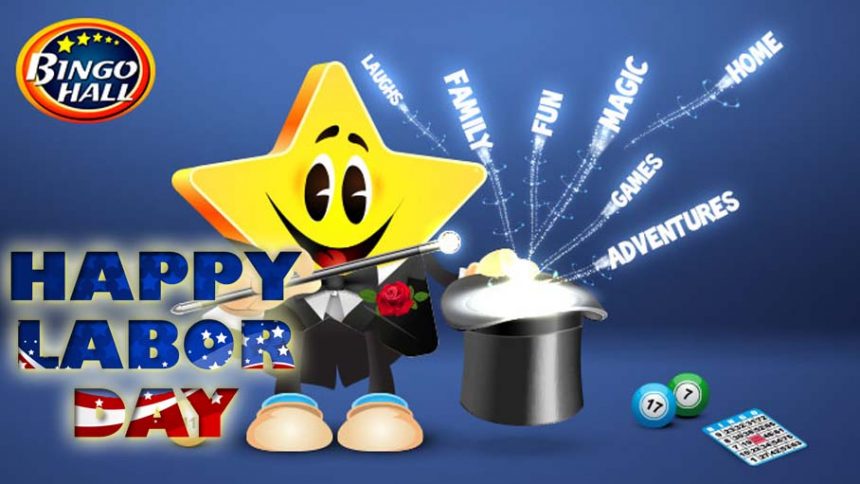 Play Lucky Labor Day Bingo at BingoHall Receive Amazing Cash Prizes
5th September 2016
| | Labor Day Bingo | |
| --- | --- | --- |
| | Bonus Type | Giveaway |
| | Prize | Match Bonuses up to 800% and Prize Pools up to $2 million |
| | Selected Room | Afterhours Lounge, Desperate Housewives, Supernova, Dollar, Special Million Dollar Party |
| | Bonus Code | No need |
| | Cashable | Yes |
| | Valid until | September 11, 2016 |
| | Restricted Countries | Afghanistan, Guinea-Bissau, Somalia, American Samoa, Haiti, Angola, Hong Kong, Sudan, Belgium, Iran, Syria, Burundi, Iraq, Tajikistan, Cambodia, Israel, Turkey, Chad, Libya, Turkmenistan, Chinese Taipei, Martinique, United States of America, Congo Republic, Monaco, US Virgin Islands, Democratic Republic of Congo, Myanmar, Uzbekistan, Eritrea, Netherlands, Venezuela, France, North Korea, Yemen, French Guyana, Philippines, Zimbabwe, Guadeloupe, Puerto Rico, Guam, Singapore, Bulgaria, Greece, Italy or Romania |
BingoHall players are scooping amazing cash prizes simply playing Labor Day Bingo at the popular online bingo site. The prize pot goes up to $2,000,000 and every player gets a chance to receive thousands of dollars simply playing online bingo.
You have labored hard the whole year and this is your chance to harvest your efforts with Lucky Labor Day Bingo. Beginning from today, there will be special online bingo games for a week to celebrate the Labor Day. You don't need special Labor Day discounts; you need Labor Day Bingo to come into fortune overnight.
There will be many different online bingo offers throughout the week at BingoHall. The first offer is valid only for today. If you deposit $500 or more, you will receive an incredible 800% bonus. In other words, deposit $500 get $4000 extra free cash. But you don't have to deposit such a big amount to be a part of this incredible online bingo promotion. If you deposit an amount between $250 and $499 you will receive 700% bonus. Depositing an amount between $50 and $249 will get you 600% match bonus.
BingoHall Labor Day bingo offers $2,000,000 prize pool during the Special Million Dollar Party. This event will take place between 9 pm EST and 2 am EST. Full Moon Party pattern brings $10,000 cash prize every hour. Pots will reach up to $100,000 per game. Two coverall games have $15,000 prize on the first 50 calls. Moreover, there are unlimited BBs (Bingo Bonuses). In other words, BingoHall keeps dishing out surprise prizes constantly.
There will be an after party beginning from 2 am EST. You can join this exclusive party in the Afterhours Lounge and play one hour of fixed games, each with $500 prizes.
Another Labor Day Bingo offer is Mr Vegas Special Tournament which is taking place right now  and it will keep going until 23:59 pm EST. Every $1 wagered on the Mr Vegas slot game will bring 1 point. Collect points to receive incredible cash prizes.
If you are not satisfied with these offers, BingoHall offers you four more fun and lucrative bingo rooms. First one is Desperate Housewives which is open between 9pm and 11pm EST (except Saturday). You can win $500 on every 5th call. Guaranteed prize is $50.
The second room is Supernova. It is open between 7 pm and 9 pm EST. There is a top prize of $2,000 on every 5th call. The guaranteed prize is $200.
Dollar Room is open from 5 pm till 7 pm EST. You can win up to $1,000 on every 5th call. The guaranteed prize is $100.
And last but not least, Afterhours Room is open between 3 am until 5 am EST. Grand Prize of $1,000 is granted on every 5th call. The guaranteed prize is $100.
BingoHall's Labor Day party is more than amazing. Join BingoHall's Labor Day Bingo promotion, receive amazing cash prizes throughout the week. If you want to learn more about the popular online bingo destination read our detailed BingoHall review.
Claim your Labor Day Prizes at BingoHall!