Casino Bonuses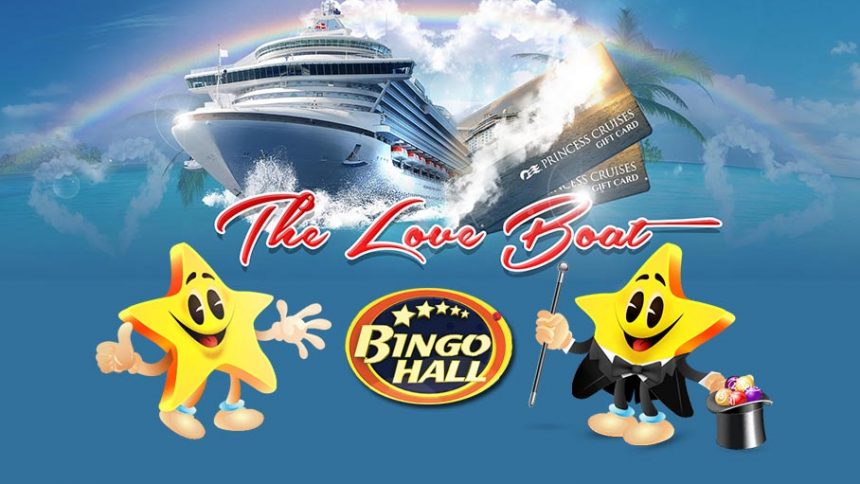 Play Bingo Games Online and Win a Love Boat Voyage of Your Dreams
9th February 2016
| | BingoHall Love Boat Cruise and Free Cash | |
| --- | --- | --- |
| | Bonus Type | Free Cash, Giveaway |
| | Bonus | 5 tiers of Free Cash prizes every week, Love Boat Cruise Giveaway |
| | Bonus Code | None |
| | Cashable | Yes |
| | Minimum Deposit | $100 on free online bingo games to cashout |
| | Max Cashout | $100 - $5,000 depending on membership status |
| | Wagering Requirements | None |
| | Valid Until | February 28 |
| | Restricted Countries | Costa Rica, Romania, Bulgaria, Poland, Denmark, Israel, Ukraine |

Valentine's Day is almost around the corner, and BingoHall are offering an incredible promotion for couples of all ages, offering free cash and a chance to win a cruise trip on a top-of-the-line cruise ship's maiden voyage for everyone who plays bingo games online as part of this exclusive offer.
BingoHall's amazing offer is for all the love birds out there. Yes, that even includes the love hawks and the love owls; you don't need to be a dove to enjoy this cruise, and you don't even need a partner (though who knows how things will be looking by the voyage's end).
All you need is to know how to play bingo games online.
Sounds easy enough? That's because it is. What BingoHall is doing here is they're offering 5 tiers of free cash bonuses, as well as tickets to the Love Boat Cruise to the best of the top 5 winners in slots and online bingo games over at BingoHall between February 1 and February 28.
The weekly free cash bonuses are as follows:
1st place: $500 BONUS
2nd place: $400 BONUS
3rd place: $300 BONUS
4th place: $200 BONUS
5th place: $100 BONUS
Simply sign up for the Love Boat promotion and you should be ready to go. The top five players for each promotion week then progress to the Sunday Finale for a chance to win the tickets to this once-in-a-lifetime cruise. You win by playing the games of your choice Monday to Saturday, getting 1 tournament point for every $10 wagered on slots and every $1 wagered on online bingo. Be the best player in your top 5, and join the other winners in the THE GREAT SUNDAY FINALE for the Love Boat Grand prize.
And just to make things interesting, BingoHall are also offering a free cash bonus of $66 for everyone who registers today. Don't miss your chance: they say that good things come to those who wait, but what they often forget to mention is that love often comes to those who dare.