Casino Bonuses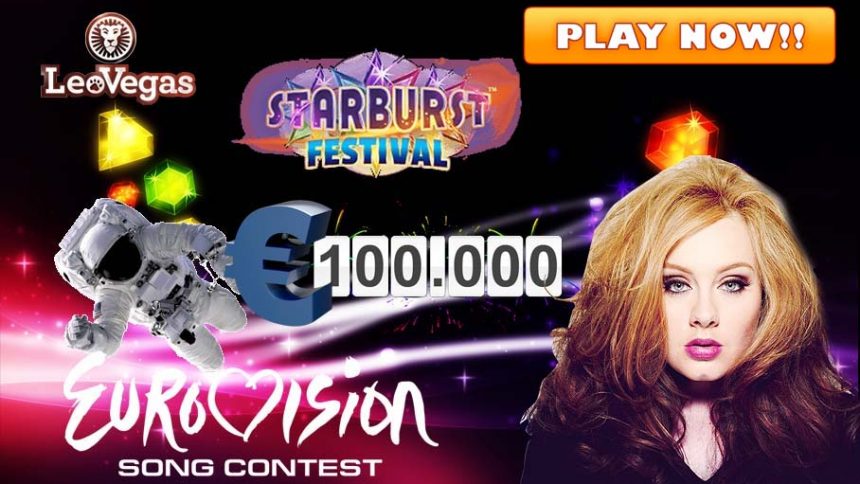 LeoVegas Starburst Festival Takes Players to Eurovision Final and Zero Gravity Experience in the USA
4th March 2016
Starburst Festival
Bonus Type
Free trip
Giveaways
Free Spins
Free Cash
Bonus
Cash Prize Draw:
1 x €/£/$25,000 / 250 000 SEK
50 x €/£/$1,000 / 10 000 SEK
250 x €/£/$100 / 1000 SEK

Leader board prizes:
1st – Star prize
2nd – £/$/€2,000 / 20 000 SEK
3-5th – £/$/€1,000 / 10 000 SEK
6-10th – iPhone 6s
11-20th – Apple Watch
21-29th – £/$/€100 / 1000 SEK
30-50th – £/$/€50 / 500 SEK

Star Prizes:
Leader board 1: Zero gravity experience in America
Leader board 2: Superstar weekend to watch the Eurovision contest in Sweden
Leader board 3: Live like a LeoVegas star with a luxurious VIP weekend away

VIP Concert ticket + 3 free spins every day

Bonus Code
No need
Cashable
Yes
Minimum Deposit
€10
Wagering Requirements
35x
Valid Until
VIP Concert ticket + Free Spins prize draw on March 4, 2016 - 23:59

Leader board competitions:
Leader board 1: 4th – 10th March
Leader board 2: 11th – 17th March
Leader board 3: 18th – 24th March

Big Cash Prize Draw entry ends on April 3, 2016

Accepted Countries
Andorra, Australia, Austria, Canada, Czech Republic, Finland, Germany, Gibraltar, Greece, Iceland, Ireland, Latvia, Liechtenstein, Lithuania, Luxembourg, Malta, Monaco, Netherlands, New Zealand, Norway, Portugal, Slovakia, Slovenia, Sweden, Switzerland, UK
LeoVegas Casino Starburst Festival takes lucky players to Sweden for Eurovision final and zero gravity experience in the USA. You can also win cash prizes up to €25000 and Apple products.
Popular online gambling destination LeoVegas Casino has raised the bar far beyond the expectations since players get a chance to visit Sweden to watch the Eurovision Final or the USA to have an unprecedented zero gravity experience. The huge Starburst Festival prize pot includes cash prizes up to €25000 and Apple products such as iPhone 6s and iWatches.
There are many amazing prizes for players who enjoy playing at Starburst Online Slot. This is far more than a traditional online casino promotion. Every €10 you wager on Starburst until 23:59 tonight will bring you a raffle ticket to get a VIP ticket to Adele concert in London. Moreover, qualifying players will be rewarded with 3 online casino free spins on Starburst every day.
Starburst Festival Lasts for a Full Month
There are three different leader boards. Therefore, if you can't win the grand prize on the first leader board, you will have two more chances to win such amazing prizes. Each leader board competition takes place within different time frames.
Leader board 1: 4th – 10th March

Leader board 2: 11th – 17th March

Leader board 3: 18th – 24th March
Every €10 you wager on Starburst Online Slot game will grant you certain points to climb up the leader board. Wagering is not solely enough; your performance is also important. The winners of the leader board competitions will receive star prizes. It means if you perform well on the popular Starburst Online Slot, you will have the chance to visit the USA to have a zero gravity experience with spending money and a GoPro (Leader board 1), see Eurovision final in Sweden (Leader board 2) or a luxurious VIP weekend away (Leader board 3). All of these trips are all-inclusive and include luxurious treats for the winners.
LeoVegas Casino Starburst Festival leader board competitions 2nd place holders receive cash prizes of €2,000. If you find yourself somewhere between the 3th and the 5th place, then you will still receive €1000 online casino cash prize. That is not all. People who find a place between 6th and 10th will receive iPhone 6s while the 11th and 20th players will be awarded with iWatches. 21st and 29th players will receive €100 each while 30th and 50th places will see €50 cash in their accounts. These prizes will be given three times during the leader board competitions.
Starburst Festival Cash Draw Dishes out €100,000 Free Cash
The biggest prize is kept for the last. Starburst Online Slot players are becoming rich. This is how you can earn a lot of money online. All players can be involved in this prize draw which will take place on the 4th of April, 2016. The lucky winner will receive a mind blowing €25,000 online casino cash prize. Another 50 Starburst Slot players will receive €1000 per person while 250 players will receive €100.
Don't waste time and join LeoVegas Casino and let your dreams come true. You can enjoy the LeoVegas mobile casino experience on your mobile or tablet.