Game Reviews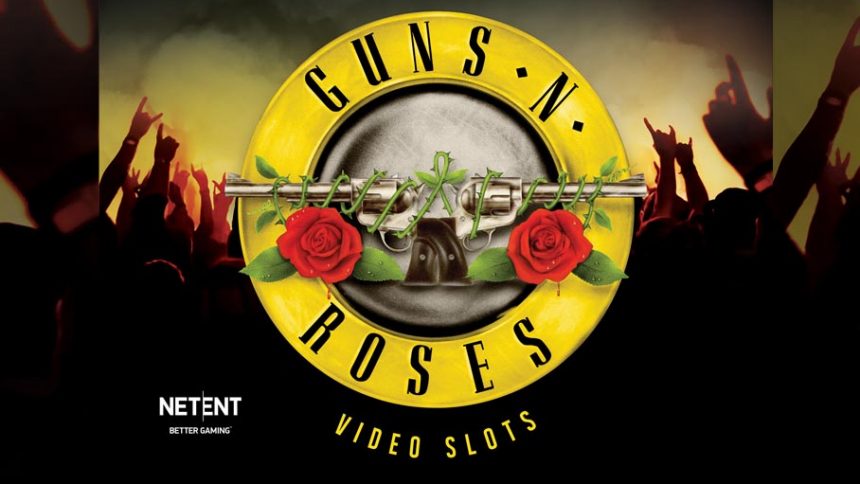 Guns N' Roses Slot Review
28th January 2016
| | Guns N' Roses Slot | |
| --- | --- | --- |
| | Paylines | 20 |
| | Reels | 5 |
| | Progressive | No |
| | Scatter symbol | Bonus Wheel |
| | Wild symbol | Guns N' Roses Logo |
| | Bonus symbol | Band Member Portraits |
| | Min bet | €0.20 |
| | Max bet | €200 |
| | Free spins | Yes |
| | Developer | NetEnt |
NetEnt, the world's premier eGames developer, partnered up with Guns N' Roses to deliver a brand new slot game inspired by one of the most successful bands in the history of Rock N' Roll. In this Guns N' Roses Slot review we explore if the game is as good as it sounds.
The game's release was huge, with top online casinos buying a license for it months before it came out, some of the online casinos even going so for as to offer some truly staggering promotions, like a guitar lesson with Joe Satriani himself, or an an Epiphone Les Paul guitar signed by Slash and Axl Rose.
With over 100 million albums sold worldwide, Guns N' Roses Slot builds on its strengths, featuring 5 full compositions from the band in the game. Namely, these are "Welcome to the Jungle," "Sweet Child O' Mine," "Paradise City," November Rain," and "Chinese Democracy."
And while our Guns N' Roses slot review is impartial towards the track selections (musical taste is subjective), the in-built interactive music player and the Guns N' Roses video clips are sure to get the band's fans on the Guns  N' Roses Slot bandwagon. Unlike previous games from NetEnt, the Guns N' Roses slot is the first one to use WebGI and Pixie, a second-generation rendering engine for vibrant animations in HTML5.
Scroll Down & Play for Free in Our Guns N' Roses Slot Review Summary Section
The game sounds good and looks even better: the animations are fluid, the art is on the level of standard we all came to expect from NetEnt's games … but how does it play?
Well, it plays just as well as it looks and sounds: with 20 paylines and a variety of bonuses and multipliers in the game, this one is sure to be a Rock N' Roll winner.
The game features an Expanding Wild (represented by a Guns N' Roses symbol) that can randomly appear on any of the reels (except for reel 3 in the Appetite for Destruction Wild) and, as usual, it substitutes for all symbols except for Bonus symbols.
The scatter is a Bonus Wheel, and, as you spin the wheel, you can stop it to receive one of the 3 bonus rewards: Encore Free Spins, the Crowd-Pleaser Bonus game, and coin wins with the amount of coins you get displayed on the Bonus Wheel.
All in all, it's a solid and beautiful game which was evidently well worth all the effort and money that went into creating, designing, and promoting it by all involved.
Guns N' Roses Slot Features
The Crowd-Pleaser Bonus Game
A Pick & Click minigame with three levels. You have a number of picks, each awarding coin wins. On all levels in the Crowd-Pleaser Bonus Game. On level three, it is possible to double the total win for the feature, so if 800 coins are awarded, the total Crowd-Pleaser Bonus Game win will be multiplied by two.
Encore Free Spins
Activates 10 Free Spins. During Encore Free Spins, a band member symbol appears as an overlay Stacked Wild symbol on reel 2, 3, or 4 in each of the online casino free spins, and the corresponding band member symbol then acts as a Wild on all other reels for the spin.
Appetite for Destruction Wild
… is an overlay Wild in the shape of a cross that can land randomly on one of 3 possible reel positions. The appetite for Destruction Wild symbol substitutes for all symbols except for Bonus symbols. Appetite for Destruction Wild symbol substitution pays the highest possible winning combo on a bet line.
Legend Spins
This feature is randomly activated and awards 1 Stacked Wild for the first spin. The Legend Spins feature has 2 re-spins with 2 Stacked Wild reels. On the 1st spin, reel 3 is a Stacked Wild reel, on the 2nd spin reels 1 and 5 are Stacked Wild reels, on spin 3, reels 2 and 4 are Stacked Wild reels.
Solo Multiplier
The Solo Multiplier feature is a random multiplier that awards a win multiplier of x4 – x10 to a winning bet line, when all the bet line wins consist of matching symbols, or matching symbols including All bet line wins are multiplied by  the Solo Multiplier for the entire win of the spin.
Guns N' Roses Slot Review Summary & Game
After the January 21 simultaneus launch to desktop and mobile platforms, this latest NetEnt offering is worth your time if you like slot games in general (even if just to see the latest HTML5 technology at work), but absolutely essential for those who like the band; imagine that each time you play the Guns N' Roses slot game, you bring a smile to Axl Rose's face.
There's definitely a lot of respect for the source material that can be seen in the game. To quote Simon Hammon, Chief Product Officer of NetEnt, "Guns N' Roses are huge and iconic and it's great to launch with one of the most legendary rock bands in history. We've honored them with our most ambitious ever and NetEnt can't wait for players to have a chance to enjoy the musical game experience."
The only downside of the game that we'd noticed is that you need a relatively modern system and internet connection, otherwise the graphic / sound overload might slow down your system … but then again, you can always switch to a lower res version.
We hope that our Guns N' Roses Slot review was useful, but where to go from here? Well, one thing you could do is check out the game, listen to good music, and start spinning today!
Check out the demo version of Guns N' Roses Slot below: