Casino Bonuses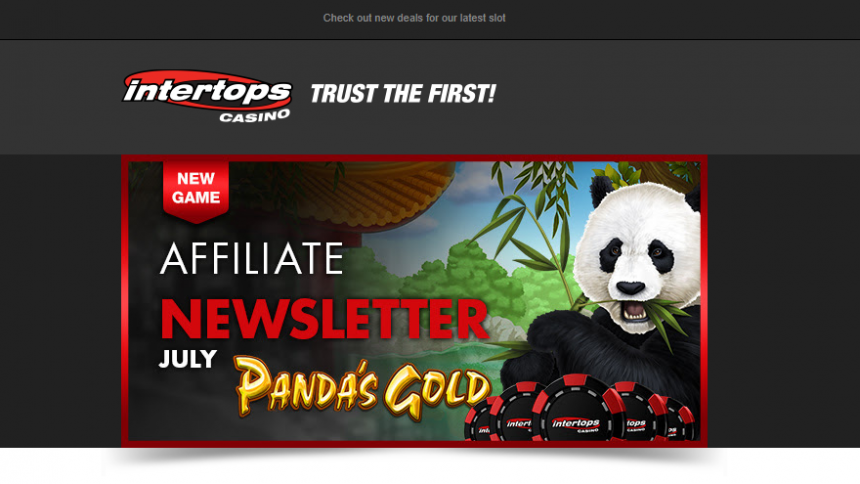 Claim the Panda's Gold Bonus at Intertops
18th July 2018
At Intertops Casino, the new game Panda's Gold is out now for playing. However, at Intertops, you get to play Panda's Gold with a bonus. All you have to do, is follow the simple instructions below and you'll be good to go. So, let's take a look at what the Panda's Gold bonus at Intertops is all about. 
Intertops Casino has been servicing online gambling for the past 2 decades. No wonder they have amounted to such a great reputation. If you haven't done so already, check out Intertops Casino. Not only that, if you would like to keep up to date with gambling news, we have the perfect place for you. Check out the latest online gambling news for all the hottest stories online.
What is the Panda's Gold Bonus at Intertops?
In the newly released game, you will get to experience nature at it's best and cutest. Meet the most generous panda on five highly-rewarding reels in Panda's Gold. So here is the Panda's Gold bonus at Intertops Casino we're going on about.
Players will be able to enjoy 200% up to $400 + 40 Free Spins by using the bonus code below.
COUPON CODE: NEWPANDA
Not only that, but there is a second bonus up for grabs. By using the coupon code below, players will receive an additional 25 free spins.
COUPON CODE: PANDATRY
We wish to inform you players, that the Panda's Gold bonus at Intertops Casino will be running until the 31st of July. Log-in now to make the most of the promotion.