Uncategorised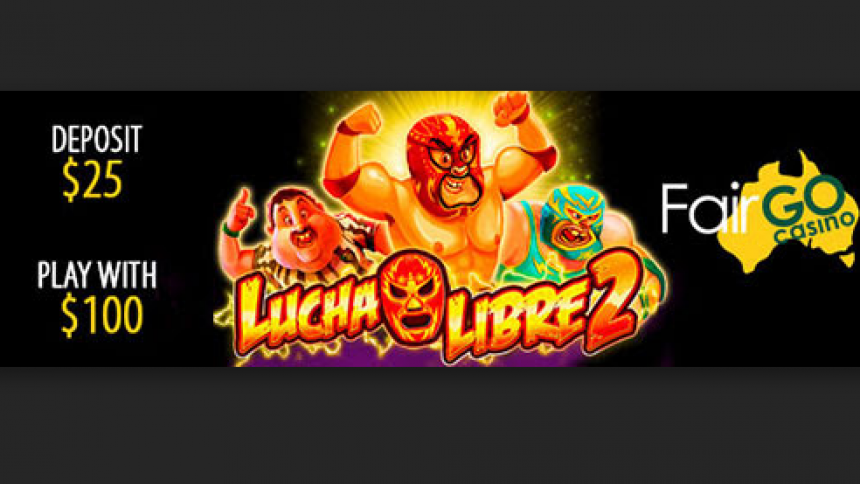 Claim a Fair Go Bonus playing Lucha Libre 2
7th May 2018
Here's another bonus playing the popular slots game Lucha Libre 2. This time round, the perk will be available up until the 9th of May. By logging in to play the game, players will be validated to receive a Fair Go bonus. Whether or not you are familiar with the classy slot, the promotion is there for the taking. We take a look at what's on offer. 
Fair Go Casino is another one of those which deserves more appreciation. When the online gambling site decides to give a promotional bonus, it's always a generous one. So what could be on offer? This premium offer will last up until the 9th of May so with a couple of days left, we advise players to make the most of it. Playing the relatively new slots game, Lucha Libre 2, the Fair Go bonus is one of the best so far.
Play Lucha Libre 2 with a Fair Go Bonus
Upon entering the online casino, you will surely find Lucha Libre 2. The concept of the game is a continuation of the previous version, based on the traditional masked fighters in Mexico. The game has a number of comical appearances in it, as well as symbols of beer, tortillas and guacamole. Not only that, but there are two codes which are there for the taking!
Deposit $25 to play with $100 + 30 Free Spins on Lucha Libre 2
On top of that, receive a $50 Free Chip if you use this code after you deposit the $25.
The correct way to take full advantage of the Fair Go bonus is to log-in to the online casino and follow these steps on Lucha Libre 2:
Use the COUPON CODE: 300-BONUS-1
Then, for the $50 Free Chip bonus, use the COUPON CODE: 50-BONUS-2
Be sure to redeem the first code to unlock the possibility of the second one. After all, we want you to make the most of the promotion and to have fun doing so. Log-in now to Fair Go Casino and be sure to keep up to date with the latest online gambling news.