Casino Bonuses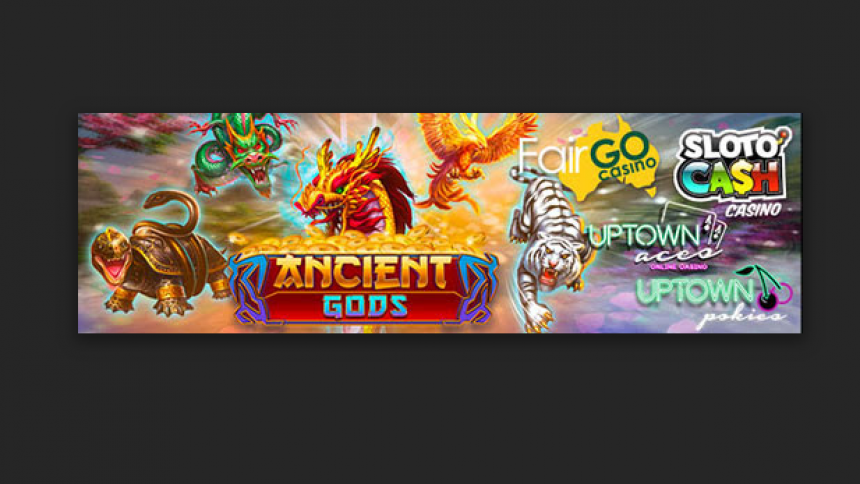 All you Need to Know about the New Ancient Gods Bonus
6th July 2018
There's a new game on the block and with that, some hefty new promotions are running. To be more precise, 3 casinos are all holding the same perks for the Ancient Gods bonus. Using the same code, it's three casinos we highly recommend. However, you will be able to make your own judgement below as we will redirect you to the reviews of each online casino. So, let's find out what all the fuss is about. 
Ancient Gods is a game of the beasts of Eden, who are the guardians of the universe. They have previously gone with other nicknames, such as the 'Protectors of the Heavens' or 'Guardians of the Holy' but we all get the drift of it. Now then, what does this have to do with the bonus? Well, Sloto Cash Casino, will be joined by Uptown Aces and Fair Go Casino in hosting their very own Ancient Gods bonus. All you have to do, is follow the simple steps below. That way, you can make the most of what's on offer.
The Same Ancient Gods Bonus to be Run at Three Different Casinos
The creatures in the game, is the mighty Dragon, the Snake, the Turtle, the Tiger and the Phoenix. There will be promotional perks for all players as well as newbies. We recommend you take a look at both of them:
20 Free Spins on Ancient Gods
COUPON CODE: ANCIENT-20 / All Players / Valid until 10th July
2. 350% up to $350 + 100 Free Spins on Ancient Gods
COUPON CODE: ANCIENT-350 / New Players Only / Valid until 13th July
With that, you have the requirements for the Ancient Gods bonus. We would like to remind you, that the bonuses and codes are similar for all three casinos. That is:
Be sure to log in to each of them to make the most of the bonus codes. Also, if you're interested in finding out what's going on in the gambling world, be sure to check out the latest online gambling news.