Online Gambling Promotions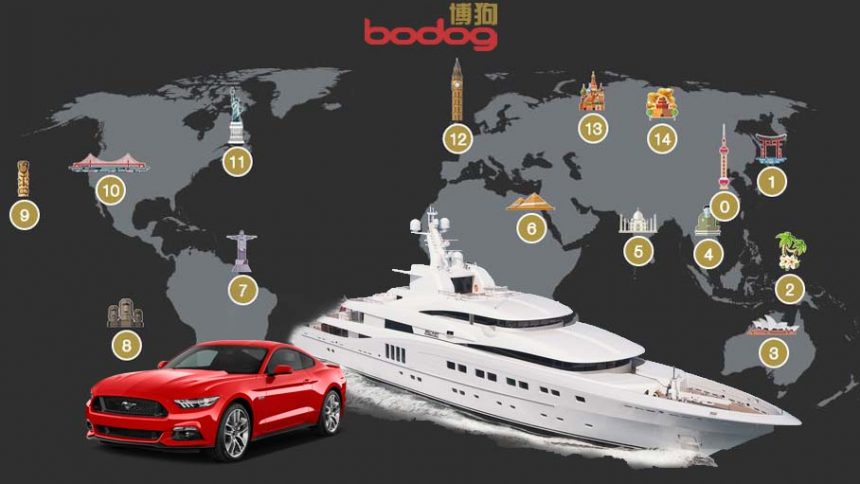 Win a Yacht with the Latest Bodog88 Casino Promotion
11th May 2017
| | Amazing Race | |
| --- | --- | --- |
| | Bonus Type | Giveaways |
| | Prize | Luxury prizes |
| | Selected Games | All slot and table games |
| | Bonus Code | No need |
| | Cashable | Yes |
| | Minimum Wagering | RMB200 / RM130 / THB1,330 |
| | Valid until | 31 July, 2017 |
| | Wagering Requirement | There is no for prizes |
| | Restricted Countries | United States of America, Hong Kong, and the Philippines |
The latest Bodog88 Casino Promotion gives away amazing prizes including luxurious cars, a yacht, private island vacation, around-the-world cruise trip and more. Bodog88 Casino and Bodog88 Mobile players are racing for the biggest prizes given away by an online casino so far.
Bodog88 Casino and Bodog88 Mobile brands are offering one of the biggest online casino promotions we have seen so far. There are hundreds of presents up for grabs ranging from microwaveable containers to Mercedes-Benz E300L and Leiyue Cruiser Yacht EOLO 710.
There are literally hundreds of huge prizes including diamonds, emeralds, golden ornaments, luxurious cars, dream vacations and more. Moreover, being a part of the latest Bodog88 Casino Promotion is quite simple and fun. Play your favorite online slot games and table games at Bodog88 Casino or Bodog88 Mobile until July 31, get 1 mile for every RMB200 / RM130/ THB1,330 wagered on slot games (RMB500 / RM330 / THB3,330 for casino table games and live dealer games).
In this game, your starting point is Oriental Pearl Tower, Shanghai, China. Whenever you collect enough miles to reach the next destination, you will grab a prize. You need to proceed 19 miles to reach Itsukushima Shrine in Hiroshima, Japan. You can choose prizes ranging from wine glass rack to travel organizer set and Free Spins bonuses. The more you proceed the bigger the prizes get. It takes 770,400 miles to reach the 14th and the last destination Great Wall of China. In the last stop you will be able to choose prizes like luxury yacht, super cars, motorcycles, private island vacation etc.
In order to win huge prizes with the latest Bodog88 Casino Promotion, you need to play the high-tech online slot games and table games of the popular online casino. In this way you don't only get close to winning such prizes like Cruise Yacht and Nissan 370Z but also scoop cash prizes through game winnings.
You can fast forward your progress with the Boost Cards which are scattered throughout the promotions. Each Boost Card gives a distinct advantage during the Bodog88 Amazing Race. The Miles Reward card grants 1 mile extra while Express Miles card gives away even more miles. The Fast Forward card helps you to skip one level and reach a higher one right away.
The latest Bodog88 Casino Promotion is valid until the 31st of July. Join Bodog88 Casino or Bodog88 Mobile Casino now to claim your fantastic prizes! If you want to learn more about the popular Asian online casino, read our detailed Bodog88 Casino Review and Analysis!
Claim your humongous prizes at Bodog88 Casino!