Casino Bonuses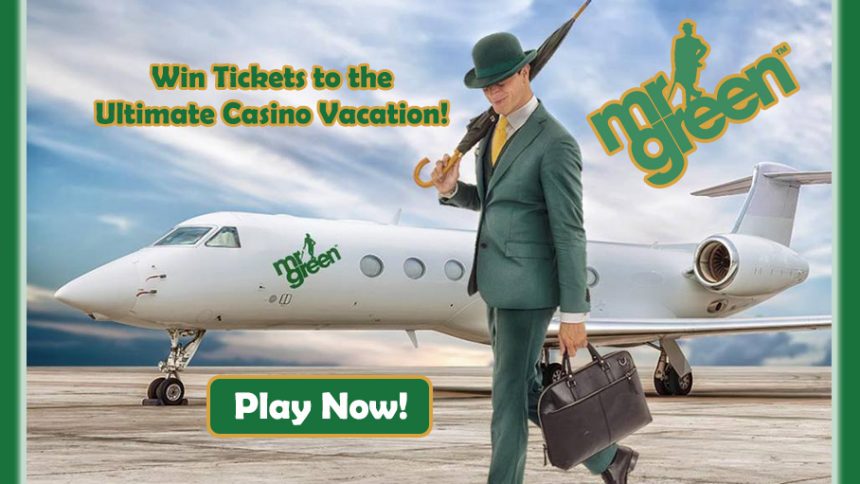 Win Tickets to the Best Casino Vacation with Mr Green Casino
30th September 2016
Best Casino Vacation
Bonus Type
Giveaways
Prize
4 Holidays: Las Vegas (2x), Malta and Monaco
Cash Prizes (for other 99 players)
Selected Games
VIP Roulette & Standard Roulette – Plus language specific tables Dutch, British and German Roulette
German Roulette only
All LIVE Casino titles including Mr Green exclusive tables
Bonus Code
None
Cashable
Yes
Minimum Deposit
€100
Wagering Requirements
None
Valid until
Las Vegas: September 29 - October 9
Malta: October 10 - 16
Monaco: October 17 - 23
Las Vegas: October 24 - 30
Restricted Countries
Afghanistan, Cambodia, Congo, Denmark, Estonia, Ethiopia, France, Iran, Iraq, Italy, Jordan, Kuwait, Libya, Moldavia, North Korea, Saudi Arabia, Somalia, Spain, Sudan, Syria, Turkey, United States, Yemen, French Guiana, Guadeloupe, Martinique, Mayotte, New Caledonia, Palestine, Saint Pierre, Wallis and Futuna and Western Sahara
Pack your bags because you're going on a trip with Mr Green Casino; experience something different with the Best Casino Vacation!
Have you ever wondered what the Bellagio looks like on the inside? Would you like to have fun at the exclusive tables at the MGM Grand? How about playing alongside billionaire tax exiles at the Monte Carlo Casino? Sounds appealing, doesn't it? Well, now you have a chance to do just that with the Best Casino Vacation Promo!
Mr Green Casino offers 4 Best Casino Vacations that will take you around the world, granting you exclusive access to the best casinos that are normally reserved for high-rollers and celebrities.
Best Casino Vacations Promo campaign starts off with a trip to Las Vegas, before moving on to a gambling holiday on Malta and then to the sunny shores of Cote D'azur where you'll be playing roulette with the likes of Lewis Hamilton and Prince Albert in Monaco. And finally, the fourth trip will once again take you to 'Sin City' just in case you have to annul your quick marriage from the first time you visited Las Vegas.
(Take a look at Gambling Herald's Mr Green Casino Review for more info about the online casino.)
To qualify for the Best Casino Vacation campaign, just simply make a €100 wager or play it on any games at Mr Green Casino, and you'll receive 1 holiday ticket to the prize draw. Make sure check out the section above that says 'Selected Games' before going on about your playing adventure. On top of that, 99 players that finish as runners-up during the promo period won't go home empty handed; they'll receive various Cash Prizes based on their position.
Every holiday destination runs through a different period throughout October, which means that in whatever period you're playing, you will effectively collect tickets for that particular destination. And in case you win one of the destination and you happen not to fancy that place, then you can easily exchange your Best Casino Vacation for cash! Isn't that great? Las Vegas is worth a whopping €5,000, while Malta can see you receive a cash alternative of €3,000. And instead of going to Monaco you can collect €4,000.
But you'd have to be crazy to pass up a chance of playing in the big league casinos. Wager/play €100 now and get your holiday ticket to win the Best Casino Vacation with Mr Green Casino!
Experience the Best Casino Vacation!