Casino Bonuses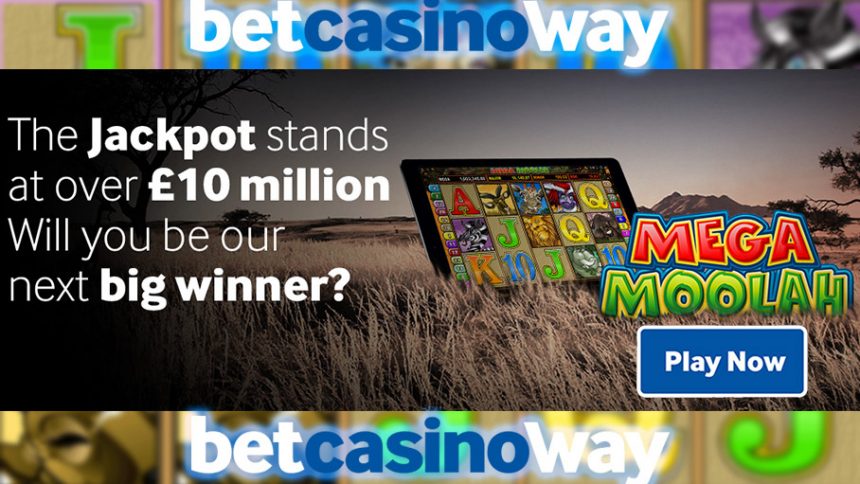 Win Over £10 Million with Mega Moolah Jackpot at Betway Casino
8th April 2016
| | Mega Moolah Jackpot | |
| --- | --- | --- |
| | Bonus Type | Progressive Jackpot |
| | Prize | £10 million |
| | Bonus Code | None |
| | Cashable | Yes |
| | Minimum Deposit | None |
| | Wagering Requirements | None |
| | Valid Until | Until someone wins the jackpot |
| | Restricted Countries | Australia, Belgium, Bulgaria, Denmark, France And Its Outlying Territories, German State (Bundesland) Of Schleswig-Holstein, Greece, Greenland, Hungary, Iran, Israel, Italy, Mexico, North Korea, Romania, Russia, Singapore, South Africa, Spain, Turkey, USA |
Join the fun at Betway Casino for a chance to win over a massive £10 million with the awesome Mega Moolah Jackpot!
There's nothing like this in the whole industry at the moment, so don't miss this amazing opportunity to win over £10 million with the 25-payline online slot. When you're playing make sure you collect the monkey and lion symbols, as those are scatters and wilds respectively. The minimum bet that you can place on this online slot is €0.25, but we advise you to make bigger bets of €6.25 to have a higher chance of success! (Check out the Mega Moolah Slot Review for extra details about the cool game.)
This is not the first time that Betway Casino is offering a massive jackpot on the Mega Moolah slot. (For more info about the online casino, check out Gambling Herald's Betway Casino Review.) Last year, in October, UK Betway player Jonathon Heywood won a jaw-dropping record of £13,213,838.68 with the Mega Moolah Jackpot! This was equivalent to €17,879,645.12 at the time of the win, which basically made it the biggest-ever win with an online slot.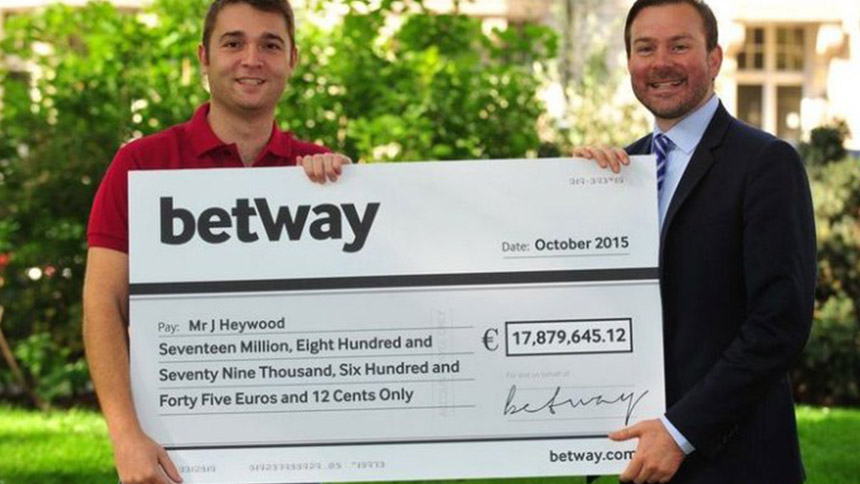 (Image credit: Mirror)
Jonathon is a 26-year-old who hails from Cheshire, UK. When he won the staggering amount, he said, "it's all so surreal, and I can't come to terms with it just yet, I just kept staring at my screen and seeing this huge number in my Betway account." Betway's spokesman, Alan Alger, then commented, "We are delighted for Jonathon and having met him the day after his win we can honestly say that it couldn't happen to a nicer young man. We hope he really enjoys the World Record win."
Microgaming CEO, Roger Raatgever, stressed that they have set countless records with their progressive jackpots since the late 1990s, and to date they've paid out winnings in excess of €500 million! (Jonathon's Mega Moolah Jackpot win in late 2015 was the biggest payout to date.)
"We have the longest-standing progressive jackpot network, having launched the first internet progressive jackpot in 1998, as well as the biggest, having paid over half a billion Euros to date," said Raatgever, and added, "Our progressive jackpot network has set many records since its inception, but I'm absolutely overjoyed to say that our software has generated the world's largest ever online jackpot win. Many congratulations to Jonathon on this life-changing and historic win!"
You can be like Jonathon and win all the money with Betway's Mega Moolah Jackpot! Don't worry if you don't win the £10 million prize right away, because the Mega Moolah Jackpot will only increase next time you play it.
Play Mega Moolah Jackpot and win £10 million!