Casino Bonuses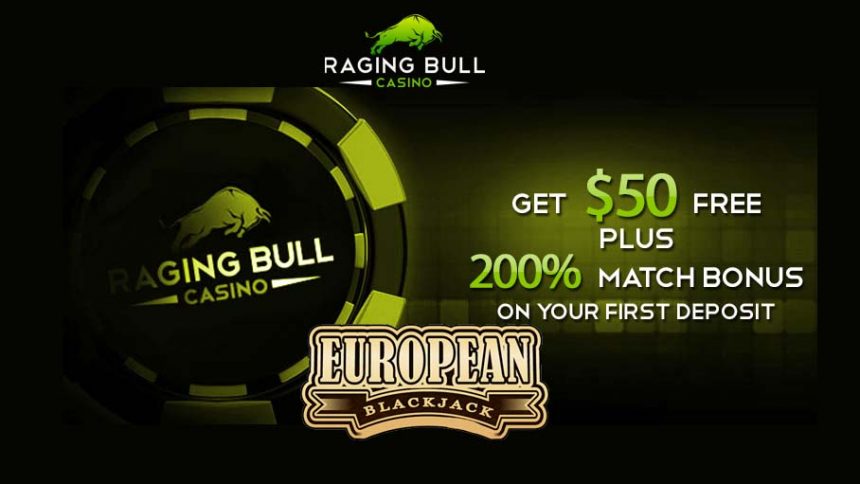 How to Play European Blackjack at Raging Bull Casino
14th April 2016
If you are bored of traditional card games, you definitely need to learn how to play European Blackjack which bears the basic traits of Blackjack while offering an innovative approach.
European Blackjack is one of the most popular card games in European casinos as well as online casino sites. The main aim of the game is reaching the value of 21 before the dealer. If your hand has a value more than 21, then house wins. This is the basic rule of all Blackjack games.
The difference between European Blackjack and American Blackjack is only one card. However, this card is quite essential since it can change your game strategy immensely.
How to Play European Blackjack: European vs American Variations
The main difference between European Blackjack and American Blackjack is that in European Blackjack, the dealer does not possess a hole card. The dealer receives only one face up card and waits until all the players finalize their game. Afterwards, the dealer starts receiving face up cards.
American Blackjack is a little bit more advantageous for players since the dealer receives cards with players like a normal player. Therefore, if the dealer has 21 already, the players do not lose more than the initial bet.
In the European variation, players have play according to their own hands rather than the dealer's. Therefore, there is a higher risk of losing money since players may increase the bet easier as they do not know much about the dealer's hand.
Despite this disadvantage, European Blackjack is extremely popular due to the fact that the fun involved in the game is higher than other variations. It means that if you want to enjoy Blackjack full, you have to learn how to play European Blackjack properly.
Raging Bull Casino is one of the most developed and trustable online gambling destinations in the world. You can simply download the casino software and start enjoying one of the best online European Blackjack games ever made. Moreover, it is available on mobile as well.
It is better to download the casino application since the Raging Bull online casino application offers a smoother game play than your browser. And, it doesn't occupy big space on your computer.
After filling the registration form, you can simply head to the European Blackjack section to start playing. You are free to choose to the amount of chips that you want to play with. Simply click on the amount of chips that you want to acquire.
If you like consistency, you can choose a bet value which can be rebet simply clicking on a button. You can press "Deal" to start the game. Click on Hit (get another card), Stand (keep the same cards), Double (take another card and double the bet placed), or Split (divide the hand into two hands) and direct the game according to your hand.
Raging Bull Casino's European Blackjack game is powered by one of the most successful software developers Realtime Gaming. The graphics and sounds are quite realistic. However, you can still enjoy the comfort of your house while playing at Raging Bull Casino.
$50 No Deposit Welcome Bonus at Raging Bull Casino
New players receive $50 no deposit welcome bonus at Raging Bull Casino. Using the coupon code 50NDB, you can simply start playing European Blackjack with the free money that you receive upon registration. In other words, you can learn how to play European Blackjack spending the free money that you receive from Raging Bull Casino.
Once you start depositing, you will receive bonuses up to 200% and 50 free spins. There are also up to $100 Free Birthday Bonus and Free Anniversary Bonus along additional daily bonuses. Register at Raging Bull Casino now and enjoy European Blackjack and many other Blackjack games including Pontoon Super 21, Face Up 21, and other popular online Blackjack games.