Casino Bonuses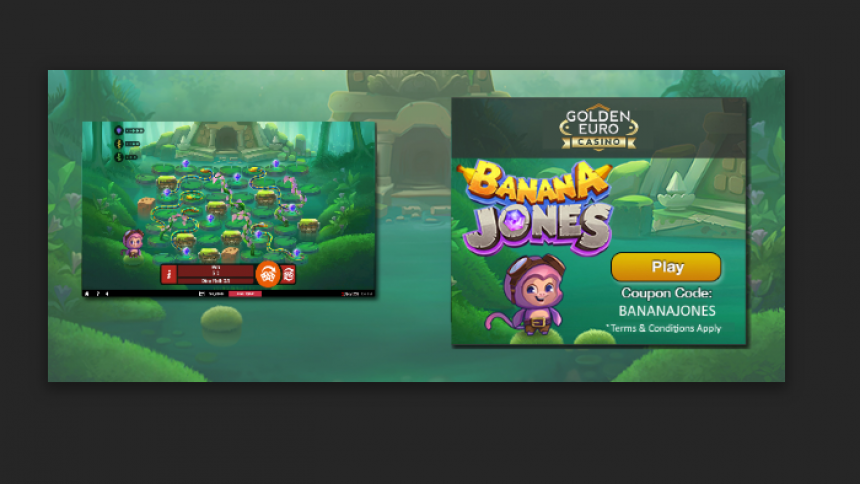 Here's why to play Banana Jones at Golden Euro
31st July 2018
As of tomorrow, there will be a new game on the block, none other than Banana Jones. The game has been talked about for the past weeks, as it is unique to any other. And why so? Well, that's because of the peculiar snakes and ladders function it follows. Now, let's find out why playing Banana Jones at Golden Euro could be the wisest choice. 
Whenever there's a freshly released game, there's always a bunch of people who want to get to play it, first hand. However, curiosity can sometimes kill the vibe, as many players don't benefit from any perks. So why Golden Euro Casino? Well, not only are they hosting the new game, but doing so with a bonus.
Play Banana Jones at Golden Euro with a Bonus
Although he may not be an architect, Banana Jones is on a mission to the unknown to save the coveted, magical Crystal Banana. He must reach the temple before the Crystal Banana ends up in the evil clutches of Leopold the Leopard. Not only that, but Banana Jones must overcome his fear of snakes to do so.
Can you help Banana Jones? What about helping Banana Jones at Golden Euro with an exclusive bonus? Let's take a look.
The bonus that will introduce this game to you is:
No Deposit Bonus: free €5
Code: BANANAJONES18
Valid until: 21st August
The game will go live tomorrow, August 1st so be ready. Log-in to play Banana Jones at Golden Euro Casino using the link above.
Also, check out the latest online gambling news to keep up to date with the hottest stories online.