Casino Bonuses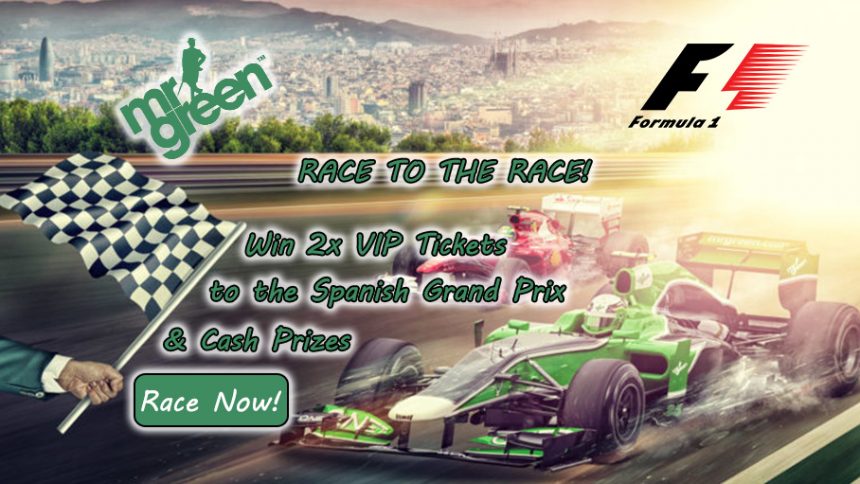 F1 Casino Giveaways for Spanish Grand Prix: Grab 2x VIP Tickets at Mr Green Casino
21st February 2017
Race to the Race - Casino Giveaways
Bonus Type
Free Cash/Casino Giveaways
Prize
1st Prize: 2x VIP tickets to the race & guest to Gran Premio de Espanya 2017 (May 14)
2nd Prize: €1,000 Cash
3rd Prize: €500 Cash
4th-10th Prize: €100 Cash
Selected Games
Live Blackjack and Roulette
Bonus Code
None
Cashable
Yes
Minimum Wager
€20
Valid until
February 28, 2017
Wagering Requirement
None
Restricted Countries
Afghanistan, Cambodia, Congo, Denmark, Estonia, Ethiopia, France, Iran, Iraq, Italy, Jordan, Kuwait, Libya, Moldavia, North Korea, Saudi Arabia, Somalia, Spain, Sudan, Syria, Turkey, United States, Yemen, French Guiana, Guadeloupe, Martinique, Mayotte, New Caledonia, Palestine, Saint Pierre, Wallis and Futuna and Western Sahara
Mr Green Casino is all about high-octane action this February; there are 2x VIP tickets up for grabs to the Spanish F1 Grand Prix and tons of other Cash Prizes with F1 Casino Giveaways!
Hang out with the fastest men on the globe thanks to F1 Casino Giveaways at Mr Green Casino. Get your hands on TWO VIP tickets for the Circuit de Barcelona-Catalunya on May 14 and witness the high-speed spectacle right from the main stands.
First prize will see you win 2x VIP tickets, which will also give you access to the Formula 1 Gran Premio de Espana 2017 (May 14). This special Casino Giveaways offer also includes hotel accommodation and travel expenses.
But even if you finish second in the prize draw, you still won't go home empty handed, as there's a whopping €1,000 Cash Prize. Come in third, and Mr Green Casino will reward you with €500 Cash Prize, while a fourth to tenth place finishes give out €100 Cash Prizes. There's virtually no way you won't win something win Casino Giveaways.
Claim the Casino Giveaways offer by 'recording the best lap-times' on Mr Green Casino's Live Blackjack and Roulette tables; wager at least €20 for each round of the game to receive 1 ticket entry for the final prize draw that can see you and your high-octane nut job of a friend attend the F1 Spanish Grand Prix.
Note: Casino Giveaways campaign runs for a limited time, so if you fancy a race with Lewis Hamilton and Kimi Raikkonen on the shores of Barcelona, then make the most of your time on the Live Blackjack and Roulette at the 'green' online casino.
(Check out Mr Green Casino Review at Gambling Herald for more info about the online casino.)
Lucky player at Mr Green Casino wins Jackpot TWICE!
Jessica C took her luck to the next level after playing the popular Mega Moolah slot and winning a jaw-dropping €4.3 million Jackpot last Sunday. That's right; let's spell it out in full for you to grasp the huge winnings – €4,300,000 JACKPOT!
This marks the second time she has clinched a massive prize at Mr Green Casino, with the first Jackpot Win coming in late 2015 on the highly-exciting Siberian Storm slot. This goes to show that Mr Green Casino is unlike any other online casino, as players can win colossal sums multiple times. With this in mind, we hope you understand now why it's called 'Mr Green Casino!'
When asked how she celebrated the massive Jackpot Win on Mega Moolah slot, Jessica C ecstatically replied, "We celebrated with champagne of course! However, we celebrated in quite a relaxed way because I just couldn't believe I had actually won it a second time. I still can't believe it actually, haha!"
Experience the adrenaline-pumping action straight from the stands at Circuit de Barcelona-Catalunya thanks to the Casino Giveaways at Mr Green Casino. Enjoy the Live Blackjack and Roulette with €20 wagers (or more) to win 2x VIP tickets to the F1 Spanish Grand Prix on May 14!
Watch the Formula 1 action live in Barcelona with Mr Green's Casino Giveaways!