Casino Bonuses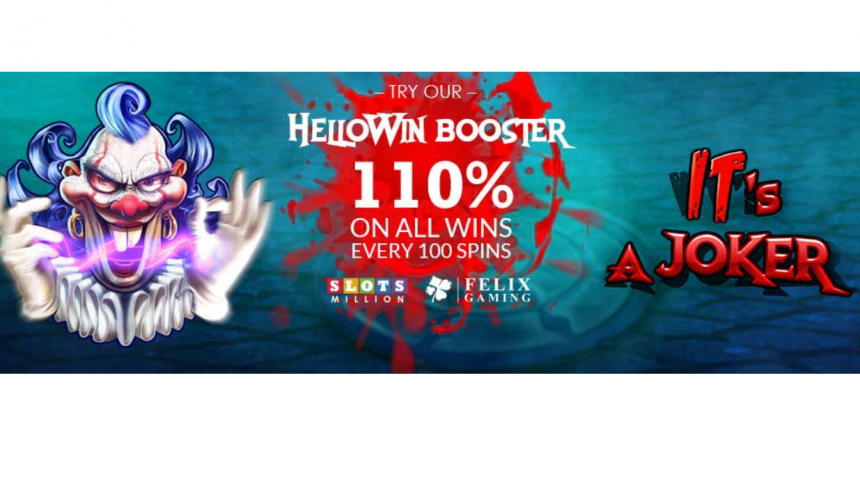 Claim the IT's a Joker Bonus at SlotsMillion
8th November 2018
And so, at SlotsMillion Casino, the Halloween fun continues. The online gambling site will be running a promotion until the 27th of November where you can claim the IT's a Joker bonus. Halloween is a fun time of each year and SlotsMillion wishes to extend it's period. So what's the deal? Find out below!
At SlotsMillion Casino, the Halloween journey continues for the next couple of weeks. In a spooky game, IT's a Joker, you'll be able to take advantage of even more perks. Before reading on, we recommend you check out the latest online gambling news for all the hottest gambling-related stories online.
IT's a Joker Bonus at SlotsMillion For You
We all love a bit of the villainous characters from famous novels. Batman's rival, the Joker was criminally insane and always added a bit of spice to his action movies. As for IT, the remade movie from 2017 was stunningly terrifying to say the least. Well, now you can take part in that fun for yourself.
Until the 27th November 2018 all wins accrued in the game IT's A JOKER will be multiplied by 110%! It's a Halloween of your dreams not your nightmares, and with a bonus added every 100th spin, there is nothing to be scared of.
Log-in now to SlotsMillion Casino to take advantage of the IT's a Joker bonus exclusively for you.