Casino Bonuses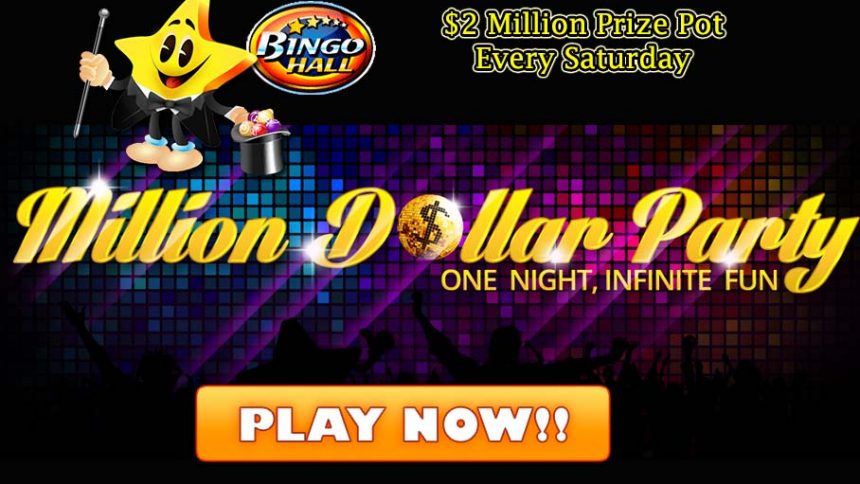 BingoHall Million Dollar Bingo Party Prize Pot Hits $2 Million
29th July 2016
Million Dollar Party
Bonus Type
Tournament
Prize
$2 million prize pool
Selected Room
Million Dollar Party
Bonus Code
No need
Cashable
Yes
Card Price
$3 during the party
$1 during the afterparty (starts at 3am EST)
Max ticket per game
36
Valid
Every Saturday
Restricted Countries
Afghanistan, Guinea-Bissau, Somalia, American Samoa, Haiti, Angola, Hong Kong, Sudan, Belgium, Iran, Syria, Burundi, Iraq, Tajikistan, Cambodia, Israel, Turkey, Chad, Libya, Turkmenistan, Chinese Taipei, Martinique, United States of America, Congo Republic, Monaco, US Virgin Islands, Democratic Republic of Congo, Myanmar, Uzbekistan, Eritrea, Netherlands, Venezuela, France, North Korea, Yemen, French Guyana, Philippines, Zimbabwe, Guadeloupe, Puerto Rico, Guam, Singapore, Bulgaria, Greece, Italy or Romania

BingoHall Million Dollar Bingo Party tournament's prize pot is $2 million. This extravagant bingo tournament takes places every Saturday to make online bingo players rich.
Imagine yourself at a glamourous bingo party organized by the pool belonged to the most infamous party organizer Jay Gatsby. Although it may be too late to be a character in a F. Scott Fitzgerald novel, it is never too late to be a part of an extravagant bingo party organized by the well-known online bingo operator BingoHall.
The famous International and United States online gambling site BingoHall throws the most fabulous online bingo party every Saturday between 9 pm and 3 am EST under the name of the Million Dollar Party. The prize pool is an incredible $2 million. Yes, you heard it right; there are cash prizes worth $2 million every week. It means you can win huge prizes simply playing at the Million Dollar Party Room every Saturday evening.
In the Million Dollar Party Room, players will find the most popular online bingo games and pots that initially reach to $100,000 per game. What is more, the guaranteed prize in every game is $1,000.
If you want to try your luck for, you can join the warm-up session which starts at 8 pm with free fixed $100 games. The party officially starts at 9 pm and lasts until 3 am. Each card costs $3 and players can purchase up to 36 cards every game. The more cards you have the more chance to win humongous prizes from the fantastic prize pot full of $2 million.
If you still want to enjoy the BingoHall Million Dollar Bingo Party after 3 am, you can participate in the afterparty at the Afterhours Lounge. In the afterparty a cards costs only $1 and you can hit the jackpot which brings $300 in fixed prizes.
The whole night beginning from 9 pm, players will win amazing prizes. For instance, the Full Moon Party pattern brings $10,000 on all calls. There will be pots reaching up to $100,000 in every game.   Moreover, there will be 2 coveralls per hour with $15,000 prize on the first 50 calls.
There is more. There will be unlimited BBs (Bingo Bonuses) during the BingoHall Million Dollar Bingo Party. Every player has the chance to get up to 50 BBs during the whole night. This online bingo promotion is too good to miss.
BingoHall no deposit bonus offers $60 for every new player. Join BingoHall now and try this outstanding online bingo experience for free. If you like it, you can try to grab a share from the $2 million prize pot. If you want to know more about the online bingo site, you can read our detailed BingoHall review to learn more about the payment methods, language options, bonuses, promotions and more.
Claim your share from the incredible $2 million prize pot at BingoHall!