Online Casino Promotions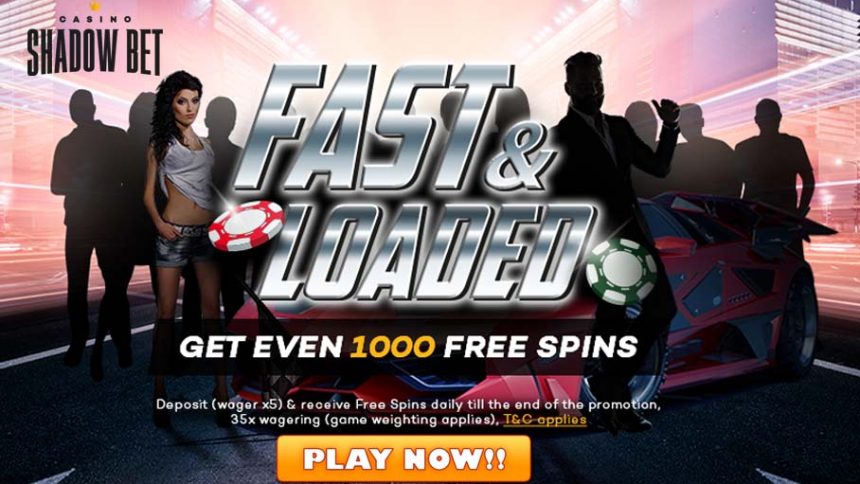 600 ShadowBet Casino Free Spins up for Grabs This Week
28th June 2017
Fast & Loaded
Bonus Type
Free Spins
Prize
Up to 600 free spins
Selected Games
ShadowBet Casino Slot Games
Bonus Code
No Need
Cashable
Yes
Minimum Deposit
€25
Maximum Bonus
600 free spins
Wagering Requirement
35x
Valid Until
01.06.2017, 11.59 pm BST
Restricted Countries
United States of America (and its dependencies, military bases and territories including but not limited to American Samoa, Algeria, Afghanistan, Angola, Anguilla, Antigua & Barbuda, Aruba, Bangladesh, Australia, Barbados, Bhutan, Brunei Darussalam, Burkina Faso, Bulgaria, Belgium, Bouvet Island, British Indian Ocean Territory,

» show more

Bahamas, Barbados, Belize, Benin, Bermuda, Bonaire Sint Eustatius and Saba, Botswana, Burundi, Comoros, Cocos (Keeling) Islands, Cyprus, Czech Republic, Cambodia, Cameroon, Cape Verde, Cayman Islands, Central African Republic, Chad, Christmas Island, Costa Rica, Congo, Congo Democratic Republic of, Cook Islands, Cote d'Ivoire, Cuba, Curacao, Denmark, Djibouti, Democratic People's Republic, Dominica, Dominican Republic, Estonia, Ecuador, Ethiopia, Eritrea, Egypt, El Salvador, Equitorial Guinea, Eritrea, France, Fiji, Guam, Gabon, Gambia, Ghana, Grenada, Guatemala, Guinea, Guinea-Bissau, Guyana, Hong Kong, Holy Sea (Vatican City State), Hungary, Haiti, Honduras, Indonesia, Iran, Iraq, India, Italy, Israel, Jordan, Jamaica, Kuwait, Korea, Kenya, Kiribati, Kyrgyzstan, Libya, Lao People's Republic, Lesotho, Liberia, Montenegro, Marshall Islands, Myanmar, Malaysia, Madagascar, Malawi, Maldives, Mali, Mauritania, Mauritius, Micronesia, Montserrat, Morocco, Mozambique, Northern Mariana Islands, Nepal, New Caledonia, Namibia, Nauru, Nepal, Nicaragua, Niger, Niue, Norfolk Island, Oman, Portugal, Philippines, Palestine, Poland, Puerto Rico and Virgin Islands, Pakistan, Palau, Panama, Papua New Guinea, Pitcairn, Romania, Rwanda, South Sudan, Sudan, Spain, South Africa, Somalia, South Georgia and the South Sandwich Islands, Slovenia, Syria, Singapore, Saint Helena Ascension and Tristan da Cunha, Saint Kitts & Nevis, Saint Lucia, Saint Vincent & Grenadines, Samoa, Sao Tome & Principe, Senegal, Seychelles, Sierra Leone, Sint Maarten, Solomon Islands, Suriname, Swaziland, Turkey, Tajikistan, Tanzania, Timor-Leste, Togo, Tokelau, Tonga, Trinidad & Tobago, Tunisia, Turkmenistan, Turks & Caicos, Tuvalu, Uganda, Uzbekistan, Yemen, Vanuatu, Virgin Islands British, Western Sahara, Zambia, Zimbabwe

» show less
The latest online casino promotion Fast & Loaded is offering up to 600 ShadowBet Casino free spins. Simply deposit and receive daily free spins throughout the week.
Fast & Furious might be cool; but nothing can beat the most lucrative promotion of the week Fast & Loaded. You can get up to 600 ShadowBet Casino free spins simply playing cool online casino games at the popular online casino site ShadowBet. Don't forget that every Free Spin gives you a chance to hit the jackpot and come into a fortune while playing high-tech online slot games.
In order to claim your ShadowBet Casino free spins, all you need to do is depositing a minimum of €25 in your ShadowBet Casino player account and wager the amount of your deposit five times. Afterwards you will receive ShadowBet free spins to be used on cool online slot games daily throughout the week.
The online casino free spins prizes are credited to your account daily beginning from the next day of your deposit. For example, if you deposit £200 and wager it five times the same day, then you will receive 50 free spins every day for the next three days. If you deposit £700, then you will receive 100 free spins daily for three days.
The more you deposit the more free spins you will receive. But you don't have to deposit a big amount right away. You can start with a small amount and then deposit more money if you want. Once you deposit more money, you will get more free spins up to 600 free spins.
The promotion lasts until July 1, 2017, 23:59 BST. All your winnings through free spins will be credited to your account after wagering the winnings 35 times. Hurry up and don't miss the chance of grabbing a humongous number of free spins! Open a free account at ShadowBet Casino now! If you want to learn more about the popular online gambling destination, read our detailed ShadowBet Casino Review!