Casino Bonuses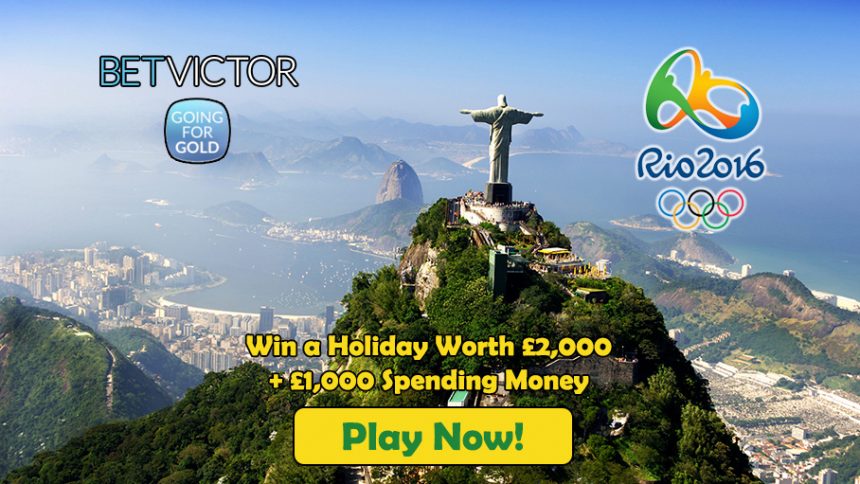 Win a Holiday Worth £2,000 + £1,000 Spending Money with BetVictor Casino Bonus
5th August 2016
BetVictor Casino Bonus
Bonus Type
Giveaways/Free Spins/Cash Bonus
Prize
Holiday worth £2,000 + £1,000 spending money
Selected Games for Casino Bonus and Free Spins
Event 1: Twin Spin slot
Event 2: Blackjack table games
Event 3: Roulette table games
Bonus Code
None
Cashable
Yes
Minimum Deposit
Event 1: £10
Event 2: £20
Event 3: £20
Wagering Requirements
Free Spins - Event 1 & Bronze Medal Prize Draw: 10x
Bonus - Events 2 & 3 and Silver Medal Prize Draw: 20x
Valid until
23:59 GMT+2 August 21, 2016
Restricted Countries
France, Spain, USA, Turkey, Armenia, Antigua, Moldova, Hong Kong, Syria, Sudan, Malaysia, Myanmar, Philippines, Estonia, Iran
BetVictor Casino Bonus can see you win an unforgettable holiday and tons of Free Spins that can be used on many games with it's awesome Going for Gold promo.
Open an account with the online casino BetVictor during the Games in Rio and go on an amazing trip that will stay in your memory forever. BetVictor Casino Bonus will take you on a great adventure that's worth a cool £2,000 and you'll also receive pocket money to the tune of £1,000!
BetVictor Casino Bonus is broken down into three simple categories: Event 1, 2 and 3. Each of the events gives out different rewards so make sure to try out all the events to get the most out of the deal. The more entries you collect the higher your chances will be that you qualify for the bigger medals, so wager whenever an event is open. Remember, besides the £2,000 holiday, you can also win tons of Free Spins!
Every one of the Events has a separate period, so don't forget to plan your wagers accordingly so you don't miss out on winning the holiday and collecting the Free Spins. In case you accidentally miss out on a certain Event, don't worry, because the online casino has lots of other promotions that can always boost your pockets!
(Check out Gambling Herald's online casino section for more info about BetVictor Casino Review.)
Event 1: Synchronised Spinning (August 5 – 10)
You'll earn 1 entry into the Prize Draw for every £10 that you wager on the iconic Twin Spin slot. And that's not all! Add another £50 wager during the promotional period and you'll get 50 Free Spins as a special bonus on August 11.
Event 2: Gymnastics (August 11 – 15)
You can earn 1 entry into the Prize Draw every time you wager £20 on Blackjack table games, and if you happen to wager £100 on the qualifying game while the BetVictor Casino Bonus is ongoing, you can collect a cool £10 Casino Bonus on the August 16.
Event 3: Athletics (August 16 – 21)
Every time you make a £20 wager on Roulette table games, you'll be rewarded with 1 entry into the Prize Draw for the awesome Holiday package worth £2,000. And on top of that deal you can also scoop a £10 Casino Bonus on August 22 when you make a £100 wager on the qualifying game during the promo period.
Register now and claim your Free Spins and win an exciting holiday worth £2,000 with BetVictor Casino Bonus: Going for Gold!
Win the awesome holiday with BetVictor Casino Bonus!