Casino Bonuses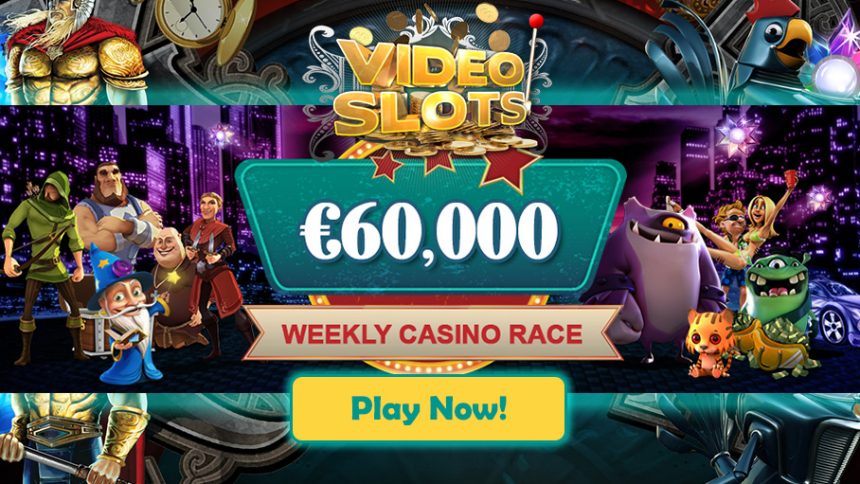 Opt-In for the Videoslots Casino Cash Race and Earn up to €60,000
10th March 2017
Casino Cash Race
Bonus Type
Free Cash
Prize
Share of €60,000 in Cash Prizes

1st: €1250
2nd: €750
3rd: €500
4th – 6th: €250
7th -8th: €150
9th -12th: €125
13th -16th: €100
17th – 20th: €75
21st Place – 25th Place: €50
Selected Games
All except progressive videoslots or progressive slots
Bonus Code
None
Cashable
Yes
Minimum Wager
€0.20 per spin
Valid until
March 6-12
March 13-19
March 20-26
Wagering Requirement
None
Restricted Countries
Afghanistan, American Samoa, Argentina, Bahamas, Bahrain, Bangladesh, Belarus, Belgium, Bosnia & Herzegovina, Burma, Cote d'lvorie, Cuba, Cyprus, Democratic Republic of the Congo, Denmark, Egypt, Eritrea, Fiji, Germany, Guam, Haiti, Holy See (Vatican City State), Hong Kong, India, Iran, Iraq, Ireland, Israel, Jordan, Kazakhstan, Kenya, Kuwait, Kyrgyzstan, Lebanon, Liberia, Libya, Lithuania, Marianas Islands, Mozambique, Nigeria, North Korea, Pakistan, Palestinian Territory, Occupied, Puerto Rico, Qatar, Reunion, Rwanda, Saudi Arabia, Senegal, Singapore, Somalia, Spain, Sri Lanka, Sudan, Syrian Arabic Republic, Tanzania, Turkey, U.S. Minor Outlying Islands, U.S. Virgin Islands, Ukraine, United Arab Emirates, USA, Venezuela, Vietnam, Yemen, Zimbabwe
Play against the best of the best in the Casino Cash Race and you could be pocketing thousands in Cash Prizes!
Videoslots Casino is dishing out €60,000 every single week for the best reel players in its lucrative Casino Cash Race. For a minimal amount per spin on all your favourite slots you stand to make a killing; bust just make sure to pay attention when the Casino Cash Race is being played so you don't miss out on earning up to €60,000 every week.
Most online casino tournaments have select games that you can play during the campaign, but luckily that's not the case with Videoslots Casino Cash Race. You can play any game you want, as long as they're not part of the progressive videslots or progressive slots. This means that you're not limited to solely two or three games, but instead can play the ones that you normally like to visit.
And that's not all! This special Casino Cash Race costs little, which can see you scoop huge profits once you hit a share of the €60,000 Cash Prize. Just pick your videoslots or normal slot and place a minimum of €0.20 per spin to qualify to qualify for the leaderboard of the Casino Cash Race.
You'll receive one spin on the leaderboard for spins that are over €0.20, while placing a wager of €1 per spin will gift you with two spins on the leaderboard and a €3 wager per spin will net you three spins on the leaderboard. As you probably already know, the more you wager per spin, the higher your chances are of sealing a bigger share of the €60,000 in Cash Prizes during the special tourney.
There are three Casino Cash Races remaining until the end of the campaign, so make sure to hurry up and get over Videoslots Casino to get your hands on a piece of the €60K! A first place finish on the leaderboard will see you get over €500 Cash Prize, while second spot gives out €370 and last place on the podium rewards you with €300. But not to worry if you finish below that, because there are tons of Cash Prizes up for grabs! After all, the pot if worth €60,000 in Cash Prizes.
(Check out Videoslots Casino Review for more details about the online casino.)
If you want to be a serial winner that takes home thousands in Cash Prizes every single week, then don't let this opportunity pass you by! Partake in the Videoslots Casino Cash Race to collect huge winnings up to €60,000 for a minimal fee per spin on your favourite reels!
Win up to €60,000 in the Casino Cash Race!