Giveaways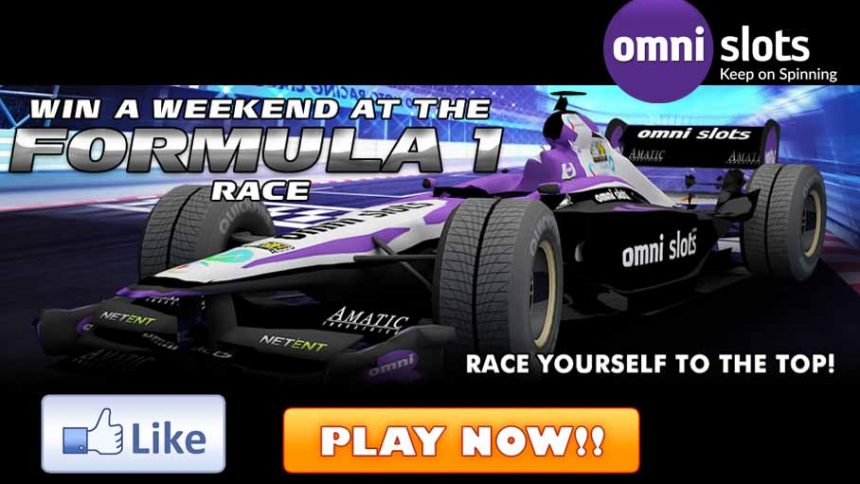 Omni Slots Formula 1 Race Takes a Player to Formula 1 Weekend
25th May 2016
Formula 1 Race
Bonus Type
Giveaway
Prize
Formula 1 Weekend Ticket
4-night stay for 2 at a hotel close to the F1 track
Flight tickets from the country of residence

Slots Included in the Promotion
All
Scoring System (Based on the amount wagered)
€50 cumulative deposit = 2 lottery tickets
Bonus Code
No Need
Cashable
Yes (holiday package can be replaced with €1000 cash prize)
Minimum Deposit
€50
Wagering Requirements
For prize money: 30x
For free spins: 35x
Valid until
31st of May, 2016
Restricted Countries
United Kingdom (UK), Cyprus (CY), Turkey (TR), Israel (IL), United States of America (US) and all of its territories such as American Samoa (AS), Virgin Islands (American) (VI), Guam (GU), Puerto Rico (PR), Northern Mariana Islands (MP), United States Minor Outlying Islands (UM)
Omni Slots Formula 1 Race is dedicated to make dreams come true as a lucky player and a beloved one to Formula 1 Race weekend. Moreover, the amazing prize package contains accommodation and flight tickets as well.
Omni Slots casino has taken up the role of the gene of Aladdin's lamp. One lucky player and a person of choice will travel to a Formula 1 weekend to watch the most popular motor sport on earth. While the player enjoys the sound of McLarens and Ferraris, the fastest drivers alive Lewis Hamilton, Nico Rosberg, Sebastian Vettel and Kimi Raikkonen will fight for the most important motor sport title of the year.
The most striking feature of this online casino promotion is that it is an all-inclusive Formula 1 holiday. It is the best of the Formula 1 holiday packages 2016. The prize package includes a ticket to a Formula 1 race weekend in Europe, a fully paid 4-night stay in a hotel near the Formula 1 track, flight tickets to and from your country of residence and €500 pocket money. What else do you need to enjoy the most unforgettable weekend of your life?
In order to be able to take part in the Omni Slots Formula 1 Race, you need to open an account at the popular gambling destination Omni Slots. Once you have your account, go and like the Facebook page of Omni Slots Casino. Afterwards, all you need to do is playing the best online slot games of Omni Slots Casino. For every cumulative deposit of €50, you collect 2 lottery tickets. More tickets mean a better chance.
On the 2nd of June, there will be a prize draw to determine the winner of the Omni Slots Formula 1 Race. The winner will receive the prize without any Formula 1 promo code or any other requirement.
The winner's holiday destination will be determined according to the availability of the tickets. The first available destination will be the award and Omni Slots will arrange all the necessary bookings for the trip.
This offer is valid until the 31st of May, 2016. Start playing at Omni Slots Casino now to be the Rosberg of Online Slots. Being a legend has never been easier.
If you want to know more about Omni Slots' signup bonuses, payment methods, language options, games and any other information that you need, read our Omni Slots Casino Review. Or learn how to bet on Formula 1 online to make the best of the Monaco GP 2016 weekend.
Claim your all-inclusive Formula 1 2016 holiday package prize at Omni Slots Casino!