Casino Bonuses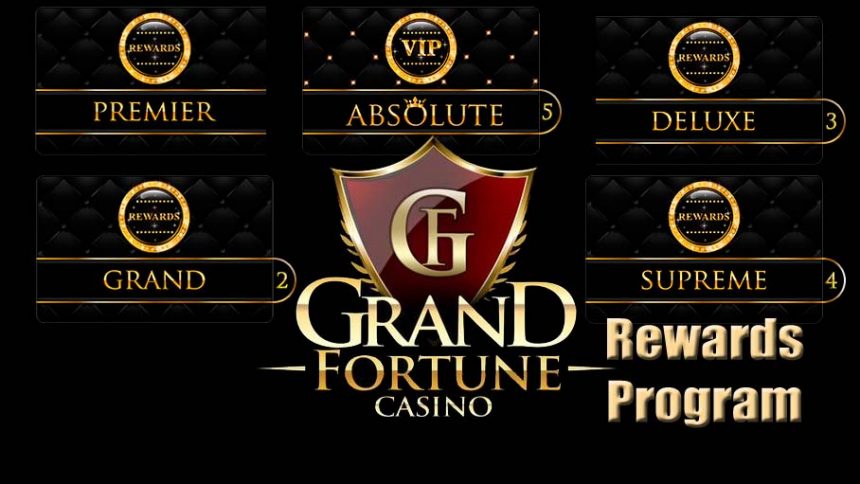 Grand Fortune Casino Rewards Program is More Lucrative than Ever
15th January 2016
Grand Fortune Casino Rewards Program
Bonus Type
Loyalty Bonus, Match Bonus, Deposit Bonus, Free Cash, Cashback Bonus, comp point
Bonus
Premier Player: $/€25 free chip, 200% match bonus, 15 weekly cashback bonus
Grand Player: $/€100 free chip, 200% match bonus, 15% weekly cashback bonus
Deluxe Player: $/€150 free chip, 250% match bonus, 20% weekly cashback bonus
Supreme Player: $/€300 free chip, 300% match bonus, 25% weekly cashback bonus
Absolute Player: $/€500 free chip, 450% match, 30% weekly cash back bonus
Bonus Code
No need
Cashable
No
Max Cashout
€20,000
Valid Until
NA
Restricted Countries
South Africa, Mauritius, Netherland Antilles, Israel, Costa Rica
Grand Fortune Casino's loyal players get up to $/€500 free chip, 450% match bonus, 30% weekly cashback bonus, comp points, and many special online casino promotions such as birthday and anniversary promotions due to their loyalty.
Grand Fortune Casino offers one of the best online casino rewards programs ever thanks to the variety of tiers offered by the popular online casino. They make sure that you will be rewarded justly for your loyalty as the loyal Royal Fortune knight.
The online casino reward program offered by Grand Fortune Casino not only appealing prizes but also a unique gaming experience since you will start getting bigger online casino bonuses as you increase your level. Fun and rewarding, isn't it?
Being Loyal Has Never Been that Rewarding
In order to be a part of the Grand Fortune Casino Rewards Program, you should open an account and start playing amazing latest online casino games such as Let's take a look at the tiers in order to get a better insight about the bonuses that you'll be receiving throughout your online casino adventure at Grand Fortune Casino:
Premier Player
Premier players constitute the 1st level of the Grand Fortune Casino Rewards Program. This is the tier that you reach right after you prove your loyalty as a proper online casino player. Once you become a premier player, you'll receive $/€ 25-worth free chip, 200% match bonus, 15% weekly cashback bonus and 1 comp point for each $/€10 you wager.
Grand Player
Once you reach the second tier, you will be receiving bigger bonuses from Grand Fortune Casino. As soon as you become a Grand player, you'll be entitled to receive $/€ 100-worth free chip, 200% match bonus along with 15% weekly cashback bonus. Moreover, every $/€8 you wager will return back to you as 1 comp point.
Deluxe Player
If you are a Deluxe player, you are already a rising star. Hence, you deserve $/€150-worth free chip, 250% match bonus, and 20% weekly online casino cashback bonus. Furthermore, you will receive 1 comp point for every $/€7 you wager.
Supreme Player
It sounds like an adjective for a dictator, but Supreme players are cool and generous players who receive $/€300-worth free chip just because being loyal to their favorite online casino. Don't worry; this is not all since you are a Supreme player now. You will receive an additional 300% match bonus along with 25% weekly cashback bonus. Every $/€6 you wager will make a boomerang effect and you will receive 1 comp point.
Absolute Player
Do we like lucrative online casino bonuses? Absolutely. Once you ascend to the rank of the Absolute player, you will be the king of the online casino players. Obviously, kings get the biggest chunk of the prizes. As you sit on the top level of the loyalty pyramid, you are ready to receive $/€500-worth free chips. Moreover, you can start enjoying 450% match bonus and 30% weekly cash back bonus. Every $/€5 you wager will come back to you as a comp point.
Keep playing your favorite online casino games to receive more and more special online casino bonuses. Don't lose time and join Grand Fortune Casino in order to sit on the top tier of the Rewards Program.