Casino Bonuses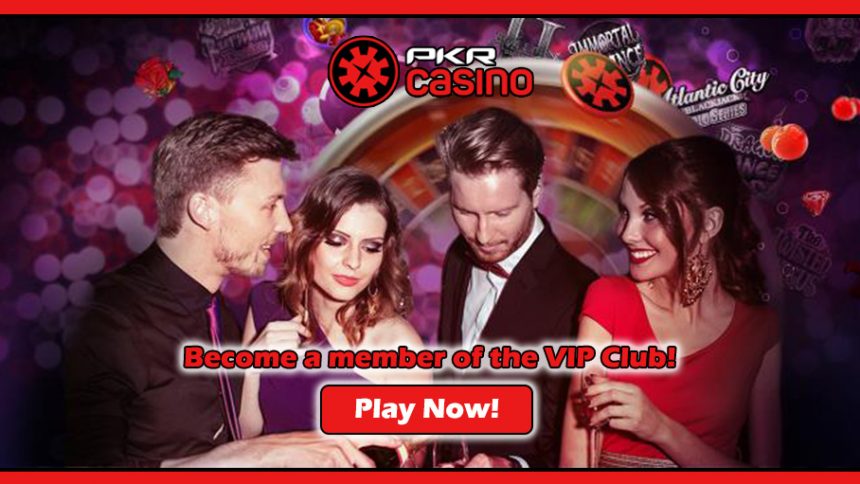 Get More with the VIP Club After Looking Through PKR Casino Review
1st March 2017
| | PKR Casino VIP Club | |
| --- | --- | --- |
| | Bonus Type | High Roller/Loyalty Bonus |
| | Prize | Loads of VIP Points |
| | Selected Games | None |
| | Bonus Code | None |
| | Cashable | Yes (1,000 = €10) |
| | Minimum Wager | NA |
| | Valid until | NA |
| | Wagering Requirement | None |
| | Restricted Countries | Hong Kong, Turkey, North Korea, South Korea, Vietnam, Belgium, Zimbabwe, Cuba, Iran, Israel, Puerto Rico, Singapore, South Africa, Sudan, Syrian Arab Republic, USA (including Minor Outlying Islands and Virgin Islands), Spain, Guam, Greenland, China |
PKR Casino Review gives you the both the upsides and the upsides of joining the online casino, and becoming the next big player with the exclusive VIP Club!
Get in on the casino action, play a wide host of table games and collect points on your way to the top. Each new VIP level brings a variety of benefits that you can use to your advantage at PKR Casino, so make sure to play smart to get as much as you can, as quickly as you can!
The VIP Club consists of six levels that will see you achieve them with a specific number of points, and to remain at a certain level you need to have maintained a minimum level of points to stay at that respective level.
You'll start off with the Red level that has a 0 points requirement, so you can only go upwards from there. The next step is to get at least 500 points at the tables to reach the Silver level at the VIP Club, and you have to maintain that level with at least 250 VIP points monthly to remain at that stage. But we advise you to always strive for more, as otherwise you risk falling down the VIP Club table.
Reaching 1,000 points will see you clinch Gold status (500 points monthly are necessary to maintain that stage), while 5,000 gets you to Platinum level (2,500 points are required to stay at that level). Reach the biggest levels of the VIP Club by collecting 20,000 for the Ruby level (10,000 to maintain) and 100,000 for the Ruby Elite (50,000 to maintain).
The good thing about the last one (Ruby Elite) is that you can also be invited by the casino manager, but that's once you've proven that you're in serious contention to be a High-Roller!
(Have a look at Gambling Herald's PKR Casino Review to learn more about the online casino.)
The VIP Club also comes with a special rewards system with each level on the ladder; Red level doesn't give out anything, so you have to work your way up to see some benefits come your way. Silver level carries a 10% VIP Bonus Points that yields 10 casino credits on your birthday, while the Gold status gives out 25% with 25 casino bonus credits coming your way on your birthday. So you get the point, right? Platinum has a 50% Bonus VIP Points with 50 credits on your B-Day, with Ruby level dishing out 75% points with a total of 100 credits on your B-Day, while also giving you the chance to use priority withdrawals and enhanced deposits bonuses.
And finally, the most rewarding benefits are reserved for the Ruby Elite stage in the VIP Club, with carries 100% or bespoke points and offers personalized advantages that cater to your specific needs, while also granting you 1 entry to the monthly prize draw! Don't miss out on the opportunity to get the free monthly prize draw with PKR Casino.
Forget about all that small-time game action that you used to play before and become a VIP High-Roller immediately after you've read up on PKR Casino Review!
Check out GH's PKR Casino Review and sign up for the VIP Club right after!