Online Gambling Promotions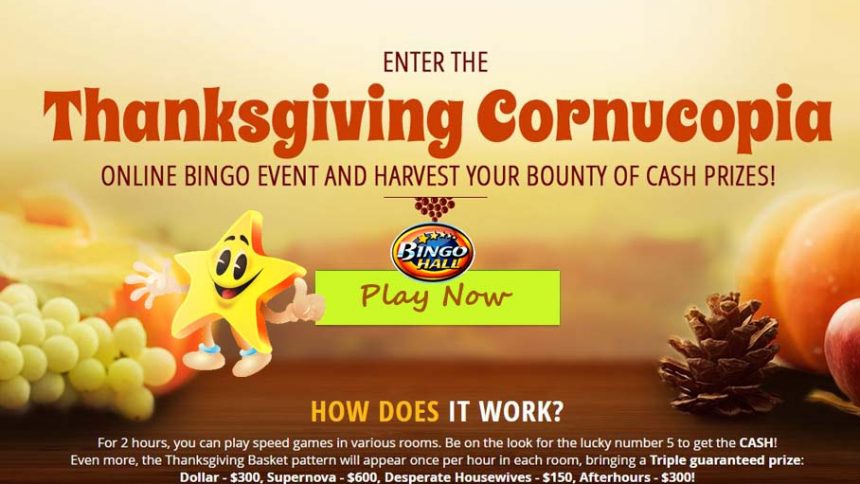 Experience Cash Flow with BingoHall Online Thanksgiving Bingo
22nd November 2016
Thanksgiving Bingo
Bonus Type
Cash Prizes
Prize
Up to $2,000 cash prize on every 5th call
Selected Rooms
Dollar, Supernova, Desperate Housewives, Afterhours Lounge
Bonus Code
No Need
Cashable
Yes
Minimum Purchase
1 Card per game
Maximum Purchase
48 Cards per game
Valid until
24th of November, 2016
Restricted Countries
Afghanistan, Guinea-Bissau, Somalia, American Samoa, Haiti, Angola, Hong Kong, Sudan, Belgium, Iran, Syria, Burundi, Iraq, Tajikistan, Cambodia, Israel, Turkey, Chad, Libya, Turkmenistan, Chinese Taipei, Martinique, United States of America,

» show more

Congo Republic, Monaco, US Virgin Islands, Democratic Republic of Congo, Myanmar, Uzbekistan, Eritrea, Netherlands, Venezuela, France, North Korea, Yemen, French Guyana, Philippines, Zimbabwe, Guadeloupe, Puerto Rico, Guam, Singapore, Bulgaria, Greece, Italy or Romania

» show less
Play online Thanksgiving bingo at BingoHall to scoop amazing cash prizes. This promotion will cook your turkey much better than your oven.
BingoHall online Thanksgiving bingo is offering amazing cash prizes. Every day for 2 hours, you can play speed games in various rooms. Watch out! The lucky number 5 will bring huge cash prizes to you.
The lucky number five is not the only sign that you should look for. One of the best online bingo promotions of the month will give away even bigger prizes. Thanksgiving Basket pattern will appear once per hour in each room. It means tripled guaranteed prize – Dollar – $300, Supernova – $600, Desperate Housewives – $150, Afterhours – $300.
Play online bingo for money on Thanksgiving and make up to $2,000 cash on every 5th call. Of course, you can make even more as you play more. BingoHall is definitely among the best online bingos in Europe. Not every online bingo site is brave enough to offer such huge prizes.
Here is a list of the BingoHall online Thanksgiving bingo prizes. If you play online Thanksgiving bingo at the popular bingo room Dollar between 5pm – 7pm EST, you can get $1,000 on every 5th call. This amount will be doubled in the Supernova bingo room between 7 pm – 9 pm EST.
From 9 pm EST on, you can head to the Desperate Housewives bingo room where you will get $500 on every 5th call until 11 pm EST. If you are up for an after party, you can head to the Afterhours Room between 5 am and 7 am EST, and play online bingo in Canada, Australia or Europe to win $1,000 on every 5th call.
The last day to win amazing cash prizes playing online Thanksgiving bingo is the 24th of November. Play instant bingo at BingoHall and have a wonderful Thanksgiving pocket full of money and stomach full of yummy turkey. If you want to know more about the popular online bingo site, you can check our detailed BingoHall Review.
Claim Your Thanksgiving Prize!
Find number 5 and claim your Thanksgiving prize at BingoHall!