Casino Reviews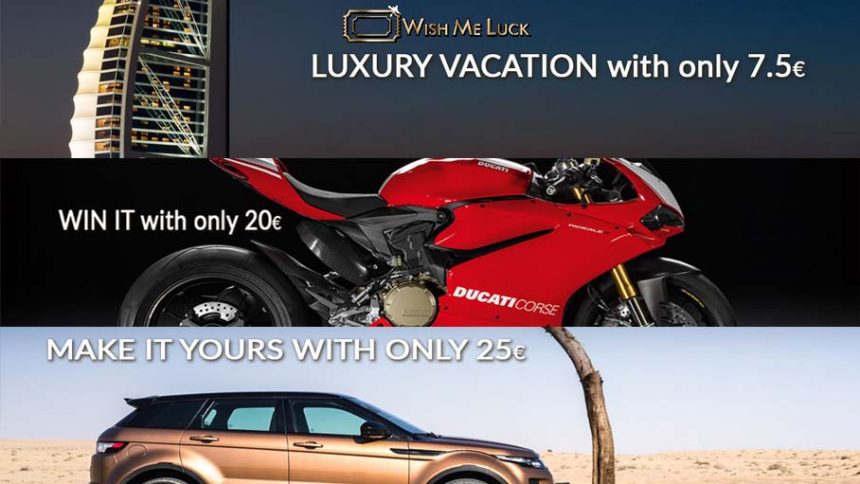 Wish Me Luck Review
25th October 2016
Wish Me Luck
Bonus
N/A
Lotteries
Jewellery, Speed Boat, Motorbike, US Investor Program, EU-Capitals Trading Program, Gift Certificate, Tech Gadgets, Luxury Automobiles and Cash
Founded
2016
Owner
SS. Silver Holdings
License
Malta Gaming Authority
Currencies
EUR
Languages
English
Depositing Methods
Visa, MasterCard, Neteller, Skrill, Paysafecard, Bank transfer
Available in US
No
Mobile
N/A
Instant Play
Yes
Download
No
Customer Support
Email: [email protected]
Phone: +356 2034 1611
Skype: Support WishMeLuck

Restricted Countries
USA
You're one lotto ticket away from living like Madonna and Lewis Hamilton – vacationing around exotic islands on your yacht before getting whisked away on your private jet to a ski trip in the Alps where an Italian-designed, $150,000 Maserati awaits you to race along the shopping streets dropping $20,000 on watches and designer handbags. Sounds good, right? This is exactly the kind of life that can be yours with Wish Me Luck!
The thing that makes this online lotto site so special, is that it offers players luxurious products instead of the standard cash prizes. But not to worry, if all you're interested in is cash rewards, then buy a lotto ticket for the '€50,000 Cash' lotto for a ticket price that costs only €24.
Register with Wish Me Luck instantly and then choose the lotteries that you like the most for a chance to win the special prizes. There are a total of 21 different lotteries at your disposal, ranging from jewelry items and special gift cards to fast cars and expensive boats.
When you purchase lottery tickets for any of these products, make sure to also buy tickets for the cash prizes – imagine winning the Maserati GranTurismo or the Bentley Continental GT, and then not having enough cash to fill up the tank for your journey back home. That would suck! That's why it's wise to combine two, three or even more lotto tickets when you play at Wish Me Luck.
Another USP (Unique Selling Proposition) of Wish Me Luck is that you can even invest in the US economy with the 'EB-5 Immigrant Investor Program' for a lotto ticket price of €240. It allows you to get a taste of the 'American Dream' for only a few hundred bucks – a total bargain. The funds of $500,000 will be provided by Wish Me Luck, but you will be in charge of handling a business of your choice that will have at least 10 US workers under your wing. This special offer takes online lottery to a whole other level!
With all the luxurious items offered by Wish Me Luck flashing in your eyes, it's really hard to see any downsides of this online lotto site. The only things that could use improvements are the depositing options and the presentation of the site itself. More payment systems would be welcome, although you'll be completely fine with the selection of banking options at Wish Me Luck. The layout is somewhat old-school and lacks interactive items, however that may not matter to you if all you're interested is get your hands behind the wheel of the brand new Maserati.
Wish Me Luck gives you the chance to experience ostentatiousness and the high-life that comes with it for a small fee that will look like pocket change when you hit the jackpot. Wish Me Luck!
WishMeLuck Review