Gambling Fun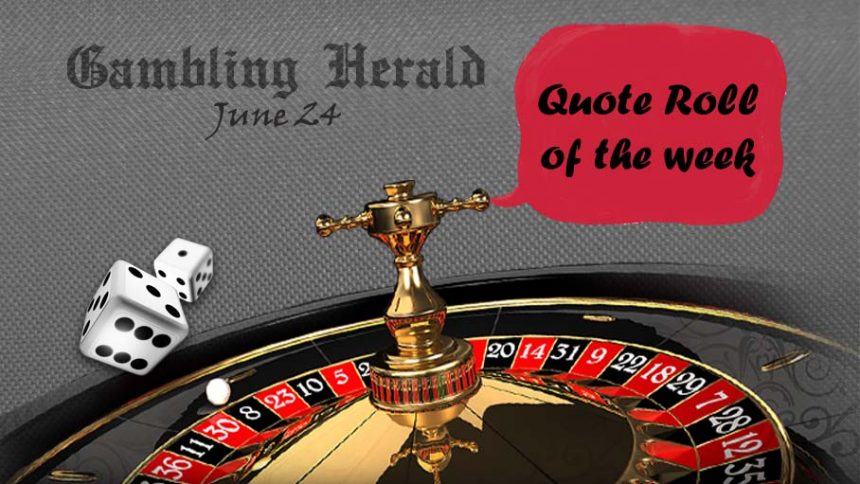 Quote Roll: June 24, 2016 – Gambling Quotations of the Week
24th June 2016
Quote Roll Gambling Quotations of the week is surrounded by the Brexit betting this week as it is one of the biggest political betting events in history. Thousands of people all over the world hit the best European online betting sites to wager their bets on the EU referendum of UK. Major online bookies favored UK's remaining in the European Union heavily; however, the traditional polls showed the right direction and UK citizens have chosen to leave the union. Let's check how Brexit and other latest online gambling news have influenced the gambling and betting agenda of the week.
Antanas Guoga – "Farage never took my bet. It was Cameron who was the real gambler and his all-in bet was called. We have to be positive and look forward."
Famous Lithuanian poker player and politician Antanas Guoga, also known as Tony G, challenged the leader of UK Independence Party (UKIP) Nigel Farage to bet €1 million on Brexit. He stated that he would donate €1 million to any charity of Farage's choice if UK citizens vote in favor of leaving the EU. He asked Farage to do the same if Brexit voting would result in UK's remaining in the EU.  Guoga was confident about the result. Farage never took the bet. Guoga was the lucky one when the voting was over as he was about to lose €1 million if Farage had taken the bet. If there is a real loser after the voting, it is definitely David Cameron as he relied too much on UK's loyalty to the European Union.
Ladbrokes – "The majority of players in the market were actually backing Leave, but that doesn't matter to the prices. All that counts is the amount of money. One £10,000 bet counts the same as 10,000 £1 bets. In an event like this, where the bettors were also participants (in that most of them were also voters), should we have taken account of that? We didn't think so, but perhaps we were wrong."
Famous online sportsbook Ladbrokes released a statement regarding why almost all of the major bookmakers failed to predict the outcome of EU referendum of the UK. According to them, the online sportsbooks which offered betting on Brexit missed a vital detail. They ignored the fact that most of the bettors are actually voters as Betting Herald emphasized only a day ago. Brexit betting event was definitely tricky for the sportsbooks, bettors and voters alike.
Peter Schoenke – "It doesn't feel like fantasy if you're not putting up your knowledge against someone else." 
There have been different views about the legalization of daily fantasy sports as some US lawmakers claim that it is gambling while some claim that it is not as it is not purely a game of chance as some skills and knowledge required. You can check the daily fantasy sports state by state list to find out which states allow DFS betting. Nevada gambling laws are one of the most liberal in the United States; however, major DFS sites do not operate in the state as they need gambling license to offer services. Now, there is a new system called US Fantasy which will start operating in Nevada soon. It is different from the traditional DFS operators. As the chairman of the Fantasy Sports Trade Association Peter Schoenke stated that it is not exactly fantasy sports as there is no actual competition to compete using knowledge. In the US Fantasy System players bet against each other's statistics.
John Payne – "We're trying to regulate it so we can control minors, and people who have a gambling problem aren't on there losing money."
Pennsylvania is on the verge of becoming one of the most liberal states in terms of US gambling laws and regulations. Republicans and Democrats agreed to allow slot machines in off-track betting sites and airports. Moreover, online casino gambling will be legalized as well. Pennsylvania is about to become the fourth state to legalize mobile casino gambling in the United States. US Daily fantasy sports operators will also be able to operate within the borders of the state. The main aim is increasing the state budget, apparently. However, regulating gambling is more effective than banning it all together. House Gambling Committee Chairman John Payne supported the same stating that they actually aim to regulate gambling so that they can draw the legal borders. Banning gambling causes illegal gambling; therefore, legal but regulated gambling activities help state to maintain control.
Mark Potts – "Forget the stereotypes—your typical Esports fan isn't just someone playing World of Warcraft in his mother's basement."
E-sports is the latest gaming craze of our era. It is actually considered as sports by many people. It doesn't require physical fitness; however mental fitness is quite important which makes E-sports a mental variety of sports. There have been many stereotypes about E-sports fans such as E-sports players are geeks, fat boys spending days in front of computers and isolated sociopaths. Nevertheless, E-sports players of our era are not different than you. That is what the Head of Insights, Mindshare NA Mark Potts stated in a release saying that a E-sports fan is not A WOW player spending his time in his mother's basement. According to a recent poll, 43% of E-sports fans make $75k or more annually. 58% of the fans over 25 have children and 38% of fans are women. E-sports is the game of normal people. Furthermore, you can even bet on Esports online.